There have been so many changes over the last few months, touching all aspects of our lives – from the people we see to the food we eat. But one thing that we were determined would never change is the support our members get from Slimming World. Together, we've found a way to keep moving towards a slimmer, healthier, fitter future.
We've watched in awe as you've risen to every challenge. As shopping habits changed, you've cooked from what you have in the cupboards, and made the most of every meal. As ways to exercise became limited, you've found new ways to be active at home, giving our new member workout videos a go and making the most of the green spaces nearby. And, of course, as our groups temporarily closed their doors to keep us all safe, you've continued to meet every week using Slimming World virtual groups, to keep that unbeatable support going at a time when it was surely needed more than ever.
When we asked Slimming World members what they want their 'new normal' to look like, we had so many inspiring, exciting responses that we couldn't fit them all on last week's 'Life after lockdown' post. So, here comes Life after lockdown part 2…
A bright future
Making plans for the future has given many of our members the motivation to keep working towards their weight loss goals, and now they're feeling super excited for what's to come. Remember, it's never too late to start working towards a healthier, happier post-lockdown life – and we're here to help.
Lisa Jayne Kovacs is looking forward to a new arrival in the family – she's going to be a grandma and surely that's got to be one of the best reasons to stay fit and healthy?
"I'm going to continue with my daily workout, which I started at the beginning of lockdown, along with Food Optimising and plenty more exercise – all the things that made me a target member! After all, I am going to become a 1st-time nanny in around 10 days!!!!!! Soooo excited, thank you Slimming World #firsttimenanny #bodymagic 🏃‍♀️❤👌xx."
Mandy (Mandy1) credits the support on the Slimming World Online Community for keeping her motivated during lockdown. She's now looking forward to a new start, in more ways than one…
"At 62 with asthma, I've been extremely cautious during lockdown. I'd been on plan for a year when it started, so luckily my freezer and larder were stocked with Slimming World-friendly foods. I missed fresh fruit and veg but we survived. I'm emerging from the shadows a further 10lbs lighter and ready to start a new career in nurse education. I have my new size-16 suit hanging on the wardrobe door!"
Who read Jenny's brilliant Body Magic story? She took her fitness to new heights by climbing the tallest mountain on each continent (all without leaving home!), with her virtual group supporting her all the way. Now, tackling the real deal is on her post-lockdown list. She says:
"I'm hoping to travel to Madeira for a hiking holiday in August, staying in different areas to do the island's most beautiful walks. After my mountain-climbing Body Magic challenge, I feel confident I can tackle the highest peak on the island, Pico Rivo (a mere 6,105ft tall!). Being fit enough to carry on walking is my motivation for staying at target."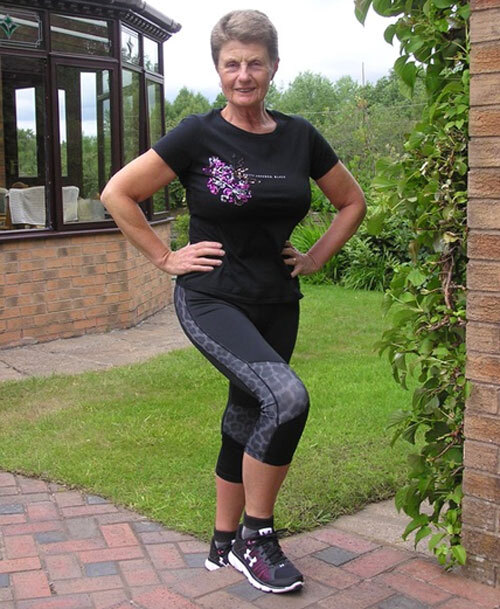 Keeping up those healthy habits
The Slimming World approach to healthy and sustainable weight loss is following our flexible Food Optimising plan, adding activity to your routine and getting that unbeatable support from your Slimming World group. Ellen Poole says she's "feeling fantastic after three weeks of exercise and planning and preparing!"
Natalie is loving the ongoing support from her virtual group, and can't wait for the doors of her real-life group to re-open so that she can see all her friends in person again. You can read how Natalie lost 5st 10lbs here. She says:
"Going to my local Slimming World group has always been a huge part of my slimming success, and although we do obviously talk a lot about food, it's much more than just that. My group is simply amazing and I've made so many lifelong friends there. As a sociable person, having the virtual group meeting to look forward to every week has been a real lifeline. The camaraderie there is fantastic, and has really helped to keep me in a positive place. Slimming World really is a community that comes together during difficult times and I'm so glad I have that support network in my life."
Kat Gemmell is making healthy changes with the help of her Slimming World group. She's vowed to include lots of fruit and veg in her meals from now on, saying:
"Just restarted Slimming World and have carefully looked at where I went wrong in the past, so I know how to change my habits for good 💪."
Many members tell us they've added a Body Magic boost to their routines, including Melissa Roach, who's been biking her way to fitness:
"I'm going to continue to ride my bike. Lockdown made me buy one and I'll defo be keeping it up. #BodyMagic 🚴🏽‍♀️❤️."
Matt (@mattboyslim29) credits walking for helping him through difficult days, saying:
"Pretty much how I've been dealing with lockdown – a nice 10-mile walk, keeping up the #bodymagic and appreciating the beauty that is on my own doorstep. To think before I joined Slimming World I could hardly walk 10 yards without getting out of breath, let alone 10 miles!"
Slimming World Online member Jenny (Jfer96) has become a champion food planner during lockdown, and is excited to see her family again for her big weight loss reveal! She says:
"I cannot wait to give them all a hug in a few more weeks – and I'll be 2st lighter! A lot of people haven't seen me since March, so I reckon they might be in for a shock!"
We'd love to know what you'd like your life after lockdown to look like. Perhaps you've already started some new routines that you're keen to continue? Or maybe you feel like you need a helping hand to make your post-lockdown vision a reality? Whatever your goals, Slimming World is here to support you.
We're working hard with our Consultants on a plan for groups to reopen safely later this summer. Until then, you can get a head start on your weight loss with our virtual service, which has brought the magic of group to our members' homes during this difficult time.
You can find out more about joining Slimming World here.