If it feels like the October school holidays have crept up on you, fear not, we've got some spook-tastic ideas for getting active with the kids – halting those terrifying shrieks of 'I'm bored!' in their tracks.
It's a bit of a cliché that autumn means walks through woods and kicking leaves (leaky wellies and soggy leaves might be more accurate!). If you do catch a crisp, sunny day though, a spooky woodland walk is an easy way to get active with the kids – and also great Body Magic for the whole family.
The thing that makes Body Magic, well, magic, is that you'll start to feel the health benefits of moving more, while doing activities that you like – so it doesn't feel like exercise at all. And this time of year – when it's not too hot, and not too cold – is the perfect time to try out fun new activities. Here are some family-friendly ideas for an amazingly active autumn to see you through this half term and beyond:
A walk in the park
If I suggest going for a walk to my terrible tribe, I'm met with wrinkled noses and grumbles. Add the promise of a park or another way to up the fun factor and the tune quickly changes. We completed a Halloween trail recently, which made the long walk much more fun for little ones. National Trust properties, parks and forests often put on events for Halloween, Christmas and seasonal special occasions.
Child's play
Remember hide & seek, tiggy scarecrow and skipping rope? They're all amazing activities that get your heart rate going. And if you can round everybody up for a game of rounders, your competitive streak will keep you fired up until dusk! If you've got older kids like SW Rox, a game of laser tag is a great outdoor or indoor activity, so rain doesn't have to stop play.
Bike rides
If you've not ridden a bike for a while, a good place to start is a flat cycle trail (find local routes via the Sustrans website). With a tasty lunch stop along the way (check out our packed lunch ideas post), this half term family activity could lead to a wheely good time!
Go swimming
It's an energy-burning, body-toning, stress-busting exercise that works every major muscle group and places no impact on the joints – which is why it's suitable for so many people. If the kids need a bit more to keep them occupied than just a bog-standard pool, a trip to a waterpark is a real treat. SW Rox made a splash with her son recently, and reports that the neverending steps up to the top of the flumes definitely got her heart rate up (and that's before the twists and turns on the way down!).
Just dance
Put on your favourite song and dance round the lounge – or if your children are of an age where they're not yet embarrassed by you (make the most of it while it lasts!), make up a dance routine together.
Trampoline or inflatables park
Indoor 'bounce' centres are popping up in many areas of the UK now, and you'll be having too much fun to realise that all that bouncing leads to a good workout!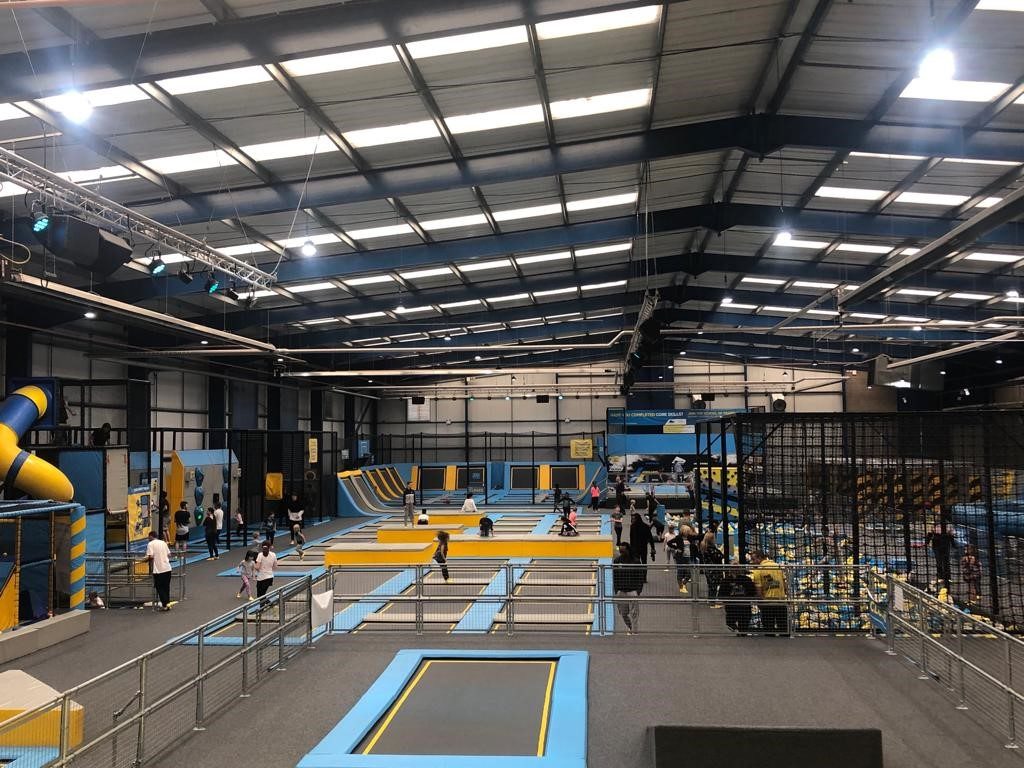 Climbing centres
Another phenomenon to crop up in recent years, indoor climbing centres are a great Body Magic activity. Hauling our body weight up a wall uses loads of different muscle groups. Alternatively, if the weather's playing ball, head to an outdoor climbing centre and get your Body Magic with a healthy dose of fresh air.
Car washing
If the kids are happily occupied elsewhere, you could save money and give your motor that new-car smell by giving it a full valet by hand. Just think of the routine involved if you really put your back into it:
travelling to the sink to fill your bucket numerous times – walking and carrying
sponging your car to give it a real soaking – bending and stretching
drying off with a chamois leather – working those arm muscles
waxing the bodywork – an all-over workout
vacuuming the interior – lots of squatting
Plus that's one job ticked off your to-do list (and more time for pumpkin carving and scary movies!).
How are you planning to blow away the cobwebs this autumn? Share your activity gems with us!