This Diabetes Week, we're delighted to share how Slimming World effectively supports members with diabetes to eat well, lose weight and improve their quality of life.
After conducting a survey of members with diabetes, we discovered that members with type 1 or type 2 diabetes find it easy to follow our Food Optimising plan as part of their diabetes management. Our research also shows that losing weight with Slimming World helps members with type 2 diabetes improve their blood glucose management, reduce or no longer need medications and, for some, reverse their condition altogether. It works for people with type 1 diabetes, too! Many members report improved blood glucose levels and reductions in medication.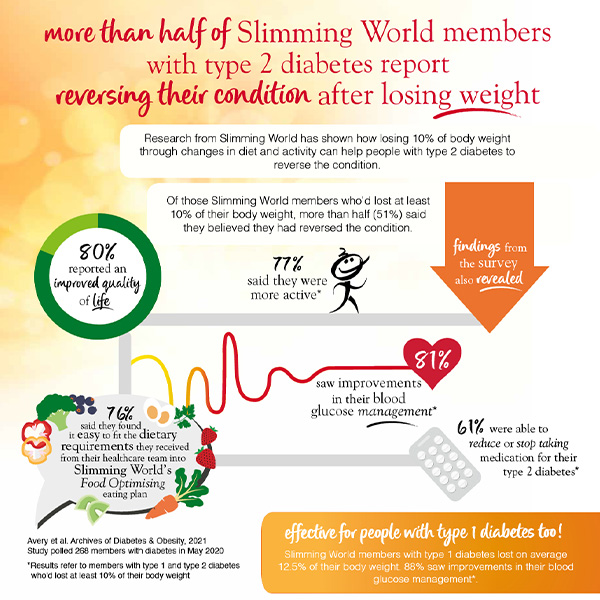 Hilary's story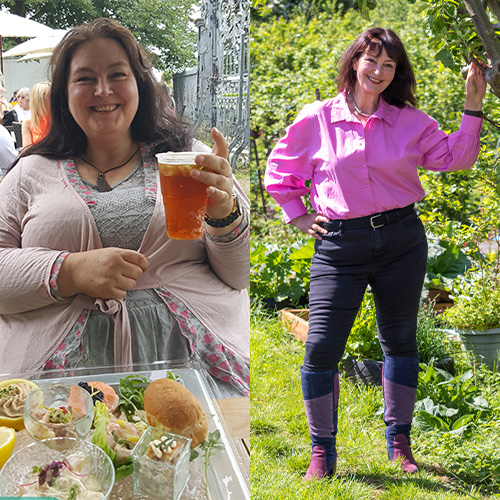 Hilary Sard, 57, joined Slimming World on the same day she was diagnosed with type 2 diabetes. Hilary lost 13lbs in her first week and reversed her type 2 diabetes by eating healthily and being more active. She says:
"At 25st 4lbs, my weight was causing many health problems, and being diagnosed with type 2 diabetes was the wake-up call I needed. I walked through the doors of a Slimming World group that evening – and I couldn't believe I could eat pasta, cheese and all my favourite foods, and still lose weight! I started to enjoy cooking from scratch and got lots of inspiration in group – I loved taking along new, exciting recipes and learning how to make them Food Optimising-friendly. Two months later I'd lost two stones!
That was less than two years ago and I have lost a total of 12st 12lbs with Slimming World, almost halving my body weight! My life has completely transformed. I've gone from struggling to walk, to easily managing 15,000 steps in a day. I'm fitter, healthier, more confident and full of energy. Best of all, I've reversed my type 2 diabetes! Losing weight with Slimming World has given me a much brighter future to look forward to."
You can read more about Hilary's inspirational weight loss journey here
Carolyn Pallister, nutrition, research and health policy manager at Slimming World, says: "The improvements Hilary has made to her health are incredible and our research shows many members experience similar outcomes. More than half (61%) of members with type 2 diabetes who'd lost at least 10% of their body weight said their healthcare team had reduced or stopped their diabetes medication as a result of their weight loss, with 51% reporting that they actually reversed their condition. We saw positive changes in behaviour, too, with 77% saying they were now more active.
We also found that the members with type 1 diabetes experienced some brilliant benefits. These members lost on average 12.5% of their body weight, with 88% reporting improvements in their blood glucose management. 85% said they'd increased their activity levels after joining Slimming World.
And as Hilary discovered, our Food Optimising plan can be tailored for our members with diabetes to fit their individual needs, in line with the dietary advice from their healthcare professional. It enables members to enjoy a wide variety of healthy everyday foods – like fresh fruit and veg, lean meat and poultry, fat-free dairy, eggs, pasta, rice and grains. Sharing ideas about preparing meals and cooking from scratch, and swapping recipe tips, is a key part of the group experience. Members, like Hilary, also inspire each other to become more active at their own pace and in a way that suits them as their confidence and sense of wellbeing improves."
If you're worried about diabetes and would like to lose weight, Slimming World can help. You'll be surrounded by support in your local group, with all the tools and motivation you need to achieve your weight loss goals. We'll support you all the way to a fitter, healthier future.
Discover two great ways to join Slimming World here
The study polled 268 Slimming World members with diabetes in May 2020 and was published in Archives of Diabetes & Obesity in 2021.
* Results throughout refer to members with type 1 or type 2 diabetes who'd lost at least 10% of their body weight