Around three years ago, I felt like I needed to up my activity levels, so I took up jogging and swimming. My physical and mental health got a brilliant boost – until I started getting bored… To add variety, I signed up for exercise classes at my local leisure centre, but the spaces went quickly and I found it tricky to commit to specific times so far in advance. I needed a different solution – something that I could do whenever I had the time and the motivation, and at a moment's notice.
Joining a gym was the obvious option, but something (lots of things!) stopped me from signing on the dotted line. Once I found my gym motivation and talked myself into giving it a go, though, I was hooked! I've managed to keep up a 3x a week habit ever since – which has to be the ultimate stamp of approval from someone with a very low boredom threshold for exercise.
The beaming smile on the face of our header image star Carol (@carols_slimmingworld_life) tells me I'm not the only one who's been bitten by the gym bug. She says:
"Time for Body Pump! I've found a Body Magic that I actually enjoy! 💪 "
If you're a fully paid-up member of the gym-a-phobe club, take a look at some of the reasons why I thought that the gym wasn't for me. Let's see if I can smash some of those gym stereotypes and get you to give it a go.
Turn around your 'not for me' reasons and boost your gym motivation!
1. It's expensive
The cost of a gym membership can be a big barrier. Yet when I started shopping around, I realised that there's a HUGE variety in cost, depending on what type of gym you're looking at. Some of the more expensive, swankier gyms are like mini holiday resorts with pools, day spas, childcare, a cafe etc.
Look at what you get for your money and see whether these are facilities that you'll actually use. For me, the added extras would be a distraction and I'd end up skipping exercise to sit in a hot tub instead – so a basic gym suits me better. I pay around £20 a month for my gym membership (around £1.50 a time if I manage 3x a week). That's less than I spend on the coffee that I have as my post-gym reward!
2. The machines are too complicated
The beauty of the gym is that, unlike a fitness class, you can do your own thing at your own pace. The flipside of this is that you don't have an instructor talking you through each exercise. Add in the wide variety of equipment involved and the gym can quickly start to feel like a complicated obstacle course.
As with all types of exercise, safety should come first. Which is why you should always have a full induction before using any equipment. This is also your opportunity to get the most out of your gym time and get the instructor's advice on the machines and moves that will get you the results that you want.
3. I'll be tied in to a long commitment
This is a big 'put off' point for many, especially if you're not sure whether the gym is for you. Being tied to a 12-month membership and getting bored after a few weeks is enough to put you off gyms for life. You'll also find that memberships can get very expensive if you only have time to go once a week or you prefer to mix up your routine with other types of activity.
If a long term commitment isn't for you, look for a gym that offers 'pay-as-you-go' membership. My gym offers the options to pay per session, weekly or monthly, so you can work out which will be the best value option for you. On the flipside, some people find that being tied into a membership actually helps boost their gym motivation. Whatever works for you!
4. I don't have the time
A gym workout is a super-flexible way to get your Body Magic. Most gyms open early and close late – and, unlike exercise classes, a gym session can be squeezed in whenever you feel like it. I find that my gym membership makes it so much easier to keep that gym motivation going in winter, when I'm waking up and coming home from work in darkness. I prefer working out in the gym to running outside in the cold and dark, and I find it easier to fit in a winter gym workout than any other type of exercise.
5. I don't have the right kit
Don't let instagram fool you into thinking you need expensive outfits to work out in the gym. Just wear whatever will keep you cool and comfortable. I can guarantee you'll see people in leggings, tracksuit bottoms, shorts, vests, t-shirts, sweatshirts – I've even seen someone working out in skinny jeans, but I wouldn't recommend it! If you don't have anything suitable, supermarkets are a handy place to pick up cheap gym wear that you'll look and feel great in.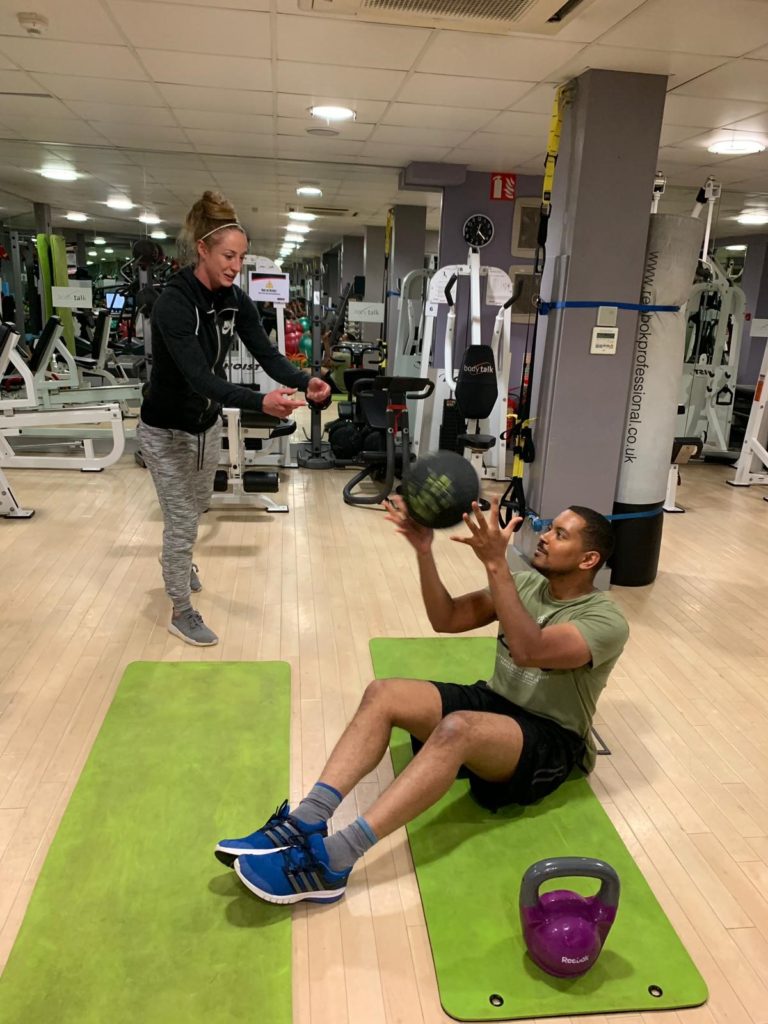 6. People will stare at me
Feeling self-conscious in the gym is normal, especially if you don't feel confident about your weight, shape or your fitness levels. Remember though, everyone is there for similar reasons – to lose weight, to improve their fitness levels, to get stronger or faster or more flexible. These reasons are what your fellow gym-goers will be thinking about while they're working out – you're unlikely to be on their radar at all!
7. I'll get too hot and sweaty
One of the best things about gyms is that they're temperature controlled to ensure that you can exercise in comfort, whatever the weather is doing outside. I can guarantee that, on a boiling hot summer's day, my gym is an air-conditioned oasis of cool!
A small towel or face cloth will help keep you dry and comfortable. That said, working up a sweat is a sign that you've had a challenging workout, so wear it with pride – everyone else will be sweating too!
8. I'll do something wrong
There are some unspoken rules to gyms, but they're pretty much all common sense and good manners. Things like putting your equipment away after use, wiping your seats and hand grips down, and generally just leaving the space as you found it for the next person. As far as the equipment goes, the instructors are there to make sure that you know how to use things correctly, so don't be scared to ask.
9. I'd rather be outside
This is a difficult one as, at times, I'd definitely prefer to be outside too. I love to run, walk and swim outdoors but, let's face it, the weather in the UK means that those perfect 'not-too-hot, not-too-cold' conditions are hard to come by. Building activity into our routine is key, which is why our Body Magic programme is all about regular activity. Joining a gym means that you can get active, whatever the weather!
I also find that I feel much less self-conscious running on the treadmill at the gym than I do running on the roadside or passing dog-walkers in the park. And there are no groups of giggling teenagers to huff and puff my way past!
10. Gym workouts are boring
Ummmm, I can see why this is a common feeling but I think it's a matter of working out what works for you. Like to work out solo? A good playlist can help boost that Body Magic motivation. And if you're more of a sociable sort, pairing up with a gym buddy could help keep boredom at bay. Competitive types might also benefit from setting themselves goals to hit.
I keep my gym sessions fresh by mixing up my workouts – some days I'll do cardio or a mix of cardio and strength training, some days I'll hit the free weights, other days I do a circuit of the machines… the list goes on and on! And that's before you've even thought about varying the body parts that you're focusing on. If I really feel like my gym motivation has deserted me, I tell myself that I'll just do a short 20-minute session. Once I'm in the swing of things it's likely that I'll end up staying a little longer.
11. It's full of super-fit people
What you're likely to find at every gym is a broad range of members, ranging from complete beginners to super-fit treadmill runners to burly bodybuilders. As with point 8, remember that everyone at the gym is there to improve themselves in some way – and they'll all be focused on their own journeys, no matter what stage they're at. My gym has lots of free weights, which means that it attracts bodybuilders, but you'll still find people of all shapes and sizes getting on with their workouts without worrying about what the person next to them is doing.
So there you have 11 common gym concerns – and hopefully some useful solutions to every problem. Of course, the gym isn't going to be for everyone, but don't let stereotypes stop you from trying it. I never saw myself setting foot in a gym, but I've found a cheap, flexible one that I feel really comfortable going to. And after two years as a regular gym-goer, I can confidently say that the gym life is for me after all!

If we've inspired you to give the gym a go, we'd love to hear all about it. Don't be scared to send us your snaps and stories!