Watching Dad check the lottery ticket, and then check again, and again, I hardly dared to believe that we'd actually won. Yet, after he'd confirmed it at the local shop, and at the supermarket we bought the ticket from, and on the lottery helpline, it finally started to sink in – we'd scooped a million pound prize!
The winnings were shared between Mum, Dad, my sister Becky and me, so I suddenly had more in the bank than I'd ever had before. I was already overweight, but the non-stop parties and complete rollercoaster of emotions meant that my weight spiralled. I may have won the lottery but I'd definitely lost control of my weight.
When I reached 17st and a size 22, all the money in the world couldn't have made me feel good about myself. My confidence was on the floor and, rather than enjoying shopping sprees and filling my wardrobe with nice clothes, I lived in baggy, unflattering outfits. It was hardly the Pretty Woman dream.
One thing that I was splashing out on on a daily basis was fast food. Breakfast was usually a bacon roll from the work canteen – always white bread with lots of ketchup. Then my packed lunch would be sandwiches, crisps and a chocolate bar. At dinnertime, Mum cooked up a traditional plate of meat pie, potatoes and veg, and I'd happily snack on crisps (washed down with sugary fizzy drinks) between meals. Unsurprisingly, I always felt tired and lacking in energy, so, despite treating myself to a gym membership, I rarely felt like exercising.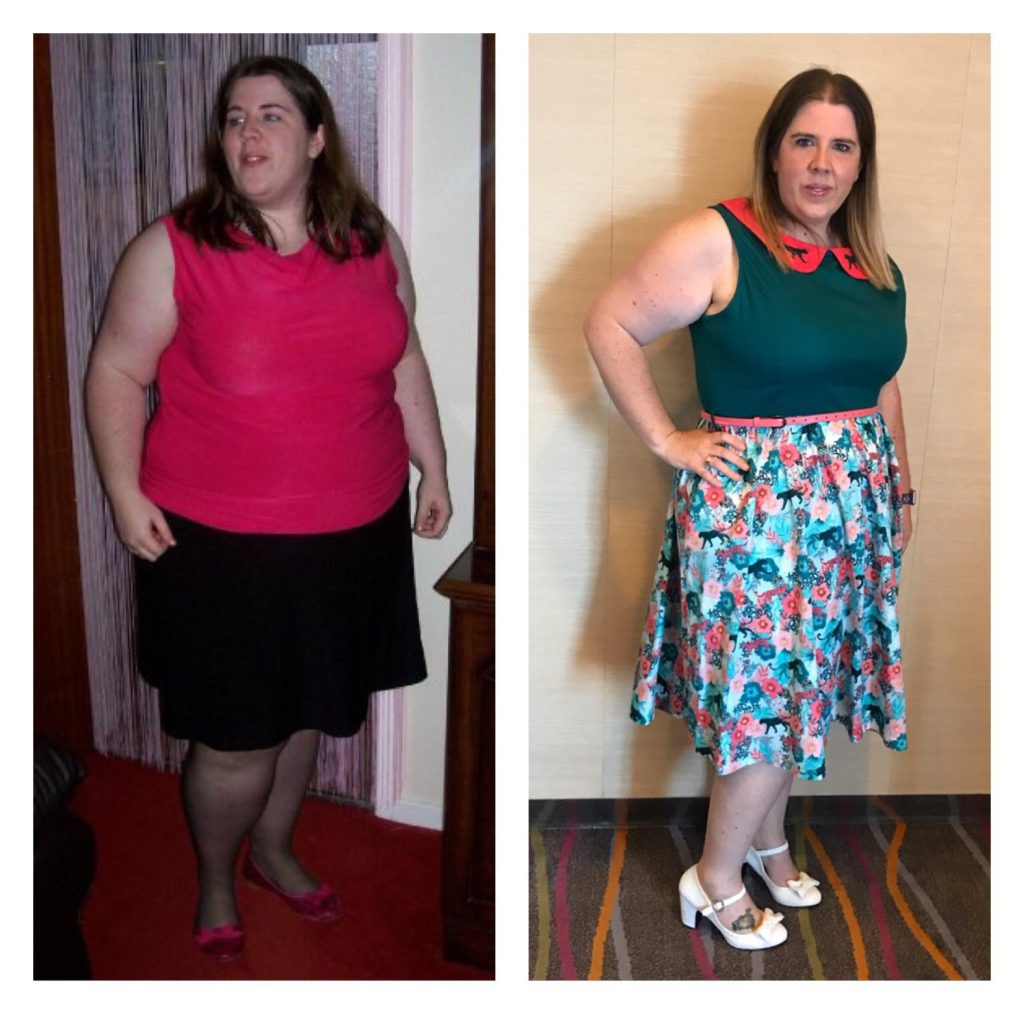 Another big surprise!
This continued until my sister Becky made an unexpected announcement. She was going to put some of her winnings to good use and pay for IVF to try for a baby. As she doesn't have a partner, I wanted to be able to be a hands-on auntie – not the auntie that's so big that she can't play or have fun. It was then that I made the decision to join Slimming World Online.
I soon realised that nothing is off limits with Slimming World. Food Optimising teaches you how to make healthier choices, and I never feel like I'm missing out. My menu now is usually 40g Honey Cheerios (my Healthy Extra 'b' choice) with strawberries for breakfast, then a pasta or rice dish for lunch. For dinner I enjoy a healthy fakeaway like a Slimming World curry or noodles with plenty of colourful vegetables. The sticky chicken is absolutely gorgeous and only uses four ingredients – easier than picking up the phone and ordering a takeaway! I can still have crisps and chocolate – I just choose low-Syn spicy tomato Snaps or a treat-size Kinder bar now.
Keep on running
The next thing to tackle was exercise. As a family we decided to invest some of the lottery money in building a gym at the bottom of our garden. Now I'm in there at least three times a week – and I especially love running on my treadmill. The Couch to 5k app was great for getting me going, and just three months later I ran 10k for Jo's Cervical Cancer Trust. I even ran every day on holiday!
My favourite Slimming World Online tools are the Planner app and the Community, which give me food information and fantastic support in my pocket, wherever I am. My family are super-supportive too – Dad will make sure that I have a Slimming World meal waiting for me when I get home from work. My colleagues are really encouraging, and when we bring in treats for special occasions, I take Food Optimising nibbles to share.
Since January 2019 I've lost 2st 2Ibs, getting closer to my interim target weight of 15st. And the progress that I've made this year gives me confidence that I will get to my dream weight. The future looks much brighter now that I'm on my weight loss journey – especially as we've had the news that my sister Becky was successful with her second attempt of IVF. I'm going to be an auntie in January 2020 – and I'm so excited!
You can follow Julie's progress on Instagram @julie26_sw_onlinemember or #projectauntyjulie.

We're keen to hear about your weight loss journey, whether you're just starting out, have notched up some shiny weight loss awards or are nearing your target. Tell us your story!