At Slimming World, we understand how sleep can affect weight, and vice versa. It can become a vicious cycle – we reach for unhealthy foods because we're tired, our weight goes up and we find it even harder to sleep. Joining Slimming World can help to break that cycle, and our study of more than 3,000 members found that:
more than a third of slimmers have slept better since joining Slimming World 
the more weight members lose, the more likely they are to report improvements in sleep 
half of slimmers who've lost 15% or more of their body weight say their sleep has improved 
Donna's sleep story
When Donna joined Slimming World, she weighed 17st 6lbs and would stop breathing in the night. Losing more than 7st has helped her to sleep soundly and wake up full of energy!
Donna says: "April 2019 was my turning point. I was sick of looking at myself in the mirror and worried about my health. I was getting palpitations regularly, I had a lot of aches and lower back pain and I also suffered from sleep apnoea. I'd wake bolt upright with a sharp intake of breath throughout the night because I'd stopped breathing. I felt constantly tired and I didn't have the energy to cook or do any exercise, which meant I found it difficult to lose weight.
One morning I woke up and thought: 'It doesn't have to be like this any more'. A friend at work had recommended her local Slimming World group, so I thought I'd give it a go. That decision changed my life and I went on to lose more than 7st!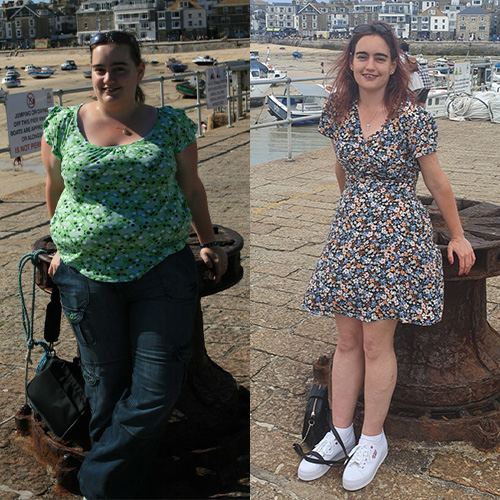 Playground taunts
Throughout my life I'd watched my dress size go up and up. I'd tried to lose weight on my own, but I rarely lasted more than a month and I never lost any more than a stone. I've always been large and I was often bullied at secondary school. I remember wearing a skirt one day and someone laughing and pointing at me, shouting, 'Look at Donna's fat legs!'
I was also anxious about my health as my mum had a stroke due to her weight at the age of 45. I remember it very clearly because it was one of the worst days of my life and a pivotal moment, when life would never be the same again. Thankfully, Mum is still with us, but I couldn't help worrying that the same thing was going to happen to me.
A plan I can stick to
When I was first introduced to Slimming World's eating plan, Food Optimising, I found it mind-blowing that I could eat so much and lose weight. And I was amazed I could still have pasta and potatoes. At group, I discovered more about all the healthy food I could eat, and I got so much joy from seeing the number on the scales go down each week.
The first Slimming World meal I made was spaghetti carbonara, and I loved it! My favourite meal at the moment is salmon, chilli, chard and cucumber. It's great that I can still have treats and I don't have to cut everything out. I never feel hungry or that I'm missing out.  
Donna's daily menu 
BEFORE
Breakfast: White toast loaded with butter or two croissants, and a latte with sugar.
Lunch: A sandwich, crisps, chocolate and maybe a cake.
Dinner: Usually a takeaway.
Snacks: Chocolate, cake, sweets, crisps or biscuits.
AFTER
Breakfast: 40g high-fibre cereal and a banana.
Lunch: A baked potato with cheese and beans (no butter) or tuna and extra-light mayonnaise with salad.
Dinner: Home-made salt and pepper cod with a chilli and garlic vegetable stir-fry, or spaghetti bolognese.
Snacks: Chocolate-drizzled strawberry and banana skewers, a Hi-fi bar, low-fat crisps or fruit.
Personalised support
I know I wouldn't have managed to do so well without the support of my Slimming World group. Each week we get personalised help, we share tips and inspiration for meals and, if anyone has had a tough weigh-in, we pick each other up.
I'm so much more active now, too. I follow Slimming World's Body Magic programme, which encourages members to take small steps and gradually build up activity until it's part of their daily routine. I regularly walk to work (which is more than two miles) and I get out on my bike as much as I can. I find it incredible that I recently completed a 30-mile bike ride – my longest ever! I certainly wouldn't have coped with that when I weighed 17½ stone.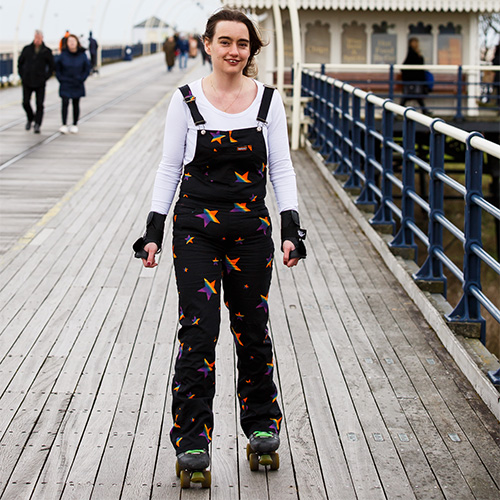 Inspiring others
I work full-time in a local convenience store, often seeing the same customers, and many of them have told me I've inspired them to lose weight. Several have even said they've joined Slimming World because of me. I've slimmed down from a size 22 to a 10 and I love being able to go into any clothes shop I like – my options were so limited before.
I'm incredibly proud of what I've achieved. I know I'm the best version of myself right now. I'm sleeping well, I've got a lovely boyfriend and I'm doing things I never dreamt I'd be doing, like roller-skating, which was a childhood dream. I never knew that life could be like this! When I stopped breathing in the night, that was my wake-up call to do something about my weight. And I'm so glad I did – joining Slimming World has saved my life!"
READ RYAN'S SLEEP STORY: "I was falling asleep at work. Now I've lost 17st and am building a brilliant new life." 
Snooze more to lose more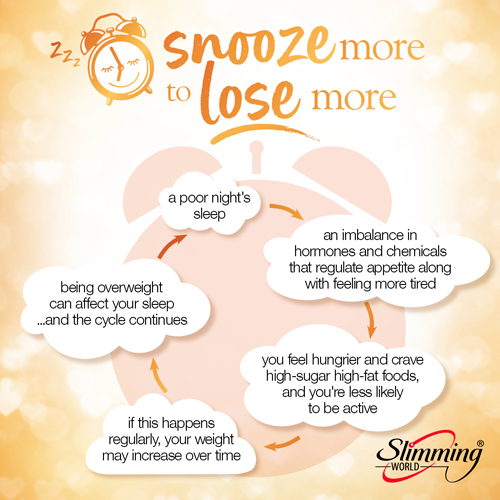 READ MORE: You can read more about our sleep study and check out five expert tips to help you sleep better here. 
If Donna's story has inspired you to start your weight loss journey, we can help. When you join Slimming World, you'll be welcomed with lots of support, absolutely no judgement and more than 1,700 slimming-friendly recipes on our members-only website and app.