Glastonbury had always been my 'happy place', but my experience in 2019 was different. There's usually something so freeing about going to a festival – you can be who you want to be and leave your troubles at the entrance – but at 17st, I was the biggest I'd ever been and my weight made it difficult to enjoy myself.
Usually, I'd have been glad of the sunshine, but my weight meant I struggled to cope in the heat. And while I used to walk across the huge site going from act to act without any trouble, this time my legs and feet were screaming at me by the end of each day. I remember feeling so deflated as I packed up to leave that I wasn't sure I'd ever go back.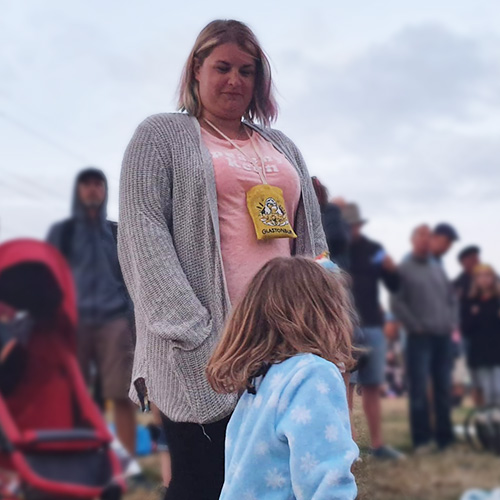 Then the pandemic hit, and the following year's festival was cancelled anyway. Being locked down gave me time to reflect on my health and weight, and I started to think seriously about trying to slim.
My partner and I cut out takeaways and, instead, we started doing a proper weekly shop and making home-cooked meals. Within four months, I'd lost 2st and felt great. It was then, though, that my motivation started to waver. February came around and I was facing a birthday without being able to see any family or friends. I picked up a big cake from the supermarket with the intention of eating it all by myself. My justification was that I'd done so well losing weight and yet I still couldn't celebrate my birthday properly – I deserved that cake!
Just before I tucked in, though, I happened to check Facebook and I spotted a Slimming World post that one of my friends had shared, with an offer to join for free. In that moment, I felt that seeing the post was a sign – I didn't need a cake to feel good. So instead of eating the whole thing, I enjoyed a small slice then messaged my local Consultant.
Discover the latest Slimming World special offers here
That was a real turning point for me. I decided that I never wanted to go back to feeling how I did at my last festival, and Slimming World gave me the help and support I needed to make changes. The IMAGE Therapy I got in group helped me to overcome any challenges, and there was no judgement at all. Even when I had a small gain – which is totally normal on a slimming journey – I never felt dejected or like I wanted to give up. No matter how much weight I'd lost (or not lost), I always headed home feeling positive and confident that I could tackle the week ahead. I still love how lifted I feel when I leave group.
By the time lockdown was over, I felt much happier about how I looked – and I was lucky enough to have tickets to Glastonbury's big return in 2022. The cherry on top was when I stepped on the scales just before the festival weekend and achieved my 4st award!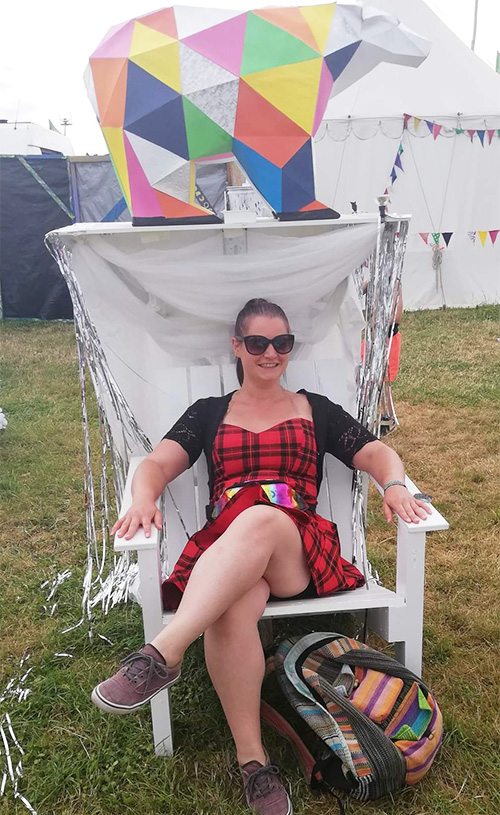 Just like in 2019, the weather was beautiful – and I was able keep cool in crop tops and summer dresses, rather than feeling like I had to cover up and getting all hot and bothered. For the first time, I felt really good in my clothes, and I got loads of compliments on my outfits – something I never imagined could happen to me. 
I knew that I'd be surrounded by lots of amazing food and drink stalls, so going to group just before gave me the time to think about how I wanted to approach Food Optimising at the festival. Going in with a realistic plan of action made it much easier to stay on track.
Zoe's plan for a slimming-friendly festival
Take snacks
I packed two boxes of Slimming World Hi-fi bars along with my camping supplies, so I always had something to hand if I felt a bit peckish (it saved me time queuing for food, too!).
Keep it simple
I started every day with a fresh fruit salad – which is a completely Free breakfast on the Slimming World plan, so I could enjoy as much as I liked without worrying about weighing, measuring or counting. A healthy breakfast also helped if I had a fuzzy head from a few drinks the night before.
Beware sneaky sauces
Sauces and dips can be difficult to measure at a festival, so I went for Free meals wherever possible so that I had plenty of Syns left to enjoy them without worrying. I chose lots of tasty vegetarian options, too, to help boost my veg intake over the weekend.
While I stuck to the plan for the most part, I also knew that if there was something I really fancied, I could treat myself. Food Optimising isn't about depriving or restricting yourself – it's about feeling good while enjoying your life! Before, my weight was getting in the way of that and putting a dampener on the things that I loved doing the most. I honestly thought my festival days were over.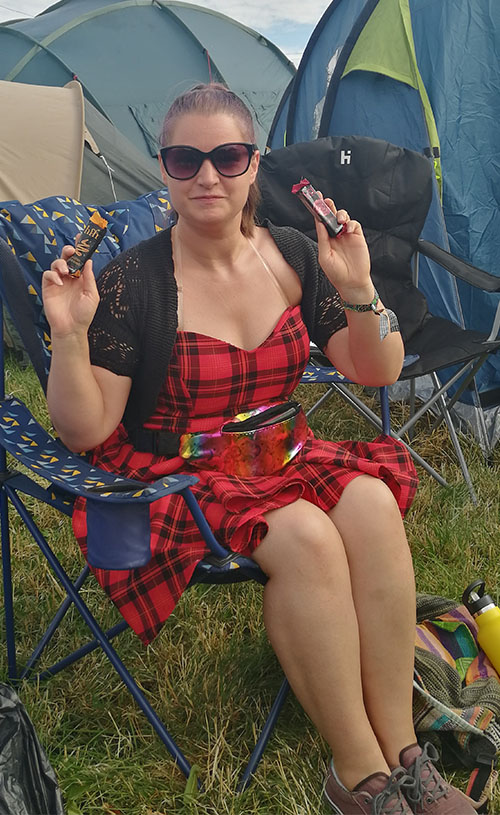 Thankfully, my Glastonbury experience this year was so much better. My confidence had soared and, for the first time in ages, I felt truly free. I also had the energy to stomp between the different stages and dance to my heart's content (which are both brilliant Body Magic activities!). I've fallen back in love with my happy place and I'm hoping to visit those magical fields again in 2023 – living the dream at my dream weight!
Food Optimising at a festival
A Slimming World we love to support our members through all of the highlights of the year, including any festivals that might be on your line-up of special events. You'll find plenty of support in your Slimming World group – or in our Community for Slimming World Online members – so that you can enjoy all these amazing moments to the max.
More for members: Find your Food Optimising at a festival guide here