November 14th is World Diabetes Day, and we're delighted to be able to share this research into how Slimming World can help those who have type 2 diabetes. The findings of the study, which involved 69 patients who were referred to a Slimming World group, bust the misconception that people with type 2 diabetes can't manage their weight through healthy lifestyle changes.
Here are the results, at a glance:
On average patients lost 5.5% of their starting weight after a year
A quarter of patients lost more than 10% body weight
Nearly 1 in 10 patients were able to reduce or stop their diabetes medication altogether
Inspired by this study, we caught up with Slimming World member Jason, who transformed his lifestyle and is now finding it easier to manage his type 2 diabetes symptoms.
Jason was given the shocking news that his health problems could quickly become life-threatening, unless he made some serious changes and committed to losing weight. His GP offered him a 12 week Slimming World membership on referral, and that was the start of his weight loss journey towards losing over 14 stones. He says:
"Since losing the weight my health has improved drastically. I no longer need to take medication for diabetes or high blood pressure. It's the small things that have really made a difference too. I can run around after my grandchildren, I can put my socks on without sitting down, and I can fit the seat belt of my truck around me without worry."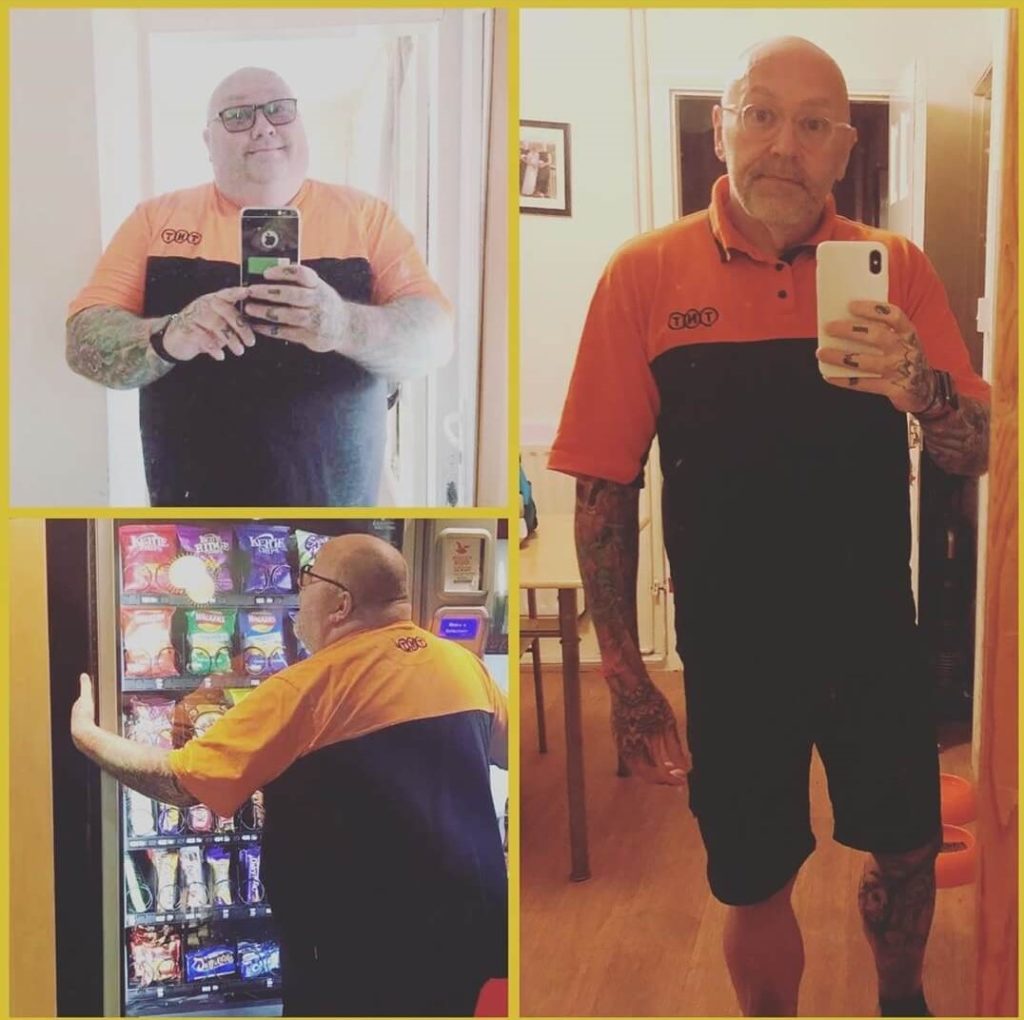 You can read Jason's genuinely life-changing success story here. In the meantime, if you've got a spare five minutes, you can read all about the study in more detail. Pull up a chair, grab your glasses and enjoy the science bit:
Research* has revealed the Slimming World programme is successful in supporting patients who have type 2 diabetes to lose weight and manage their glucose control.
The study, championed by Audley Health Centre in Staffordshire, involved 69 patients who were referred to a Slimming World group by their diabetes specialist nurse. These patients were given up to 12 funded weekly Slimming World group sessions and were offered a second 12-week referral if they achieved a 3% weight loss.

By 12 months, patients on average, had lost a clinically significant 5.5% of their weight showing Slimming World is effective for patients with type 2 diabetes. Furthermore, a quarter of patients achieved more than a 10% weight reduction and over 80% of patients saw improvements in their diabetes control. Remarkably, six patients (just under 10%) were able to reduce or stop taking their diabetes medication altogether.

Participants also reported healthy lifestyle changes after this time, including less reliance on processed foods and unhealthy snacking, and being more likely to go for regular walks.
Dr Jacquie Lavin, Head of Nutrition and Research at Slimming World, says:
"We know the obesity crisis is a ticking timebomb, on both our personal health, and that of the NHS which is funding a vast range of treatments associated with type 2 diabetes and other weight related problems. The results above showcase what can be done directly in the community, at a Slimming World group. We believe the support you get from being in a warm, empowering group environment is key to helping you eat more healthily and becoming more active too."
"There has been a lot of coverage in the press recently about suitable diets for people who have type 2 diabetes. Our Food Optimising eating plan is so flexible – the vast range of food which members can enjoy includes fruit, vegetables, lean meat and fish, and pulses as well as starchy carbohydrates such as pasta, rice and potatoes. For our members with diabetes, the plan can be tailored to fit their individual needs, ensuring it is in line with the dietary advice from their health care professional."
Commenting on the study, Audley Health Centre's Practice Manager Julie Stokes says:
"The results are truly impressive. Any drug manufacturers would be pleased with this outcome. The study really does demonstrate support for a Slimming World approach for patients who are overweight and have diabetes. While there was no control group, the reductions in HbA1c, weight and prescribed medication are very significant."
GP Dr Sharon Turner, Audley Health Centre says:
"We are hugely thankful to Slimming World for their hard work with our patients with diabetes. The skill and contribution to the care of these patients has made a real difference to their lives, their treatments and their health outcomes. We have received many positive comments from group members. All the hard work and commitment of the Slimming World's Consultant at the group is greatly appreciated."
Slimming World on Referral allows health professionals looking for weight-management services to refer patients whose weight is affecting their health to Slimming World groups, offering them free membership, in blocks of 12 weeks. Many of these patients then choose to continue on their Slimming World journey after the 12-week period is up. Slimming World's research shows that referral members who attend at least 10 out of 12 sessions lose on average over 5% of their starting weight – a clinically significant amount – at about half the cost of obesity drugs.
*You can read the full research paper here: https://onlinelibrary.wiley.com/doi/10.1002/edm2.45

We hope that you've enjoyed reading about this research project, which shows the incredible power of a supportive Slimming World group. If you've got any questions about how losing weight could help you manage type 2 diabetes or another health condition, making an appointment with your GP would be a good first step.

When you're ready to start your own Slimming World journey, you'll be welcomed to your local group – or to our Slimming World Online Community – with open arms.