When you're on your weight loss journey, it can sometimes take a while to catch up mentally and emotionally with the new slimmer you. That can include holding onto clothes you've slimmed out of, even though you know you don't need them any more.
With lots of us in spring-clean mode, now is the perfect time to celebrate your weight loss by rummaging through your wardrobes and drawers and clearing out all the clothes that no longer fit you.
It might sound like a small thing, but it can have a powerful psychological impact – boosting your self-confidence and helping you embrace your new slimmer self. Plus, when lockdown has lifted, you can donate your too-big clothes to through our Big Slimming World Clothes Throw, which supports Cancer Research UK and Irish Cancer Society, and last year raised a record £3.6m for life-saving research.
Whether you're a few months into your weight loss journey or you're celebrating reaching your target weight, say goodbye to your old clothes and hello to the new you! These Slimming World members did just that, and they feel amazing for it.
Clear out your clothing clutter
After losing 4st 7lbs and slimming out of her favourite top, Jess (@jess.abrahams_sw) was over the moon to slip into a replacement that's six sizes smaller than the original.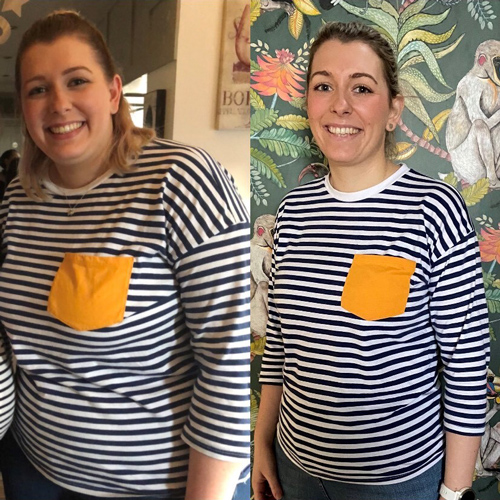 She says: "I loved this top. I got it in a size 22 and I wore it A LOT. When I saw someone selling the same one in a size 10, I thought I'd get it to work towards. I tried it on and it already fit! It's a long journey, but it's so worth it. Today I'm being my own cheerleader."
Slimming World Online member Peter was thrilled to drop three coat sizes after just 12 weeks of Food Optimising…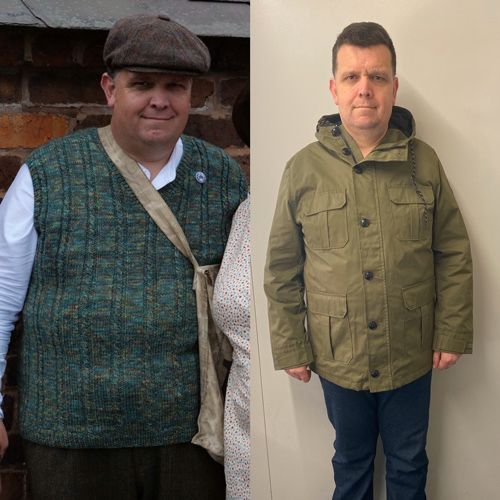 He says: "My top tip is to get clothes in your new sizes from charity shops so that you can see your progress. Then you can treat yourself to more expensive clothes when you reach your target weight."
Chelsea (@chelsea_sworld) celebrated losing 5st 6lbs by swapping her favourite jeans for a brand-new pair six sizes smaller.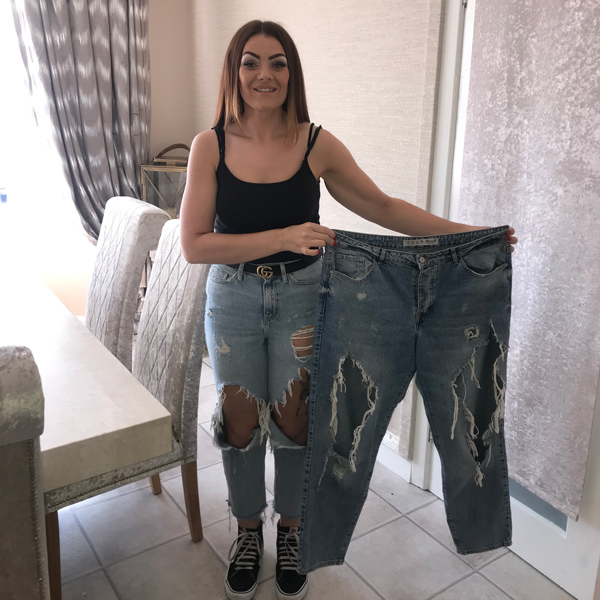 She says: "Since losing weight, I've gained confidence. One thing that spurs you on is everyone paying you compliments, which I'm grateful for. Especially from my partner and family ❤️."
Looking to keep busy at home, Nemone decided to try on her old clothes – and discovered that she can now fit into the jacket she bought to wear on her honeymoon.
She says: "I'm having fun going through my wardrobe and trying on summer clothes. Some that didn't fit last year are now too big, some I can salvage with belts or a dart here and there… I will definitely be able to justify a shopping trip at some point!"
Have we inspired you to clear out your old clothes? We'd love to see your wardrobe transformations on the blog, or you can share on social using #theSlimmingWorldblog. And if you're looking for support with your weight loss journey, you can find out more about joining Slimming World here.