How are you feeling about gyms and pools starting to open again? While it's great to see fitness fans getting back into their routines, not everyone is ready (or able) to rush back to the leisure centre. And with lots of us feeling the pinch and keeping a tighter hold on our budgets than normal, shelling out for a gym membership isn't high on everyone's list of priorities right now – if it ever was in the first place!
Exercise doesn't have to mean spending your hard-earned cash on gyms and expensive fitness gear, though. What's brilliant about Body Magic, Slimming World's unique activity programme that encourages activity alongside Food Optimising, is that there are loads of ways to keep active that won't break the bank. Whether you fancy getting green-fingered in the garden or heading out on a hike, let our members show you how they get moving on the cheap…
Active commuting
If you're heading back into the office after working from home, your daily commute could be the perfect opportunity to sneak some Body Magic into your day, and save some cash on petrol or public transport. Whether you're walking, jogging or cycling, active commuting saves pounds – and burns them off, too! After getting up to speed by riding around her village, Viv Steadman started cycling to and from work every day – and now she's racing through 50-mile rides with her partner, Trevor.
She says: "Body Magic makes me feel healthier, fitter and more confident than I've ever been – and I plan to hold onto that feeling."
Gardening
Turning your garden into a gym is a great way to boost your fitness and spruce up your green spaces at the same time. Digging, raking and mowing will help you work up a sweat and strengthen your muscles. If you don't have a garden, check to see if you can volunteer at a public garden or green space via the Royal Horticultural Society or The Conservation Volunteers.
Slimming World's Greatest Loser 2020, Phil Kayes, keeps active by helping out in his partner's allotment – with the added benefit that he gets to grow fresh vegetables for his Food Optimising meals. He says: "I can't believe how much I love pasta with courgettes, tomatoes and garlic that I've grown myself. I really miss getting out to the allotment when the growing season has finished."
MORE ON THE BLOG: Jenny is climbing her way around the world, without leaving home!
Get appy
There are thousands of fitness apps you can download – and many of them are free! With apps for everything from running to home workouts, you're bound to find one you enjoy – and that's the secret to making regular activity a healthy habit that lasts for life. Erika Spiller downloaded the Couch to 5K app during lockdown and now she can run non-stop for 28 minutes!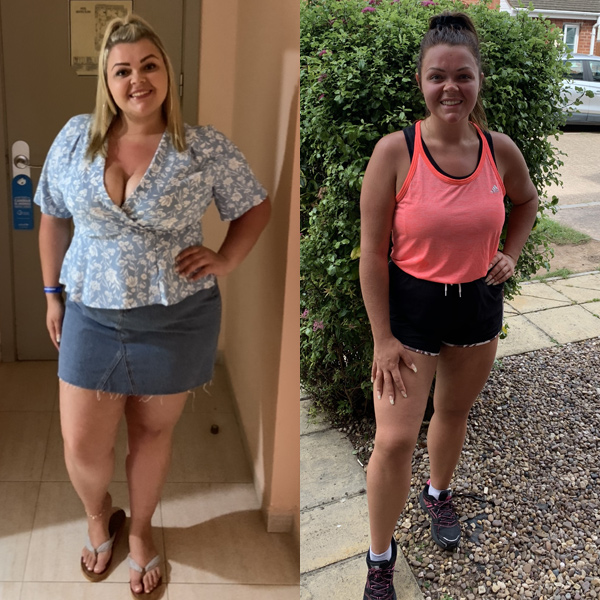 She says: "It's my best time yet! I've only got one more week to go before I complete the programme and I'm going to keep it up afterwards. I'm definitely a runner now!"
Walk on the wild side
Walking is one of the best – and cheapest – forms of exercise, and because you can go at your own pace, it's perfect if you're just starting to add activity into your routine. While there's nothing nicer than a stroll through the park on a sunny day, why stop there? Taking a trip out to a nearby forest is a brilliant way to brighten up your walk, and it's a chance to have fun with your friends and family. Jumping over streams, climbing trees and racing up or down hills are great ways to hype up your hikes. Or you could take inspiration from Elizabeth (@elizz_88_sw) and end your walk with a splash.
She says: "Hike turned into a wild swim in a disused reservoir… All the vibes tonight!"
If you'd like to try wild swimming, you'll find lots of great tips to keep you safe in the water over at Wild Swimming.
Outdoor gyms
Struggling to fit exercise around keeping the kids entertained? Then this is the ideal solution! Let the kids play on the swings while you take a spin on an outdoor exercise bike, treadmill or cross-trainer. Most outdoor gym equipment is low-impact and designed to be easy to use, so they're great for people of all abilities. And because they're free to use, you can workout for as long as you're able to, without worrying about getting your money's worth.
MORE ON THE BLOG: 5 ways to get active in the park
Borrow a dog
I don't know about you, but I'm a lot more motivated to go for a walk when I've got a furry friend by my side. You don't have to commit to a canine full time to get a Body Magic boost, though. I frequently borrow a friend's dog when I'm heading out on a woodland walk and, if you don't know someone with a pooch, websites like Borrow my doggy will help you connect with local dog owners who need a helping hand (or paw!).
As you can see, you don't have to spend a fortune to get fit – and you'll find even more suggestions in your local Slimming World group, which are starting to safely reopen, where guidance and venues allow. Plus, you'll also get access to our members-only website and app, where you can track your exercise to make it easier to work towards some of your Body Magic awards. You can find out more about joining Slimming World here.
If we've inspired you to get fit for free, we'd love to know how you get on, either on the blog or on social using #theSlimmingWorldblog.