You've packed away the Christmas decorations and started a brand-new year – so now's the time to banish those back-to-normality blues by daydreaming of your next great escape. Sunshine Saturday (the first Saturday in January) is the busiest day of the year for travel agents and holiday companies, as we try to block out the bleakness of January by locking in our slice of summer sunshine.
Sadly, at Slimming World we know that it's not always that simple for our members. If you're unhappy with your weight, a holiday can sometimes feel less like a treat and more like a series of obstacles to overcome. But it doesn't have to be that way. Setting a summer goal now gives you six months to achieve it – and we're here to help you every step of the way.
With the flexibility of Food Optimising and unwavering Slimming World support, you can enjoy every moment of your well-deserved holiday with confidence. So have a flick through our members' holiday photos, then go book the sunshine break you're dreaming of!
We love this summery transformation shot of target member Lynsey (@lynseyhannant_sw_norwich), beaming with happiness on the beach. Lynsey's been loving the Slimming World life since 2014 – and her smile says it all!
Lynsey says: "6 stone all gone thanks to Slimming World. Never forget how far you've come. Yes, there's tricky times in life, and don't I know it. However, keep strong and focused – it WILL be worth it 💜💜"

When we feel unhappy with our weight, it can feel easier to make our world smaller by saying no to exciting things that come our way. Olivia even gave up a dream job on a cruise ship – but now she's grabbing every opportunity with both hands! Read her story here.
"My friends were so used to me saying no to everything that I'd surprised them – and myself – by saying yes for once. My friend, Amy, had suggested a trip to Cape Verde and, instead of making excuses, I'd gone for it! And now here I was – lying on a sun-kissed beach, feeling relaxed and confident in my new bikini. It was so different from my last trip abroad to Mexico with Dad a year before, when I was 21 years old and 4½st heavier. All holiday I'd done my best to strike flattering poses for the camera, but when I saw the pictures, I didn't recognise myself."
Maybe you're not actually dreaming of a beach holiday? Maybe you're a thrill-seeker who'd love an action-packed getaway? We'll help you find the confidence to say YES to the adventure of a lifetime, whatever's on your wish list.
Steven joined Slimming World after being turned away from a theme-park ride in Florida. Six months later, he'd lost 6st and hit his target weight of 14st 7Ibs. Read his story here.

Steven says: "As soon as I hit my target weight, I booked a return trip to Florida – and on this visit, I was determined to go on every single ride.
After a fun-packed time at the theme parks, we went on to the bright lights of Las Vegas, where I posed riding a Harley-Davidson (with a huge grin on my face!). Slim, happy and no longer held back or embarrassed by my size, that was a real pinch-me moment that would never have happened before I lost weight."
Perhaps a cultured city break is more your cup of tea? Losing weight can send energy levels soaring, so hitting the sightseeing trail becomes a brilliant Body Magic breeze.
Cheryl (@kale.in.it.on.slimmingworld) has lost 2st 10lbs since joining her local Slimming World group in January and her 'Slimming World feeling' is pure pride! Here she is, living la dolce vita in beautiful Florence.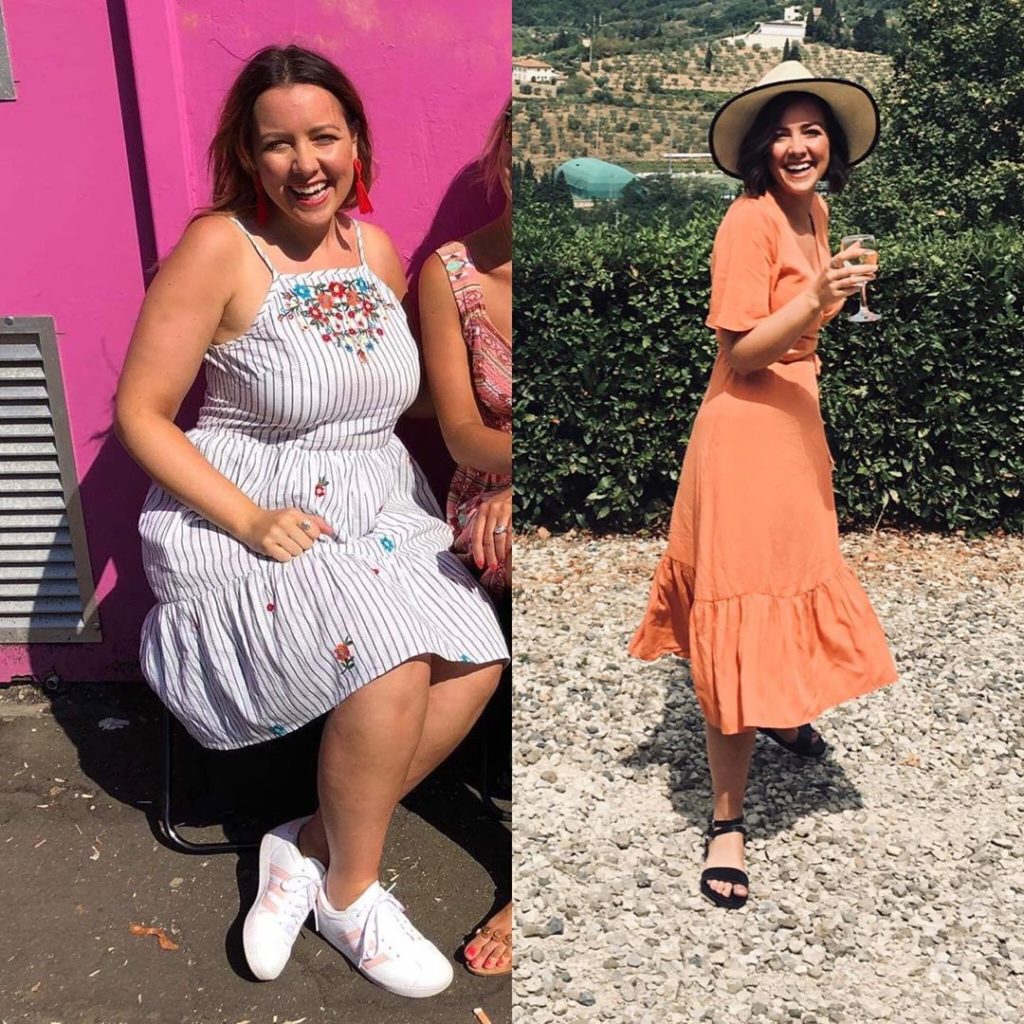 Cheryl says: "Okkaaay, so here's my comparison picture 🙈 The photo on the left was the worst photo of my life. I don't even think I noticed the weight creeping on. With the help of Slimming World, the picture on the right is me now – on holiday, at target in a size-8 dress. I feel back to being me again 💃🏻"
Sometimes, it's the practicalities of travelling that can put us off. Ross faced a nemesis that many of our members have come up against over the years – the dreaded plane seat belt! Read his story here.

Ross says: "Going on holiday to Turkey with friends, I was too embarrassed to ask for a seat-belt extender, so I spent the whole flight feeling squashed and uncomfortable, especially when the in-flight meal arrived – I could barely get the table down over my stomach.
Losing 5st with Slimming World completely changed my life. I really understood just how far I'd come when I got on a plane again. Going on a family holiday to Spain was such a different experience. I had plenty of room, my knees didn't dig into the seat in front and I could pull the table down with ease! I feel like a totally different person – full of confidence and ready to take on whatever life throws at me."
Who says you have to go abroad to have fun in the sun? Amy (@aimsterlouise_sw) was a beach babe in Bournemouth this summer – and the huge smile on her face (despite what must've been a chilly dip!) sums up 'that Slimming World feeling'.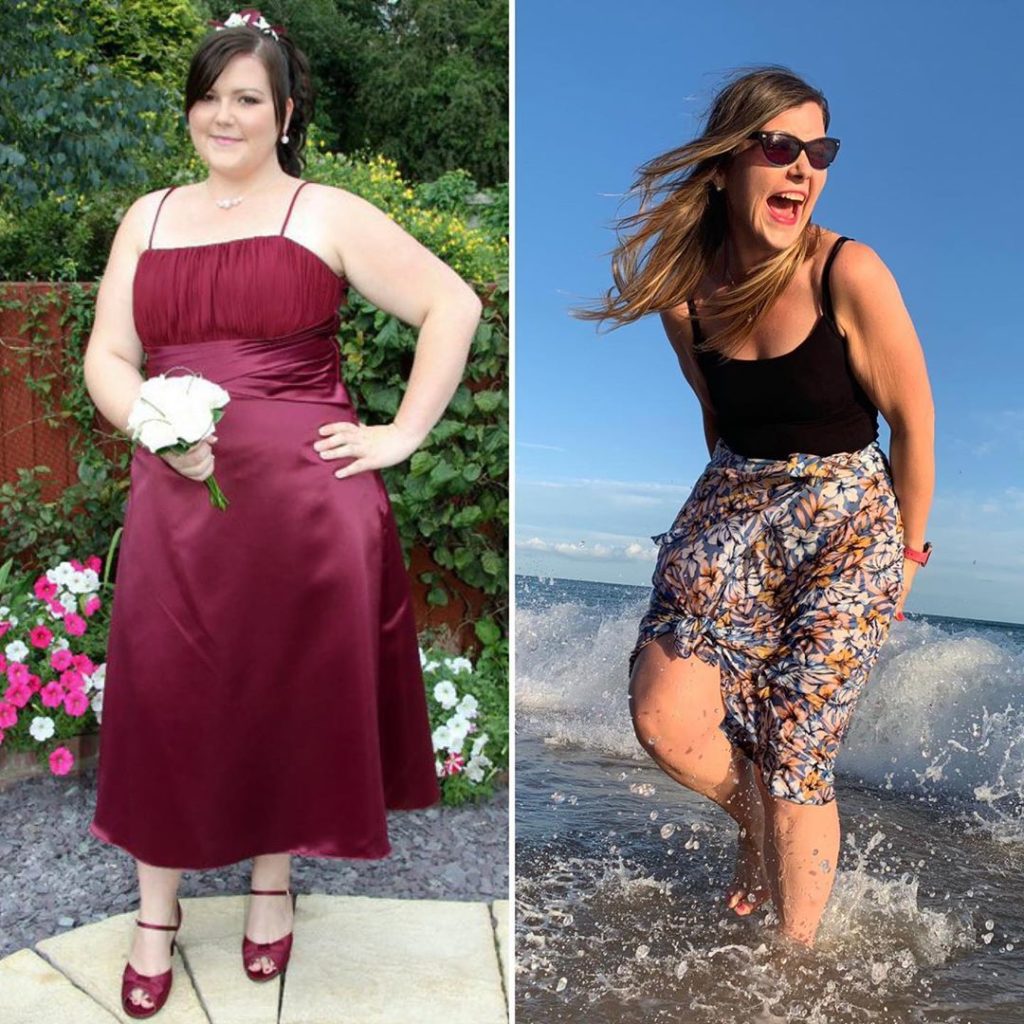 Amy says: "A reminder of how far I've come… From 2010, before my journey began, to this weekend. I absolutely LOVE this photo… a candid silly shot of me larking about in the sea, so carefree and happy in the moment. It's not about the weight you lose but the life you gain, and I'm so grateful for the wonderful people in my life, especially when they take banging photos of you ❤️❤️❤️"

A holiday should be one of the high points of the year, but we so often hear stories of members who felt uncomfortable or upset on holiday – or simply avoided them completely – before they joined Slimming World. But just look at them now!
Wherever you'd like to be in six months' time, we can help get you there.