You might remember that February was Free Food Festival time at Slimming World, with members sharing their own favourite Free Food recipes in groups and on Slimming World Online. From the stack of amazing recipes submitted, we shortlisted a fantastic top 10, which were created in our Slimming World kitchen and taste-tested by our panel of very lucky (and full, by the end of the day!) judges.
One of our judges, our Food and Publications Manager, Allison Brentnall, had this to say:
"The standard of entries was brilliant and featured cuisines from all over the world. Vegan, vegetarian, gluten-free, dairy-free, meat and fish… everything was there! And we saw an enormous variety of Free Foods being included, so it really did feel like a celebration and showcase of our huge Free Food lists.
Judging was tough! On behalf of the whole panel, we'd like to thank you for putting so much energy and love into Slimming World's 2022 Free Food Festival!"
So, drum roll, please, for our 1st prize winner… Jo Allford-Gretton's Moorish spiced chicken and aubergine rolls!
Free Food Festival winning recipe
Jo's Moorish spiced chicken and aubergine rolls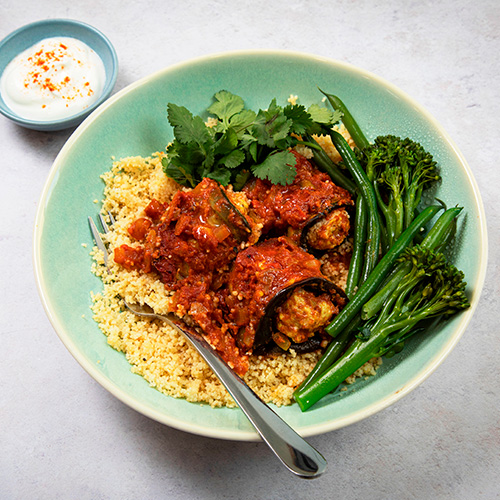 serves 4
Free
ready in 1 hour 20 minutes
What you need:
low-calorie cooking spray 
2 large aubergines, sliced lengthways into 1cm-thick strips 
1 shallot, roughly chopped 
5 garlic cloves, crushed 
10 fresh mint leaves 
500g skinless and boneless chicken thighs, visible fat removed 
1 tsp ras el hanout spice mix* 
zest and juice of 1 unwaxed lemon 
1 large onion, finely chopped 
1 red chilli, deseeded and finely chopped 
1 tsp ground coriander  
1 tsp ground cumin 
1 tsp ground turmeric 
500g passata 
dried couscous, prepared according to the pack instructions, to serve 
fat-free natural Greek yogurt, to serve 
fresh coriander sprigs, to serve 
*Spice blends are Free so long as they're made from herbs and spices only and don't include any Synned ingredients like sugar, flour or oil. Check the label to be sure and count the Syns as necessary.
What you do:
1. Preheat your oven to 180°C/fan 160°C/gas 4. 
2. Spray a large non-stick baking tray with low-calorie cooking spray. Put the aubergine strips on the baking tray, season lightly and cook in the oven for 12 minutes, then set aside to cool. 
3. Meanwhile, put the shallot, garlic and mint leaves in your food processor and blitz until finely chopped. Add the chicken, ras el hanout, lemon zest and juice and blitz briefly until you have a coarse paste.  
4. Take 2 tbsp of the chicken mixture and press it into a sausage shape. Wrap an aubergine strip around the sausage and lay it in an ovenproof dish. Repeat with the remaining aubergine strips and chicken. 
5. Spray a large non-stick frying pan with low-calorie cooking spray and place over a medium heat. Add the onion, chilli and remaining garlic and cook for 4-5 minutes or until softened. Add the spices and passata and cook for 5 minutes. 
6. Pour this sauce over the aubergine rolls and bake in the oven for 50 minutes. Serve with the couscous, your favourite Speed veg, a dollop of the yogurt (we sprinkled a little more ras el hanout over ours) and the coriander sprigs. 
2nd prize winner – Marj Gonzalez's Moroccan butternut squash bites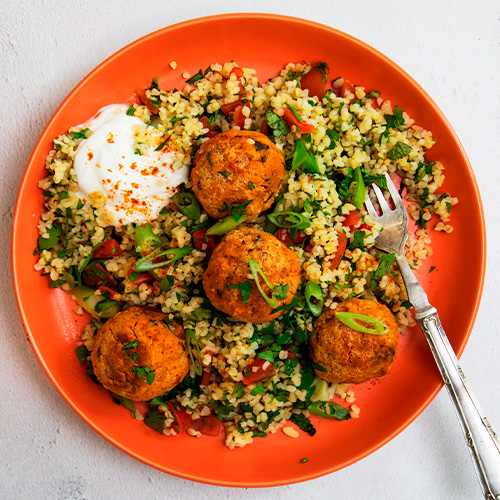 MORE FOR MEMBERS: Slimming World members will find these recipes, plus the rest of the top 10, on the Slimming World website.