Easter is probably going to be a bit different again this year, as many of us are still unable to gather all of our loved ones around the table. While sadly we can't help with that, what we can do is supply some of our favourite Easter recipes, to help make the day as wonderful as possible for those you are able to share it with.
To get your day off to a cracking start, we've got two tasty breakfast ideas. Then take your pick between roast lamb and our vegetarian bangers and mash, with a hot cross pud or chocolate pots for dessert. An easy Easter menu that everybunny will love!
Hunger-busting breakfasts
Hot cross baked oats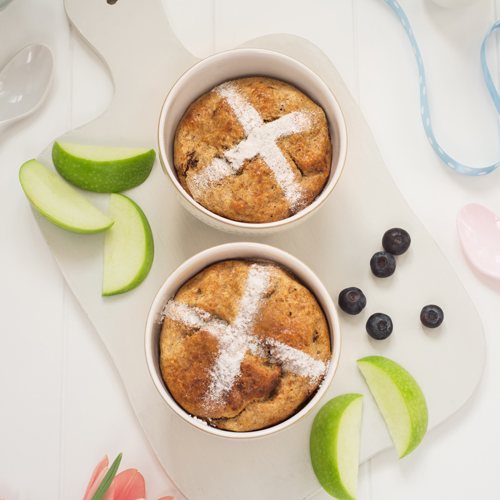 It just wouldn't be Easter without the taste of hot cross buns. A batch of these baked oats will hit the sweet spot and protect your weight loss.
Following our basic baked oats recipe, swap the raspberries for 25g sultanas (4 Syns) and add ½ tsp each of cinnamon, mixed spice and nutmeg before baking (Slimming World members can find the full recipe on the member website).
Dippy eggs with Slimming World soldiers
What better way to wake up than to some perfectly runny soft-boiled eggs* (a Slimming World Free Food)! Simply bring a saucepan of cold water to the boil, then reduce the heat. Place 2 eggs in the saucepan and simmer for 5 minutes.
And if you want to keep things Free with some healthy dipper options, try al dente asparagus, sugar snap peas, baby corn, roasted sweet potato wedges and griddled courgette strips. And if you like your eggs with bacon, give some cooked lean back bacon (visible fat removed) a dunk!
*Pregnant women, the elderly, babies and toddlers are advised to eat eggs showing the British Lion stamp if eating raw or partially cooked eggs.
Delicious dinners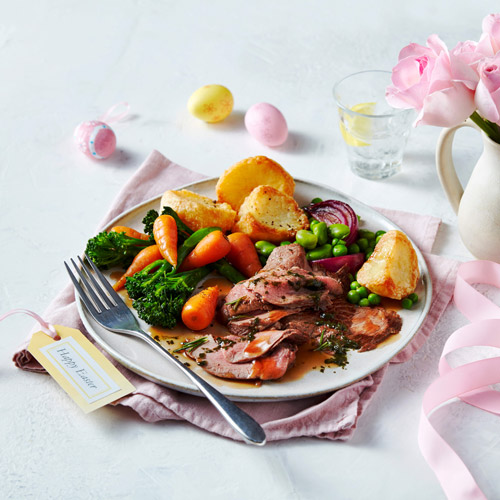 Love a roast? Our healthy Sunday dinner is complete with all the traditional accompaniments. Even better, any leftover lamb will make a delicious curry, stew or pasta dish for a quick and easy weeknight dinner or a working-from-home lunch option the next day.
This Glamorgan-stye recipe proves that sausages don't have to be meaty to be magnificent, and they come with a tangy, tasty tomato sauce too. Serve with mash – or borrow our roast potato recipe from the lamb meal above – and a pile of your favourite veg.
Perfect puds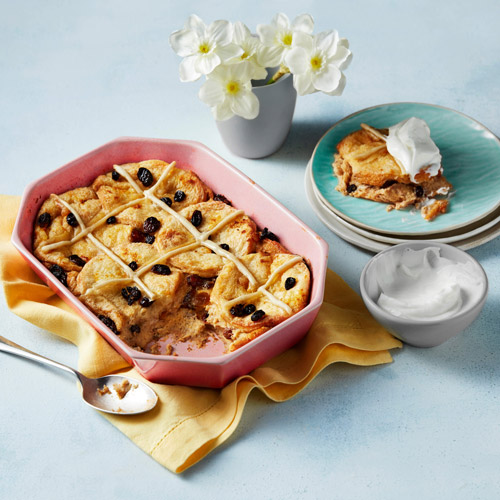 Protecting your weight loss doesn't have to mean missing out and, at Slimming World, dessert is definitely on the menu! This indulgent pud is a lovely way to top off your Easter meal.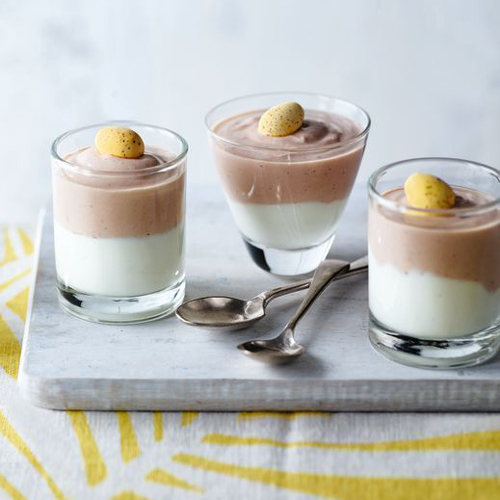 What's Easter without chocolate? These sweet treats are slimming-friendly and ready at the stir of a spoon? That's got to be worth celebrating!
MORE FOR MEMBERS: Slimming World members have access to over 1,500 recipes on the member-exclusive website, including menu ideas for every occasion.
Find out more about joining Slimming World here.
If we've inspired you to get cracking in the kitchen this Easter, we'd love to see what you're serving. Send us your snaps or share on social (#theSlimmingWorldblog).
However you choose to celebrate – or if you decide to give Easter a miss this year – we hope you eat well, and stay safe at home.