🎵 It's the most wine-derful time of the year! 🎵 and Slimming World members don't have to miss out on gin o'clock or mistletoe-and-wine. Whether you love a cheeky cocktail or are channelling your inner Christmas angel and going alcohol-free, here's how to enjoy some slimming-friendly sparkle this festive season…
MORE FOR MEMBERS: Our online Food Search tool lists the Syn values of lots of different drinks – or you can use the handy barcode scanner for ready-to-drink cans and bottles. We make it easy to work out which drinks are sooo worth it, and which fall a little flat.
How the Slimming World plan works: Read more about Food Optimising, including Free Foods, Healthy Extras and Syns.
Top tipple tips
Festive fizz
🥤 Sugar-free fizzy thirst-quenchers, like diet cola and diet lemonade, are Free on Slimming World (which means that you can enjoy them as often as you like, without any weighing, measuring or counting). And if you're in the mood for some sophisticated sparkle, you could create your own low Syn bubbles using slimline tonic and a dash of lime or elderflower cordial.
Chin-gin!
🍸 Love a G&T? Go for a slimming-friendly mixer like a slimline tonic or diet lemonade. And for a fuss-free, booze-free option, you can buy cans of low or non-alcoholic 'G&Ts' in supermarkets, ready mixed (just give them a quick zap with our barcode scanner before popping in your basket!).
Pull a cracker
🍺 If nothing makes you hoppier than an ice-cold beer, there are some great low-alcohol versions available which are usually more slimming-friendly than a regular pint. Cheers!
Whisky warmer
🥃 If you fancy a brandy or a brrrr-bon to warm you up, it makes sense that smaller measures are less likely to cause a shock on the scales. And sipping rather than gulping your drink will make it last much longer. You could also dilute your whisky with water, and your brandy with diet cola.
Stop and smell the rosé
🍷 Maybe you prefer to wine-d down at the end of the day with a nice glass of red, white or rosé. When it comes to wine, as a general rule of thumb, the lower the alcohol content, the lower the Syns.
Nice and spicy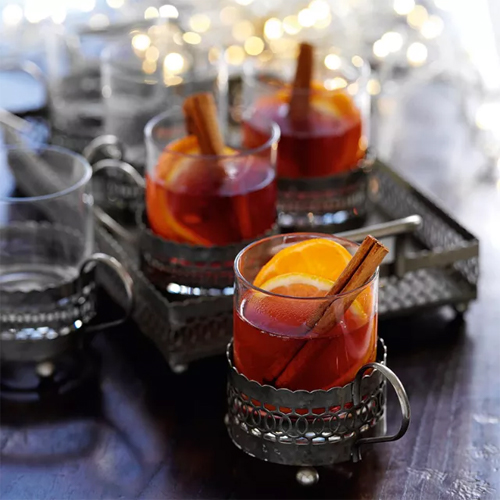 🎅 Nothing says Christmas more than mulled wine – and our low Syn winter warmer is bursting with festive flavours.

Slimming World cocktail recipes
Still stuck for gin-spiration? These Slimming World cocktails are a reason to celebrate!
Festive fruit punch
This non-alcoholic punch will ensure you're merry and bright (eyed) this Christmas.
serves 8
ready in 5 minutes (plus time to chill)
1.5 Syns per serving
What you need:
300ml unsweetened apple juice
150ml cranberry juice
150ml mango juice
500ml slimline tonic water or soda water
250g seedless grapes (a mix of colours will look fun)
ice cubes or crushed ice, to serve
What you do:
1. Chill all the fruit juices and the tonic or soda water in the fridge.
2. Thread the grapes on to eight cocktail sticks and set aside.
3. Pour the fruit juices and the tonic or soda water into a large jug, stir well and add plenty of ice.
4. Pour the punch into glasses and top each one with a grape stick to serve.
Clementine granita
What could be more Christmassy than a clementine? Put your stocking stuffer to good use and knock up a frosty batch of this zingy granita.
serves 4
ready in 15 minutes (plus freezer time)
2 Syns per serving
What you need:
juice of 6 clementines (plus 4 unpeeled slices to decorate)
2 tbsp Cointreau
2 tbsp sweetener (keep them level)
What you do:
1. Pour the juice, Cointreau and 300ml cold water into a jug, add the sweetener and stir well.
2. Pour into a shallow, freezer-proof container (like a Tupperware box), cover and freeze until set (about 6-8 hours).
3. Remove from the freezer and chill in the fridge for 15 minutes.
4. Using a fork, smush up (technical term!) the ice crystals and spoon into 4 glasses.
5. Decorate each glass with a clementine slice to serve.
They say 'grape minds think alike' – and Slimming World members love to swap tips for the tastiest tipples (both alcoholic and non-alcoholic). Join your local Slimming World group or our Slimming World Online Community and give yourself something amazing to celebrate this Christmas.