Ho-ho-holy moly, Christmas is just around the corner and party season is officially in full sparkly swing. There's snow reason for any Slimming World member to ever turn down a party invite. Follow this Slimming World party food plan and you can rock around the Christmas tree with family and friends – and still feel your festive best when Big Ben starts to bong.
Your Slimming World party food plan
December can be a party pooper-free zone when you have a proper plan up your sleeve (or in your stocking!). These tips will help even the life and soul of the party stay on track:
Fill up first
If you have no control over the food on offer, a filling pre-party meal will stop the buffet from beckoning – and something with plenty of protein (chicken burger, perhaps?) will keep you full until way past bedtime.
Be a dinner detective
Restaurants definitely don't have to be a no-go zone for Slimming World members. Seeing the menu in advance will help you to plan, and you'll also have a handy online food search tool at your fingertips.

MORE ON THE BLOG: Your guide to eating out the Slimming World way
Mix up the menu
Making simple swaps can transform a dine-out dinner or party plate into a slimming success. Little things like skipping extra butter and getting sauce on the side (so you stay in control!) can make a big difference.

MORE FOR MEMBERS: Get seasonal slimming strategies and lots of simple swap ideas in Party proof your weight loss
Bring your own
House party invite? No one wants to arrive empty-handed, so leave the chocs and the fizz to the other guests and volunteer to bring a healthier party food option that you love to eat.
Party at yours
Becoming the party planner means you can pick and choose exactly what's on the menu. Choose a restaurant that offers lots of healthy choices – or become the host with the most and have the party at your place.

MORE FOR MEMBERS: You'll find a full set of eating out guides on the exclusive member website – including your high street faves
Slimming World party food ideas
Throwing a brrr-illiant bash at home will keep the bauble firmly in your court – and earn you loads of brownie points with your guests. You'll find lots of ideas for fantastic buffet table fillers in your Slimming World group, with exclusive recipes on the website including tasty terrines, Christmassy canapes, delightful dips and showstopping party puds!
MORE FOR MEMBERS: Create a cracking Christmas buffet with our brand-new recipe guide and video
Get your party started with these Slimming World party food favourites:
Sage and apple filo sausage rolls
We think these nibbles are magic – serve them up and watch them disappear!
makes 24
ready in 45 mins
½ Syn each
What you need:
1 small onion, finely chopped
150g lean pork mince (5% fat or less)
6 Slimming World Free Food Pork Sausages, thawed and skinned
1 small Cox's apple, peeled, cored and finely diced
1 tbsp finely chopped fresh sage
1 medium egg, beaten
2 x 39g filo pastry sheets
low-calorie cooking spray
What you do:
1. Preheat your oven to 200°C/fan 180°C/gas 6. Put the onion, pork mince, sausagemeat, apple, sage and most of the beaten egg into a bowl. Season lightly, then mix well.
2. Divide the mixture in half and shape into 2 long sausages – they should be as long as your sheets of filo pastry.
3. Lay 1 sheet of filo pastry on a work surface and spray lightly with a little low-calorie cooking spray. Lay the other sheet on top. Cut in half lengthways to make 2 strips.
4. Lay a long sausage down one side of each strip of pastry and brush the other long edge with the remaining beaten egg. Starting with the egg-free edge, roll up each sausage in the filo pastry, pressing the egg-brushed edge to make a good seal. Cut each long roll across into 12 equal-size pieces.
5. Spray a non-stick baking sheet with a little low-calorie cooking spray and arrange the sausage rolls about 5cm apart. Spray the top of each sausage roll with a little more low-calorie cooking spray and bake for 25-30 minutes, or until crisp and golden brown. Serve hot.
Fruity Christmas tree
Add wow-factor to your table with this colourful Christmassy centrepiece. Tree-rifically tasty!
serves 8
ready in 25 mins
FREE
What you need:
3 kiwi fruit, sliced
600g strawberries, stalks removed
300g each of red and white seedless grapes
1 orange-fleshed melon, peeled, deseeded and cut into bite-sized chunks
1 carrot
1 apple
What you do:
1. To make the Christmas tree first you have to cut a slice from the bottom of an apple so that it sits flat. Then put it on a flat surface and fix a carrot on its top. For this you can use wooden skewers or cocktail sticks to secure it in place. After that put cocktail sticks in the apple and carrot, just like branches of a tree.
2. To assemble, attach the chopped fruit to the cocktail sticks, covering the apple and carrot completely. Finish with a star-shaped melon piece on top.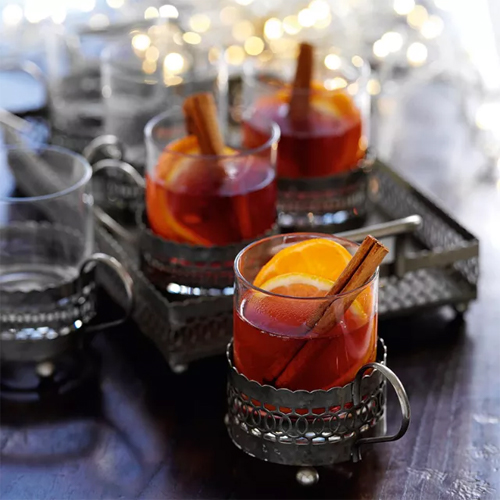 Pour a warming glass and toast the most wine-derful time of the year. If spicy mulled wine isn't your thing, we've got lots more ideas for a sparkling, slim-tastic Christmas.
MORE ON THE BLOG: Take a sip of our slimming-friendly drinks ideas and festive cocktails
Strawberry Santas
Add some 'ho ho ho' to your house party with these super-sweet little Strawberry Santas. They're so easy that you could enlist some eager Santa's helpers to make them while you get on with other party prep.
serves 6
ready in 10 mins
½ Syn per serving (two Santas!)
What you need:
100g plain quark
2 level tbsp sweetener
12 strawberries, green stems removed
24 chocolate chips (cake decorations)
What you do:
1. In a bowl, mix together the quark and sweetener.
2. Cut the bottom (pointed bit) off the strawberries to create Santa's hat, and sit the tops on your serving plate. Spoon or pipe some quark mixture on top of each strawberry and down the front (to create his head and beard). Place the hats back on.
3. Add 2 chocolate chips for eyes and serve straight away.
Slimming World groups are open!
'Tis the season to feel supported
At Slimming World we know that party season can feel like a slippery slope, especially if we're dreaming of a slimmer Christmas. This is why we surround our group and online members with support – and pack our websites with tips, tools and really good reads to keep you on track through even the trickiest times.
Slimming World members also get access to a huge collection of recipes, with lots of ideas for every special occasion (including our amazing pavlova wreath!). With over 1600 recipes online, and lots more being shared in group and the Slimming World Online Community, you'll never be stuck for what to cook.