Do you ever worry about how to help your child make healthier choices? You're not alone. A study of Slimming World members, which was presented at the European Congress on Obesity in Maastricht last week, found that parents who are concerned about their child's weight would be interested in receiving support to help their child achieve a healthy weight too.
The study by researchers at the University of Bristol also showed that:
48% said their children had enjoyed a healthier diet since they'd started to address their own weight.
27% said their children were doing more exercise.
55% of parents who'd joined Slimming World felt more motivated to support their children to reach or maintain a healthy weight.
Slimming World's Nutrition, Research and Health Policy Manager, Carolyn Pallister, says:
"This study supports Slimming World's research, which show that our members pass on their newly formed healthier habits and influence their families. For 77% of members with children, within just three months of joining a Slimming World group their children were eating more healthily – and 41% of members who've started to build exercise into their routine have encouraged their family to be more active, too."
MORE ON THE BLOG: 5 family favourites everyone will love
Slimming World's Family Affair
At Slimming World, we've always understood the need for a flexible, family-friendly approach – life's too short (and busy!) to be cooking separate meals! That's why we introduced our Family Affair approach exclusively for Slimming World members, to help them take healthy habits home and lay positive foundations for everyone in the household.
Because Food Optimising and Body Magic are founded on everyday food and activity – that fit with normal life, are fully in line with current guidance and are easily personalised for you, your family and your family's lifestyle – they can help everyone to adopt healthy habits.
In fact, we know that many of our members already cook Food Optimising meals for everyone at home to enjoy, and Family Affair will support more members and their families to make healthier, long-lasting changes.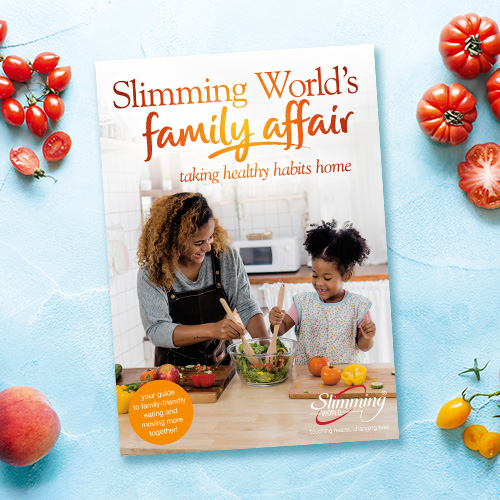 MORE FOR MEMBERS: Our Family Affair booklet is packed with advice to support the whole family to make healthier, long-lasting changes – including:
some of the differences to keep in mind as you shop, cook and eat as a family
family-favourite recipe makeovers to get everyone eating well together
tried-and-tested ways to exercise and get active as a family or individually
You'll also find our Family Affair app on the App Store or Google Play, with fab food and activity swaps, recipe ideas and much more to share with your kids at home.
Read more about our family support for members here

Discover two great ways to join here
*The lead researcher on the study was Dr Ruth Mears. Other researchers were Debbie Sharp, Russell Jago and Julian Hamilton Shield.