Today (8th March) is International Women's Day and we can't think of a better way to celebrate than by shining a light on Sophie Higginbottom, our Woman of the Year 2022. We caught up with her to find out how losing weight with Slimming World transformed her relationship with food, lifted her confidence and helped her secure her dream job!
If Sophie's story inspires you to start your weight loss journey, you'll find our latest special offers here.
How was your weight affecting your life?
I was the person who cancelled on friends at the last minute or said I was suddenly unwell, especially if I knew there might be photos. Once, I was caught off guard when a friend whipped a camera out at a birthday dinner, so I quickly moved everyone around so I could get to the back of the shot. I just wanted to hide as much of myself as possible.
I'd spent years studying to become a psychologist, but after university I didn't feel able to go for my dream career. I had this mean voice inside my head telling me there was so much competition in my field, why would I be the one to succeed?
What made you decide to join Slimming World?
In 2019, my little niece, Lily, was diagnosed with neuroblastoma, a rare type of cancer that mostly affects babies and children. We'd always been close and I was so worried about her that I turned to food for comfort. I'd opt creamy pasta dishes topped with Parmesan and served with garlic bread, often followed by a tub of ice cream.
Thankfully, after her treatment, she went into remission, and to celebrate my family did a 5K charity run to raise money for research. I tried as hard as I could to keep up with the others, but I barely made it to the finish line.
As I picked up my too-small finisher's T-shirt afterwards, still out of breath, something inside me clicked: I didn't want to spend the next year feeling like this. On Boxing Day 2019, I searched online for my nearest Slimming World group and joined in the New Year.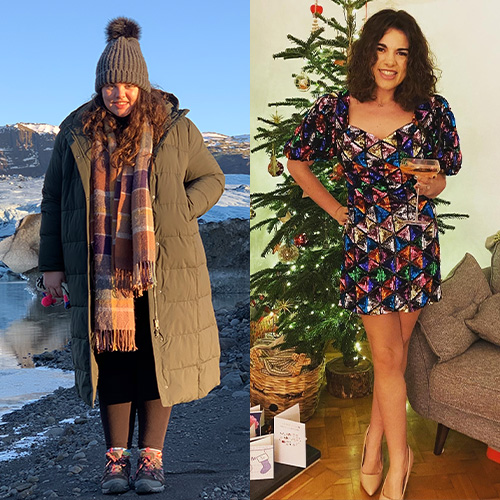 How did Food Optimising fit into your lifestyle?
Really easily! I was surprised to discover I didn't have to cut out the meals I loved – I could just adapt anything I fancied. So instead of buying ready-made quarter-pounders and brioche buns, I made my own burgers from scratch using lean beef mince, and served them with a large salad and a Healthy Extra wholemeal roll.
I also stopped adding oil and butter to meals, weighed out my cheese and swapped cream for fat-free fromage frais. I can't live without dessert, so I found loads of slimming-friendly ways to satisfy my sweet tooth. Trifles, brownies, cheesecakes… you name it, I've probably got a Slimming World recipe for it!
MORE ON THE BLOG: Discover which puddings are on the menu when you're Food Optimising.
Is your Slimming World group important to you?
Definitely. I love being around such a genuinely lovely bunch of people. Everyone there understands the ups and downs of making such a big life change, and I've learnt so much by listening to the other members' stories.
Their support helped me to tackle my emotional eating, too. My Consultant, Lynsey, showed me how to recognise the moments that used to send me off track, like feeling stressed or tired, and together we put a plan in place so that I could make healthier choices.
Now, I always plan a dessert into my day, so that I can enjoy a treat within my daily Syns allowance, and the other members in group gave me some great ideas for Free Food alternatives to my favourite comfort foods, like Slimming World chips and tasty fakeaways. Because my menu is still full of the foods I love, I never feel like I'm missing out.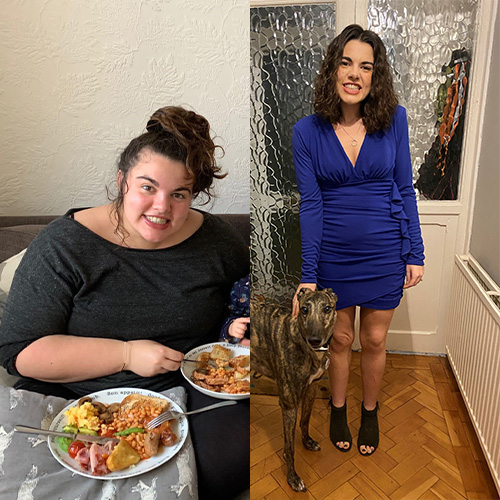 Have you noticed a change in your confidence, too?
Oh yes! With each weight loss milestone, I started to believe in myself a little bit more. Even when I had a setback, I never felt discouraged. I'd just think back to before I joined and remind myself that, back then, I'd have been delighted to be where I was now. It was incredible to hear the negative voice in my head becoming so positive.
As the number on the scales went down, my self-belief just grew and grew. Then, I spotted a vacancy for an amazing job! At the interview, I talked about the vital connection between mental wellbeing and good nutrition. I was quite overwhelmed when I found out I'd got it, knowing a new chapter of my life was now well and truly underway.
MORE ON THE BLOG: How talking more kindly about yourself can work wonders for your weight loss.
And we've heard there might be wedding bells in your future…
My fiancé, Alex, is my biggest champion, and when he proposed last August after five years together, I didn't think twice. I wouldn't have considered getting married when I felt so unhappy in my skin, knowing the horror I'd have felt having to find a bridal gown. Recently, I went to try on some dresses and I felt great in every single one. When I look to the future, I feel excited, like anything is possible – I know if I've managed to do this, I can do anything.
At Slimming World, we have more than 50 years' experience helping people change lifelong habits and achieve their weight loss dreams. Whether you'd like support with emotional eating, advice on how to combat cravings or tips for fitting slimming into your daily routine, we can help you develop personalised strategies that work for you.