Who's ever started the new year with big dreams for their weight loss, only to run out of oomph before the month is out ✋? Losing weight isn't easy – even with an eating plan as hassle-free, generous and filling as Food Optimising. Changing the habits of a lifetime takes effort and without support it can be easy to give up on yourself. If your desire to slim has dipped this month, we can help.
With our deep understanding of the psychology of slimming, we'll help you uncover any emotional barriers and give you powerful strategies so you can overcome them. We'll also show you how to make lasting changes that will help keep your weight loss motivation firing all the way to your dream weight. Here's how to stay in the slimming zone…
Get your tools out
Whether it's a gain you didn't expect or your weight loss has just completely stalled, slimming setbacks can be disheartening. Every weight loss journey has bumps in the road, though – it's completely normal – and at Slimming World you'll be in the best place to get support.
If your weight loss has veered off course, our Consultants will dig into their Motivational Toolkit – packed with expert strategies and techniques – to help you get back on the road to slimming success. Our unique box of tools includes:
food diaries – filling one of these in can help you refocus your Food Optimising habits
the SAS log – this can help you uncover those unconscious habits that could be stopping your weight loss 
the For and Against list – a helpful tool for overcoming the psychological and emotional barriers we all face when losing weight
visualisation – this powerful technique helps you break old habits and put healthy new ones into practice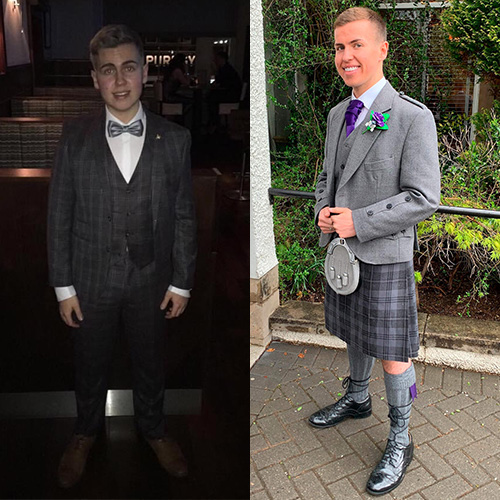 Tapping into the power of Slimming World's Motivational Toolkit has helped Fraser Walker overcome every slimming hurdle he's faced and lose more than 2st 7lbs. He says:
"Visualisation has been one of the most powerful tools for me, and I've used it throughout my journey. Whenever I'm struggling, I picture myself picking up my target award and think about how amazing I'll feel. It really helps to make me feel motivated again."
MORE FOR MEMBERS: Discover the complete set of techniques we use to help you through challenging times in our The Slimming World Motivational Toolkit – unlocked article
Weigh in every week
Ask any of our members and they'll tell you that there's something magically motivating about stepping onto the Slimming World scales. It's not because our scales have superpowers (that we know of…) – it's because they unlock the power of group support that is vital to maintaining motivation in the long term.
While other members will never see your weight, they'll be beside you, finding out their own. And whatever you see on the scales, you'll get praise, cheers or kind words and, most importantly, your Consultant will help you come up with a personalised plan for the week ahead, to make sure you get the loss you'd love at the next weigh-in.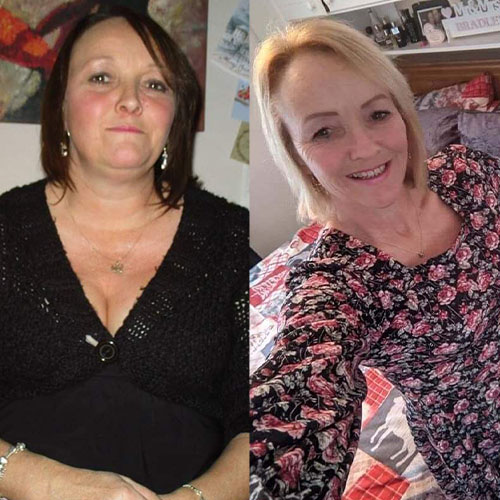 With her Slimming World group and Consultant cheering her on, Cathy (@caths_sw) lost 2st 2lbs and has maintained her target weight for more than a year. She says:
"I couldn't have done it without my group and fantastic Consultant. Thank you Slimming World – and everyone else – for all your support and inspiration along the way."
Talk yourself up
Do you ever use negative or upsetting words when you're talking about yourself or your weight? While you might think you're giving yourself a good talking to, a Slimming World study found that shaming yourself damages your motivation by sending you into a spiral of self-criticism.
The good news is, it's easier than you might think to bring the love back into your self talk. You could start by:
avoiding humiliating words when talking about yourself
compiling a list of all your favourite things about yourself
treating yourself with kindness, understanding and compassion, like you would a friend
boosting your self-esteem with Body Magic – by feeling stronger, fitter and enjoying a sense of accomplishment because you've achieved a certain goal
It can also help to surround yourself with kind, supportive people who will fill you with self-belief. You'll find exactly that in your local Slimming World group (along with expert guidance to help you tackle the deep-seated beliefs you have about yourself), which is why 91% of our members say that going to group helps them feel more positive about themselves.
MORE FOR MEMBERS: Join presenters Anna and Clare as they explore what self-compassion really means for your weight loss in this exclusive member podcast
Tap into your deepest desires
Improved health. Greater confidence. Being a great role model for our kids… We all have deeply personal reasons for wanting to lose weight, and keeping those core values in mind can motivate us to stick with our journeys, even when things might not be going so well.
To find your 'why', write down all the reasons you can think of for wanting to lose weight. Does one stick out as feeling truly personal or important to you? A-ha, that's your reason!
MORE FOR MEMBERS: Our For and Against list is specifically designed to help you connect with your deepest motivations
Dream big
Setting a goal can increase your chances of success and our study of 24,000 Slimming World members showed that those who set ambitious target weights lost far more than those who aimed to lose a more modest 5-10% of their body weight. Once you've decided on your main aim, it can help to split it down into smaller 'micro goals'.
Psychologist and author Dr Linda Papadopoulos explains: "Meeting those smaller milestones, then congratulating yourself, gives you a sense of achievement while you're on your way to your big goal. They keep you motivated when things get challenging or if it feels like nothing is changing."
MORE ON THE BLOG: 7 ways to get off to a strong slimming start
Have an incentive
"Reaching your target is a delayed benefit, so look for more immediate perks to stay incentivised," says Dr Linda. Little rewards for weight loss, such as a new outfit or gadget, can really fuel motivation. Some members even like to add money to a jar for every pound they lose! "It's about making the journey rewarding, too," Dr Linda adds.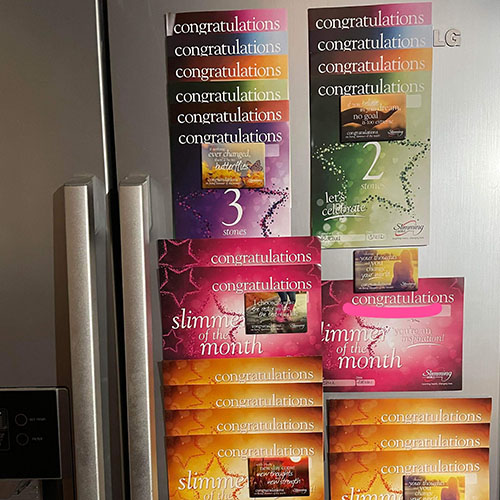 The @sw.vegang girls have a fridge door covered with colourful weight loss awards to help them stay motivated. They say:
"It's the stickers and certificates that keep us going. We joined 19 weeks ago and the collection keeps growing."
If you're looking for lasting weight loss, you'll find a world of support waiting at your local Slimming World group or in our vibrant online Community. Join us, and discover "that Slimming World feeling" for yourself!