Many of us turn to food and drink to soothe ourselves when we feel stressed, sad or bored. However, comfort eating often leaves us feeling worse, because the original problem hasn't gone away and we can then also feel guilty or ashamed about the fact we've overeaten.
It's a vicious downward cycle, one that here at Slimming World, we truly understand. Our expertise in the psychology of slimming and knowing that how we feel can have a big affect our weight loss success is woven through everything we do. In your group, an expert Consultant will help you to really understand yourself as a slimmer, to identify your triggers and develop new and lasting coping strategies. One of our unique Motivational Tools, the SAS log, has been created to help members uncover often subconscious eating patterns and identifying the relationships between them and our emotions.
You'll also find yourself welcomed into a supportive community of like-minded, supportive slimmers, who all understand the challenges that you face. The weekly sharing of ideas, recipes, experiences and strategies will ensure that you start every week inspired, motivated and fully equipped to get the result you want on the scales.
Tansy's story
My emotional eating began when I was a teenager. We lived in a pub at the time, and I enjoyed plenty of dinners from the kitchen – burgers, fish and chips, roast dinners… if it made me feel good, I'd eat it.
Over the years, I comfort-ate my way to 18st and my self-esteem plummeted. I avoided looking in mirrors and hid my figure under shapeless cardigans. Jay was always loving and supportive, but I became increasingly insecure.
MORE ON THE BLOG: The 'ground swallow me up' moment that spurred Jenny Irons to slim
Overcoming my emotional eating
While a few of my friends had lost weight with Slimming World, something held me back from joining. Deep down, I think I was worried it would be another failed slimming attempt. Eventually, I shared my fears with my sister. "You could go for a week and see what it's about," she suggested. "You might be surprised…"
MORE ON THE BLOG: Why calorie counting doesn't work
As I sat in group for the first time, listening to the Consultant, Vicky, explaining how I could fill up on pasta and potatoes, I realised that Slimming World's Food Optimising plan wasn't like the restrictive diets I'd tried before.
Week by week, Vicky helped me to discover so much about myself and my relationship with food. I noticed that stress and tiredness were a trigger for me, and she helped me work out how I could to put a plan in place to change my habits for good. I started to reach for fresh fruit when my energy levels felt low and found new ways to make myself feel better, like having a relaxing bath. After talking about activity in group, I felt inspired to start moving more – and with Slimming World's support, I was soon able to add running to my mood- and energy-boosting strategies.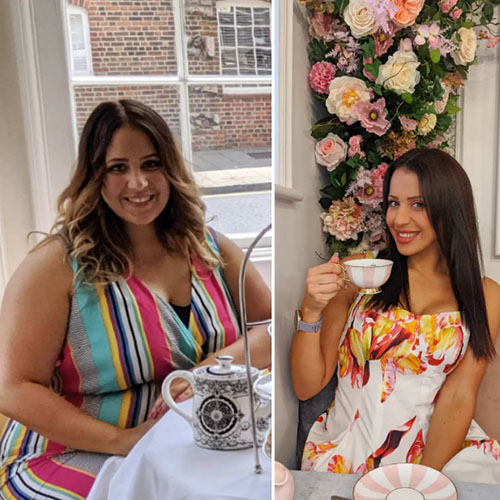 Finding my confidence
Within a few months, I'd lost 3st and I began to see the difference in myself and in my confidence, too.
Of course, there are times when I struggle – I'm only human, after all. Having the support of Vicky and the rest of the group has made all the difference, though. Each week, I'm left buzzing and feeling motivated thanks to the other members' tips or ideas. And if someone's in a difficult place, we all chip in to help them out. Everyone there knows what it's like to struggle with your weight and how it can affect your self-esteem. It's that kindness and empathy that's helped me to understand myself better as a slimmer, too.
Losing 7st 3lbs has changed my whole outlook. As well as having greater control of my emotional eating, I feel more energetic and confident. I feel like I've regained a beautiful part of myself that was gone for so long, and I'm ready to show it off!
MORE ON THE BLOG: How to boost your mood in minutes
4 ways to conquer comfort eating
Treat yourself with kindness
Compassion is the touchstone of emotional wellbeing. Choosing delicious, nourishing food is one of the best ways to show yourself some love, and our Food Optimising plan makes it so easy to enjoy comforting favourites – without ever feeling restricted, deprived or guilty, because nothing is off the menu! Members have access to Food Optimising recipes for everything from cheesecakes and cupcakes to roulades and rice pudding.
MORE FOR MEMBERS: Learning to love yourself
Enjoy an active lifestyle
If you're struggling with feelings of stress or low mood, activity is a great way to improve emotional wellbeing (and it can give you a fab feel-good surge of endorphins, too!). And if you find that you're most likely to reach for the biscuits when bored, getting active is a brilliant distraction. Slimming World's Body Magic programme is the only activity plan that tackles the emotional stoppers that many of us have around exercise. We'll help you to identify and remove any psychological barriers you may have and to develop strategies to get moving at your own pace, in a way that fits in with your lifestyle and that you'll enjoy!
MORE FOR MEMBERS: Join in with one of our online activity videos, with workouts for all levels of fitness
Have a back-up plan
When you just can't shake that ''comfort food mood'', depriving yourself will only make you more likely to go off track – and potentially abandon your weight loss goals altogether. That's when a hearty Food Optimising recipe, like cheesy chips with gravy or a fakeaway curry, can come in handy. If tiredness is a trigger for you, keep a store of your favourite dishes in the freezer so you have mood-boosting meals in minutes. Slimming World members will find hundreds of freezer-friendly recipes on the member website and app.
MORE FOR MEMBERS: This article is packed with ideas for feel-good comfort foods, including satisfying soups and warming puddings
Get support
If you find yourself turning to food when you're feeling out of sorts, we're here to help. Our Slimming World Consultants are trained to help you find a route off the emotional-eating roller coaster. You'll also find extra support on our exclusive members-only website, including a quiz to help you understand your own personal triggers.
MORE FOR MEMBERS: Take the emotional eating quiz
If you're struggling with emotional eating, we can tackle it together. As well as all the practical tools, expert help and recipes you need to lose weight, your Slimming World group is the place to get that support, care and understanding that is just as important. You can find out more about joining Slimming World here.