Getting active alongside following our Food Optimising plan is a great way to give your weight loss and your wellbeing a boost. All activity counts, from everyday jobs like vigorous vacuuming to a brisk walk in the park. If you're just starting out, go slowly by adding gentle movement to your day. Once activity is part of your routine, and you feel confident and comfortable with what you're doing, you can pick up the pace with something that challenges you a little bit more.
Finding something that you enjoy doing is key to making it a lasting habit, and we're here to help you find the right activity for you. We're on our marks and ready to go with the what, why, where, when and how of running!

What: Running is one of the simplest activity options – we all know what it is, there's no membership or equipment needed (other than a pair of trainers) and most people can do it straight from their own front door. Being simple, though, doesn't make it easy! If you're a beginner, start with walking, gradually increasing the pace before including some jogging, and only increase your speed and distance when you feel ready.
Top tip: Setting landmark goals is a great way to get started (for example, to the end of the street, to the next lamp post, or a lap of the park) – and it also makes it easy to chart your progress.
Target member Bex (@slimming_world_bex_) has lost more than 3st with Slimming World. She felt ready to push herself further than her usual distance and ended up completing 11km!
"I could cry, I'm so proud! This time last year, I couldn't run 100 yards, let alone 11k!"
MORE ON THE BLOG: "I lost 9st and smashed the Great North Run!"
Why: Jogging and running are aerobic exercises which also use most of your body's muscles, so they're amazing for all-round health and fitness – anything that makes you breathe faster and increases your heart rate helps to protect you from heart disease, stroke, high blood pressure and high cholesterol. Run regularly and your body will become more efficient at burning energy, too, helping you to reach your target weight – and maintain it!
Top tip: Running can also give your mood a brilliant boost. The post-run rush of endorphins will make you feel fantastic, and going that bit further or faster will send your self-esteem soaring.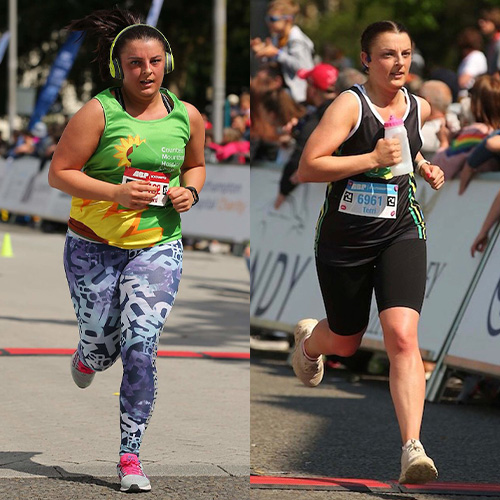 Terri-Louise is seeing – and feeling – the amazing effects of losing weight with Slimming World. She says:
"On the left is me running a 10k race in 2019. On the right is me running a half marathon event this year. Thanks to Slimming World I am keeping off 1st 11lbs. Although you can see the difference to my body, what you can't see is the difference it has made to me as a person. I'm so much happier and fitter now!"
MORE ON THE BLOG: We tackle 5 common myths around exercise and weight loss
Where: The beauty of running is that you can do it just about anywhere! Some enjoy off-roading in the countryside, others prefer roadside runs or jogging on a treadmill (or on the spot) indoors. Bear in mind the weather when you're deciding where to run – icy pavements or muddy trails could cause slips and injuries.
Top tip: Planning a circular route will mean that you can enjoy varied scenery for the entire run. And when you're ready, hills are a great strength builder!
Read Shelly's story: "Running has helped me stay at my target weight for 21 years!"
When: Making activity a habit will help you get the best Body Magic results – and the key is slotting it into your routine in a way that suits you. Perhaps you're an early bird and a morning jog leaves you full of energy. Or maybe you find that moving in the evening helps you to de-stress. You could even get started with something as simple as walking to the shops instead of taking the car. It's all about finding ways to increase your activity levels that will work for you in the long term.
Top tip: You don't need to set aside huge chunks of time for activity. Every five-, 10- or 15-minute session counts – whether it's a jog around the block or a lap of the park.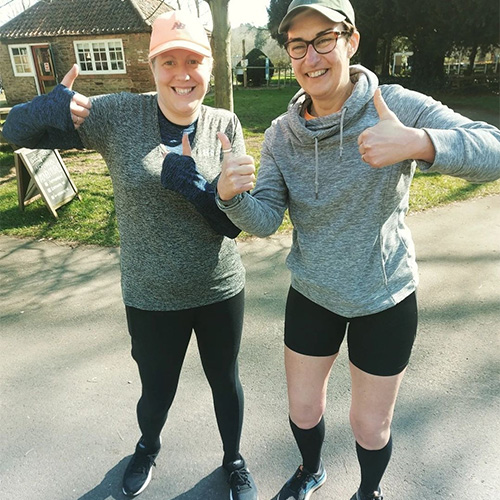 Slimming World Consultant Roz (@rozslimmingworld) and her member Sarah enjoyed a Saturday morning parkrun in the sunshine. Roz says:
"I was supporting my member Sarah Louise this morning, who is over 3st 7lbs lighter. She smashed her personal best at over two minutes quicker 😃😃😃."
How: Jogging and running are as simple as putting one foot in front of the other. You don't need any expensive equipment, just a pair of running trainers and clothing that you feel comfortable in. Tracksuit bottoms or leggings, sports socks, a T-shirt and a sports bra (if needed) are a good beginner's kit. Spending five minutes warming up and cooling down is important to help you avoid injury.
Top tip: Our members all have an online activity planner, as well as a FIT log to record activity alongside their goals and strategies. They can also work towards Body Magic awards as their fitness builds. Tracking our progress shows us how far we've come and can help motivate us to make moving more a healthy habit for life.
Amy (@slimmingworldaimz) is following a running programme, taking it at a pace that works for her…
"Woo, week two of Couch to 5K! I may have to repeat this week again as not sure I'm ready to move on to the next one yet. We will see what Monday brings!"
MORE FOR MEMBERS: You'll find a five-step warm-up routine in the Joys of jogging feature on our exclusive member website
Activity support at Slimming World
Joining Slimming World means unlocking a full get-fit tool kit, which includes:
our Body Magic programme – a unique plan that's rooted in the psychology of exercise
the Slimming World activity videos – a set of 66 on-demand workout videos for every level of ability and fitness
expert support to help you recognise then overcome your personal barriers
Body Magic awards to celebrate your progress from the moment you start your activity journey
fitness articles, including exercise guides and activity ideas
member-exclusive podcasts to listen to on the go
a handy online tracker to plan and record your activity