Dydd Gŵyl Dewi Hapus (Happy St David's Day)! Whether you're a Welsh slimmer looking to cook up a slim-friendly feast, or you'd love to celebrate from afar with some tasty recipes inspired by popular Welsh produce, we've got you covered – including a traditional Welsh recipe for the slightly unusual-sounding but definitely delicious onion cake.
MORE ON THE BLOG: Discover the five most popular Free Food recipes
Lovely leeks
Legend has it that St David was such a fan of the humble leek that he ordered his soldiers to display the green-topped vegetable on their helmets! True or not, there's no denying that the leek is the most Welsh of all the veggies – it's one of the country's national emblems (10 points for guessing the other!).
A big bowl of this leek and potato soup is guaranteed to plug any hunger hole:
Let there be lamb
Wales is well known for its tasty, tender lamb. If you fancy a change from your usual roast, this Moroccan lamb dish has a Middle Eastern twist:
Slimming World Welsh onion cake recipe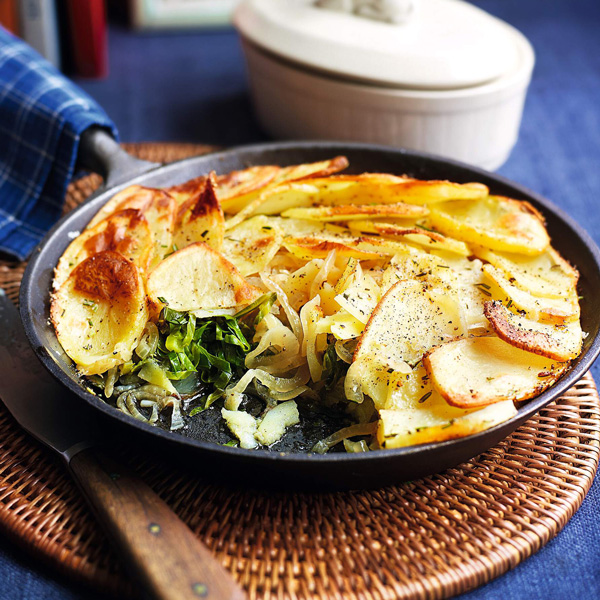 A cake made from onions and potatoes might sound slightly unusual, but we promise this Welsh classic makes a very tasty lunch or a great side. And, as a firm vegetarian (apparently), St David would surely have approved of this hearty potato, cabbage and onion combo.
serves 4
Free
ready in 1 hour 40 minutes
vegetarian
What you need:
225g green cabbage, shredded
low-calorie cooking spray
500g onions, thinly sliced
2 sprigs rosemary (or a couple of shakes of dried)
900g Maris Piper potatoes, peeled and thinly sliced
steamed green beans, to serve
What you do:
1. Preheat your oven to 190°C/fan 170°C/gas 5. Blanch the cabbage in a pan of boiling water for 3-4 minutes. Drain and set aside.
2. Spray a non-stick saucepan with low-calorie cooking spray and place over a low heat. Add the onions, a little salt and a sprig of rosemary (or a shake of dried rosemary, if using). Cover and cook gently for 20 minutes, stirring often. Discard the rosemary and set aside.
3. Spray the potato slices all over with low-calorie cooking spray, and season. Arrange half the potatoes in the base of an ovenproof frying pan, overlapping, in a circle. Add a layer of cabbage, a layer of onions, then a final layer of potatoes. Place the pan on the hob over a medium heat for 5 minutes to colour the bottom of the cake, then transfer to the oven and bake for 45-50 minutes, or until the potatoes are cooked.
4. Remove from the oven and leave to rest for 10 minutes. Place a plate on top of the frying pan and flip the pan over to turn out the cake. Pick off the leaves from the remaining sprig of rosemary, and finely chop, then scatter over the cake (or use a shake of dried rosemary). Serve with the steamed green beans
Whether you're Welsh or not, we think St David's Day is the perfect excuse to cook up some warming Welsh recipes to counter the March chill. With more than 1,700 delicious, slimming-friendly recipes in our online recipe collection, Slimming World members will be spoilt for choice, whatever the occasion.