We love tucking into classic puddings at Slimming World, and our flexible Food Optimising plan means you never have to miss out. Topped with tangy raspberry jam and sprinkled with shredded coconut, this simple three-step sponge will hit that sweet spot every time.
And, of course, no old-school pud is complete without lashings of custard! Slimming World custard takes just 15 minutes to make and adds a silky smooth layer of deliciousness to this dessert.
Raspberry and coconut sponge recipe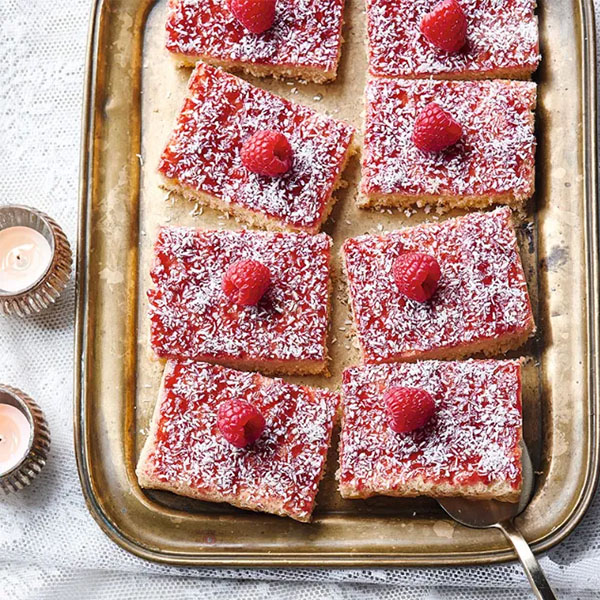 5 Syns per serving
makes 8 squares
ready in 30 mins (plus 10 mins cooling)
vegetarian
What you need:
4 large eggs
50g granulated sugar
1 tsp vanilla extract
100g self-raising flour
4 level tbsp reduced-sugar raspberry jam
25g desiccated coconut
8 fresh raspberries, to decorate, plus extra to serve
What you do:
1. Preheat your oven to 190°C/fan 170°C/gas 5 and line a 20cm x 30cm cake tin with baking paper. In a mixing bowl, use an electric hand whisk to beat the eggs and sugar for 5-8 minutes, until the mixture doubles in volume, is thick, light and foamy, and leaves a trail when you lift the whisk.
2. Add the vanilla extract, sift in the flour, then gently fold everything together. Pour the mixture into the tin and bake for 10-15 minutes, until risen and shrinking away from the sides. Leave to cool completely in the tin.
3. Once cool, take the sponge out of the tin and carefully remove the paper. Spread the jam evenly over the sponge, then sprinkle the coconut over the top. Cut into 8 equal pieces and add a raspberry to each one. Serve with the extra raspberries.
Slimming World custard recipe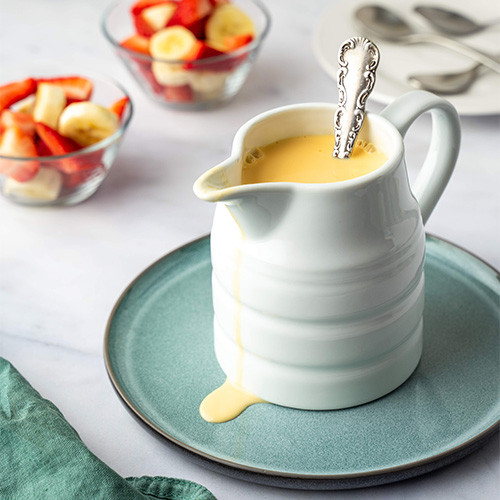 2.5 Syns per serving
serves 4
ready in 15 mins
vegetarian
What you need:
400ml semi-skimmed milk
6 large egg yolks (you could use the egg whites to make these yummy meringue kisses)
2 level tbsp sweetener granules
1 level tbsp cornflour
1 tsp vanilla extract
What you do:
1. Bring the milk to the boil in a small non-stick saucepan over a medium heat. Whisk the egg yolks and sweetener together in a heatproof bowl until thick and pale, then gradually whisk in the cornflour.
2. Slowly stir in the boiling milk and vanilla extract. Return the mixture to a clean pan and stir over a low heat until the mixture thickens and coats the back of a rubber spatula or wooden spoon. Pour the custard through a sieve into a clean bowl or jug – and enjoy!
There are more than 1,700 recipes on the Slimming World member website, including plenty of beautiful bakes, cakes, puddings and desserts. These tried-and-tested recipes all fit perfectly into the Food Optimising plan, so you can enjoy your favourite treats and still get the weight loss you want.