As much as we love the festive season at Slimming World (those Christmas jumpers have already started making an appearance!), we also understand that December can be a difficult month for some slimmers. Supermarkets shelves are stacked high with chocolates, mince pies and creamy Christmas spirits, and the thought of doing any outdoor activity is enough to give you the chills. Throw a busy few weeks of shopping, wrapping, decorating and planning into the mix and it can be tempting to put your weight loss on ice.
We've got an idea that will help you keep your slimming sparkle right through Christmas and New Year, and see you starting 2022 feeling your brilliant best.
Create a Christmas wish mood board
With not long to go until the big day, now's the perfect time to think about how you want to feel this Christmas and beyond. Maybe you've got specific weight loss or Body Magic goals that you want to hit? Or perhaps you'd like to unwrap some extra-special non-scale victories, such as slipping into a new dress or serving up a Food Optimised festive feast that the whole family will love? Putting your Christmas wishes onto a mood board could give you the extra motivation that you need to make them come true.
MORE FOR MEMBERS: A Slimming World group is a great place to discuss your short- and long-term goals. Your Consultant and fellow members can help you put a plan in place – and will be cheering you on all the way!
What's the best board for you?
There are a few different ways to make a Christmas wish mood board:
Keep it old school with a traditional pinboard
Grab some magnets and make a mood board on your fridge
Get crafty with cutting and sticking on card or paper
Go digital with an online mood board (Google 'free mood-board maker' or use Pinterest)
What you choose to put on your mood board is totally up to you. You could focus on one goal, or add a selection box of slimming inspiration to give you that festive Slimming World feeling. Here are some examples to spark your creativity…
Wishing for a stylish Christmas
We all want to look and feel our best on special occasions. If you're hoping to find a gorgeous new outfit under the tree, keeping it in mind will help you to stay on track through a tricky few weeks. (And sticking a picture of it on the fridge works well as a handy hint to Santa too!)
If you're already a Slimming World member, adding your weight loss awards to your board will help you to see how far you've already come and show you that you can do it!
Wishing for a cosy Christmas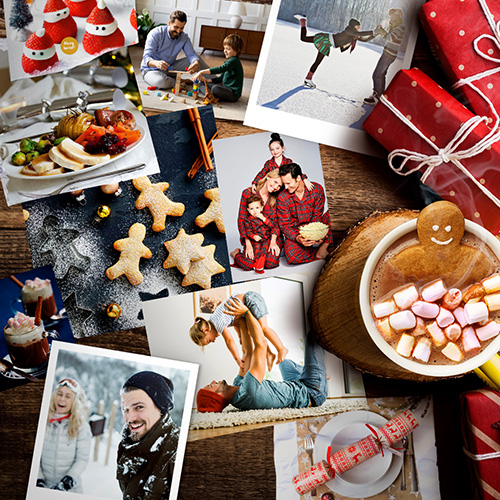 We've got great news if your festive season is all about food and family! You can still enjoy all the tastes of Christmas – from turkey with all the trimmings to yummy Yule logs and steaming hot chocolates.
Many of our members say that being an active mum or dad is at the top of their wish list – and those new Christmas toys are a great opportunity for some family fun. At 13st 12lbs, Danielle felt like she was always watching from the sidelines, too tired to join in:
"I found it hard to do all the things I wanted to do as a mum. I couldn't even get down on the floor to play because I knew I'd struggle to get back up again. Now I have the energy to chase Arya round… being an active mum is an incredible feeling."
MORE ON THE BLOG: Read Danielle's story here
Wishing for an active Christmas
Are you keen to keep moving through the most magical time of year? Whether you've planned small steps you can stick to or feel ready to set a big fitness goal, creating an inspiring visual can help you get physical! If you're a Slimming World member, adding any Body Magic awards that you already have is a great idea, as that sense of achievement can really spur you on.
Kat discovered that staying active helps her Food Optimising focus, too:
"The more I exercised, the more motivated I was to fill up on the hearty meals I'd been discovering in group – which boosted my weight loss even more!"
MORE ON THE BLOG: Read Kat's story here
MORE FOR MEMBERS: Coming soon! More than 50 on-demand activity videos, with workouts to suit all fitness and confidence levels
Wishing for a sparkling New Year
Hands up who wants to end 2021 on a high note? Whether you're planning on slipping into something sparkly (while sipping something sparkly) or fancy joining the hot tub club for a steamy evening in your own back garden, staying focused on your weight loss goals will fill you with confidence for that midnight countdown.
MORE FOR MEMBERS: You'll find lots of recipes for delicious drinks, festive feasts and New Year nibbles in Create a cracking Christmas buffet
Wishing for a wonderful 2022
Many of us will be keen to wave goodbye to 2021 and start planning for a much better 2022. Long-term goals can be a powerful motivator, so take some time to think about what you want next year to look like. Fancy 12 months full of fun family time? Or maybe you've got a special occasion or event you want to look and feel fantastic for? Keeping up your weight loss momentum now will give you a great head start on your best year yet.
If you feel like you struggle to stay motivated while slimming, you'll find support, inspiration and some great staying-on-track tips at your local Slimming World group.
What's on your Christmas wish mood board? We'd love to see! Send your snaps to the Slimming World blog or share on social using #theSlimmingWorldblog.