If the thought of cardio conjures up memories of running endless laps around the school fields, you might be in for a surprise. Any activity that raises your heart rate, gets you breathing faster and makes you feel warmer counts as moderate-intensity cardio – and there are plenty of everyday activities that fall into this category.
Slimming World's five active habits
4. Moderate-intensity cardio activity
Moderate-intensity cardio is one of Slimming World's five active habits for a fitter, healthier future. While doing all five will bring a host of rewards, you'll start to reap the benefits with each and every one.
If you're new to activity, our Body Magic programme will help you overcome any barriers that might be getting in your way from moving more, inspire you to take small steps, at your own pace, and make those into habits… until physical activity is part and parcel of your lifestyle.. Read on to find out more…
Why is moderate-intensity cardio important?
Working your heart, lungs and muscles is great for your all-round health. It can help lower high blood pressure and cholesterol levels, and reduce the risk of heart disease, stroke, type 2 diabetes and certain cancers. Regular cardio can also help you sleep better, improve mental health, boost your confidence and strengthen your bones, joints and muscles.
"As cardio makes your heart and lungs work harder, it helps to strengthen them – and it's great at improving overall fitness levels," says Dr Jacquie Lavin, Slimming World's Head of Research and Scientific Affairs.
MORE ON THE BLOG: If you're looking for your perfect fitness fit, you can check out lots of inspiring ideas in the MOVE section of the blog.
Getting started
"It's important to start at the right level for you," says Jacquie. "As long as your heart rate is increased and your breathing is heavier, you'll reap the rewards." How this looks for each of us will depend on how fit we are. If you're not very active at the moment, you might find walking to the postbox is moderately intense, whereas if you're a little fitter you may need to step it up to notice your heart rate rising.
"Take it slowly, make each session a habit first, then gradually build up the duration and frequency of what you're doing," says Jacquie. "Just putting more energy into everyday activities can be a great start!"
Here are some magic ideas to help you get moving:
Brisk walking
Housework (vigorous vacuuming, gardening with gusto, dusting with drive!)
Swimming
Cycling
Dancing
Water aerobics
Slimming World Consultant Hannah (@macclesfieldslimmingworld) builds her fitness by hiking in the great outdoors.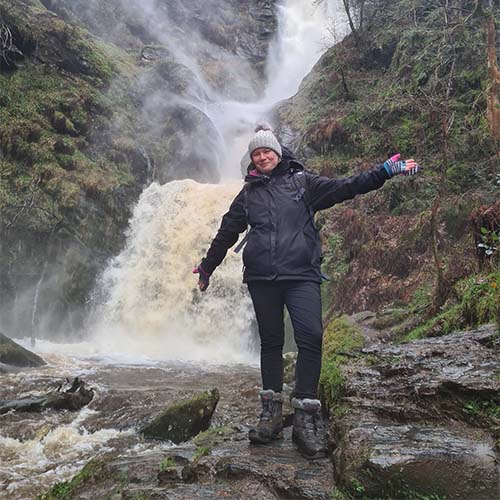 MORE FOR MEMBERS: Our special series of activity videos will guide you through the core cardio moves and help you gradually build up your fitness levels in a fun, manageable way.
"Cycling brings me so much joy"
Lois Aleema used to think exercise just wasn't for her. Then a friend in her Slimming World group suggested she took her son for a bike ride – and she loved it! She says:
"Every day, I cycled around the lake and back home. Then I challenged myself to go a bit further each day, resting for five minutes before riding back home. Those 55 minutes became my time to relax, unwind and let go of all life's worries."
READ MORE: Discover the full story behind Lois's 3st weight loss here.
If you'd love to get started with our Body Magic programme, your local Consultant will be happy to tell you more. When you join Slimming World, you'll also enjoy access to our full get-fit toolkit, which includes:
exclusive activity videos so you can workout at home
expert support to help you recognise then overcome your personal barriers
Body Magic awards to celebrate your progress
fitness articles, including exercise guides and activity ideas
exclusive-for-members podcast episodes, to listen to on the go
a handy online tracker to plan and record your activity