As the situation with the pandemic continues to bring further restrictions and concern, it can feel good to have something positive to focus on – and at Slimming World, we're gearing up for Healthy Eating Week. Organised by the British Nutrition Foundation, Healthy Eating Week encourages all of us to embrace a healthier way of living through seven eating, drinking and activity challenges.
Helping our members to lead healthier, happier lives is at the heart of everything we do at Slimming World. Our Food Optimising eating plan is based on the latest science, and is designed to be an easy-to-follow and enjoyable way to lose weight – and keep it off for life – without ever going hungry.
With many people looking to make a fresh start with their weight loss journeys now that real-life Slimming World groups are opening again, Healthy Eating Week is a brilliant opportunity to get back into the healthy eating groove. We asked our nutrition and health policy manager, Carolyn, to share her expert pointers to help you ace seven days of healthy habits…
Monday: Have some wholesome wholegrains
Wholegrains are a good source of fibre, which is beneficial for our gut and heart health, and help us feel fuller for longer (so they're great for weight loss, too!). Wholegrains also provide essential vitamins and minerals, including B vitamins, to support our overall health, so it's important to enjoy plenty of them as part of a balanced diet. Wholemeal bread, brown rice, wholewheat pasta, porridge oats and grains like quinoa and pearl barley all count as wholegrains, giving you plenty of options if you'd like to introduce more of them into your Food Optimising meals.
Healthy hint: Mix it up at dinner time with our quinoa-filled vegetable quinotto, a vegan twist on risotto.
Tuesday: Vary your veg
Whether they're fresh, frozen or tinned, enjoying a wider variety of vegetables is a great way to brighten up your meals – and provide your body with a range of different nutrients. Eating a diet rich in fibre-packed veggies is associated with a lower risk of developing conditions such as heart disease, type 2 diabetes and cancer. Plus, they're typically low in calories and help to fill us up – which is why most vegetables are Free Foods, meaning you can enjoy them freely with no weighing, measuring or counting when you're Food Optimising.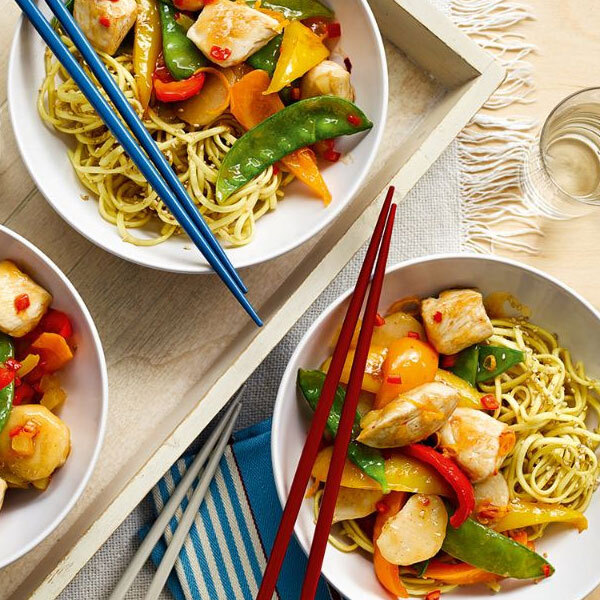 Healthy hint: Serving up a stir-fry is great for packing plenty of veg into your meals – and our sizzling firecracker chicken is brimming with colourful produce.
Wednesday: Drink up
Drinking plenty is crucial for our concentration, supports healthy digestion, is great for our skin and can prevent hunger pangs (which are actually often a sign that we're dehydrated). A useful tip is to drink before you feel thirsty to avoid the sluggishness and headaches that can result from dehydration, and try to have at least six to eight unsweetened drinks a day to help you stay fully hydrated.
Here's a few more ideas to help you stay topped up:
Keep a reusable water bottle close to hand to sip throughout the day
Enjoy a drink with your meals
Remember that any fluid (other than alcohol, I'm afraid!) counts towards your six to eight glasses per day – mix it up to keep it interesting, with fruit teas, cold-water infuser bags or sugar-free squashes
Have plenty to drink before, during and after physical activity, and drink more on warmer days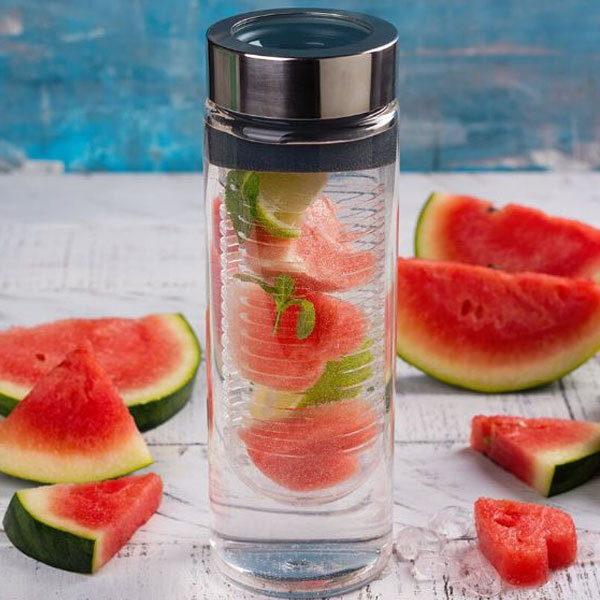 Healthy hint: Infusing water with your favourite fruits is a clever way to jazz up your H2O (watermelon and lime is my favourite combo – SW Matt), and Slimming World members will find lots of inventive ideas for drinks that won't scupper your weight loss in their local group and on the member website.
Thursday: Move more
Regular readers of the blog will know that being more active can give your health, fitness, wellbeing and weight loss a boost. If you're new to exercise or you're looking for some extra move-more motivation, our unique Body Magic activity programme is all about encouraging you to take steps towards a more active lifestyle, alongside eating a healthy, balanced diet by Food Optimising. There's something for every level of ability, too. If you're just starting out, you can take it slow by adding gentle activity into your day; and if you feel like stretching yourself, you can take on a more vigorous form of exercise.
Running, vacuuming, cycling, walking the dog… Anything that makes you breathe faster, feel warmer and which gets your heart rate going counts, so feel free to get creative with your Body Magic moves (you'll find lots of great ideas on the Move section of the blog – SW Matt). Here's just a few ideas to help get you started…
If you're working from home, an evening or lunchtime walk is perfect for a change of scenery to give your eyes a rest from the screen. And taking a couple of trips up and down the stairs (if you have them) will help to get your hips moving if you're sitting down for a lot of the day.
If it's looking soggy outside, there are plenty of home workouts available on YouTube and Instagram – as well as our own series of exercise videos over on the member website. Do a quick search and see if anything takes your fancy.
Want to try something new? Why not have a game of tennis – to find a local court you can search here.
To explore new walks near you, visit Walking Britain. GPS Routes has lots of walking and cycling routes too.
Healthy hint: Swimming is a brilliant form of Body Magic that's open to people of all fitness levels. Check out our fit tips if you fancy dipping your toe in the water.
Friday: Be mind kind
Staying well is many people's top priority right now, and looking after our mental health is a vital part of that. We often think about ways to be kind to our body, such as eating well, and it's just as important to be kind to our minds. Mindfulness can help our mental and emotional wellbeing, which in turn can benefit our physical health, too. Slimming World is a proud supporter of Public Health England's Every Mind Matters campaign, and they have a great two-minute video about how to get started with mindfulness.
Healthy hint: Try to take some time out to focus on you, whether that's going for a walk, listening to music or a podcast, reading a book, or taking up a hobby like photography, drawing or knitting. Slimming World member Kat finds walking around her local country park is a great way to clear her head and get away from the stresses of the day.
Saturday: Get active with your nearest and dearest
We're more likely to stick with something if we have the motivation of others, so getting your friends or family involved in your activity (where restrictions allow) is a brilliant way to turn regular exercise into a healthy habit. Plus, being with our favourite people makes us feel good, and being active releases endorphins (happy hormones), so combining the two is sure to be a winner!
Healthy hint: Make a plan to spend time with your loved ones by exploring your local area. Kaylee enjoys taking a long walk around her local park while her kids follow on their bikes and scooters.
Sunday: Eat together
Spending time with others – whether that's your household or a socially distanced catch-up with friends – helps us build up our confidence, and benefits our mental health by allowing us to talk about what's important to us. Plus, when we're trying to eat healthily, enjoying food together can boost motivation and give us a great opportunity to try out some new recipes. Plans to eat with others, whether that's out and about, via a video call or at home with your household is a perfect way to spend your weekend. You could even cook together!
Healthy hint: Nothing beats a healthy roast for Sunday dinner – and our roast chicken with stuffing is always a firm family favourite.
Are you ready to take on the challenge for Healthy Eating Week? Let us know how you get on – and which delicious Slimming World meals you're enjoying – on the blog or on social using #theSlimmingWorldblog.
Our best-ever offer for new and existing members:
If you're excited to return to your real-life Slimming World group – or you're thinking about joining as a brand-new member – now is a great time to commit to your weight loss goals.
We're giving both new and existing members a FREE recipe book and a FREE week with our best-ever Countdown offer. Simply commit to a six-week Countdown before 10th October 2020. Your local Consultant is at the end of the phone to answer any questions and book you on a session.
We're also offering £20-off membership packages for our digital-only service, Slimming World Online. Find out more here.