Soup season is here! Whether you're enjoying it as a satisfying starter, lunch on the go or as a comforting dinner, nothing beats whipping up a pan of bubbling broth on a chilly day.
Even better, a big bowl of steaming-hot soup is a slimmer's best friend. Slimming World soups are packed with weight loss-boosting Free Foods – so you can slurp away knowing they're filling you up and keeping your weight loss on track.
That's why it can be handy to have a few favourite Slimming World soups up your sleeve, now that the wintry weather has arrived. And we've got a wonderfully warming collection of recipes to bowl you over – which one will you try first?
Slimming World soups
Cauliflower cheese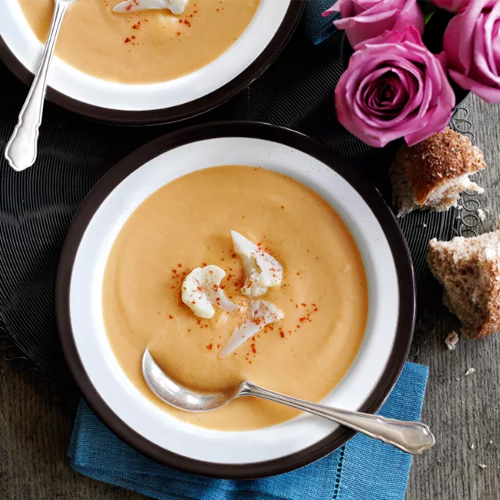 If you're a fan of soup and cauliflower cheese, this recipe is for you! We've used Laughing Cow Light Cheese Triangles to give the comfort-food classic a cream-cheesy flavour without stacking up the Syns.
EASY-CHEESY: Try our cauliflower cheese soup
Roasted tomato and basil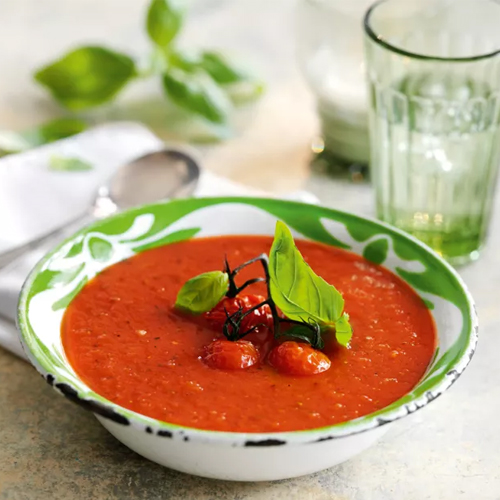 Nothing beats a traditional favourite, and this is soup simplicity at its best! With tangy ripe tomatoes, fresh basil and gorgeous garlic, every bowlful will be brimming with flavour.
RED-HOT AND HERBY: Try our roasted tomato and basil soup
Butternut squash
Butternut squash and blustery weather are made for each other – and this smooth soup is a satisfying way to warm the cockles.
MORE FOR MEMBERS: Find out which brilliant broths are causing a stir with your fellow slimmers in this round-up of our most popular soup recipes
Ramen noodle
This complete vegan meal in a bowl features Free veggies, filling noodles and a lip-smackingly spicy broth.
SLURPS UP: Try our ramen noodle soup
Pea and ham
A colourful combo that's perfect for lunch on the go! Just fill your flask to keep things toasty on wintry walks.
MORE ON THE BLOG: Cosy up with our satisfying slow-cooker recipes
Leek and potato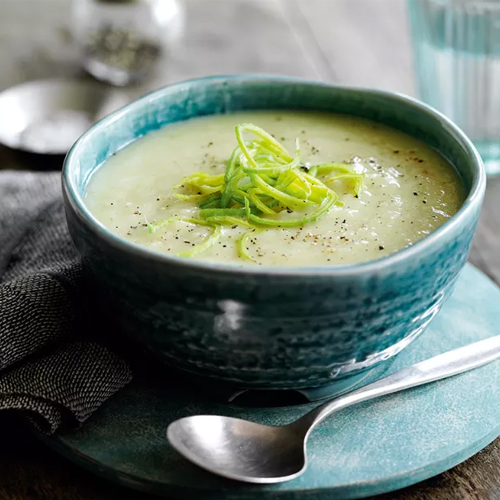 Our filling, flavoursome and Free version of the creamy classic is super simple to make and ready in just four steps.
WINTER WARMER: Try our leek and potato soup
MORE FOR MEMBERS: Whether you fancy something quick to eat or you're looking to make your food shop stretch, our Food Optimiser's guide to store-cupboard staples is full of mouth-watering ideas.
Carrot and coriander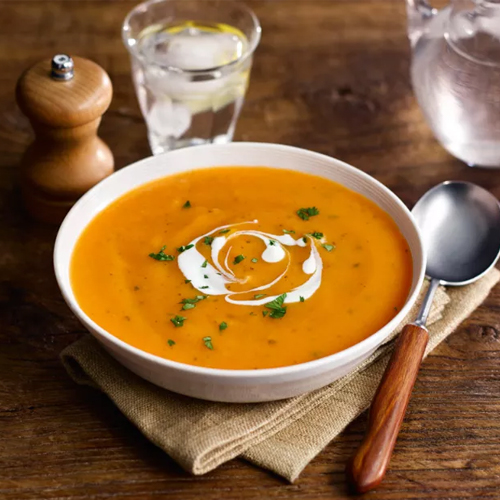 Made with sweet carrots, butternut squash and cannellini beans, plus a sprinkling of fresh coriander, this hearty dish is sure to hit the spot!
TOTAL SOUPERSTAR: Try our carrot and coriander soup
Smoky bacon and red lentil
Loading up your soup with lentils gives it extra filling power and it's perfect for a snuggly lunch or supper. Slimming World Consultant Scott (@slimmingworld_scott) bubbled up this beautiful broth and added smoky bacon for a fab flavour boost. He says:
"As it's so cold today, it's a soup day! My red lentil and bacon soup is so quick to make. Here's how:
Fry 1 large onion and a large carrot, both chopped, with 4 smoked bacon medallions (visible fat removed to make it Free) until the onions are soft. Then add half a mug of dried red lentils, 1 tub passata, 1 pint hot chicken stock, 1 level tbsp smoked paprika, a good squirt of tomato purée and season to taste. Bring it all to the boil and simmer for 20 minutes."
MORE FOR MEMBERS: Our Italian-style bacon soup is packed with rustic flavours and slimming-friendly ingredients!
Bean and lentil
The great thing about soup recipes is that they're really versatile, so they're ideal for using up whatever you've got left in the fridge, freezer or cupboards. Our Man of the Year 2021, Ken McLeod, threw this tasty soup together using a few tins, some herbs and spices and leftover roast chicken, and the results look lick-the-bowl-clean incredible!
MORE FOR MEMBERS: Slimming World members can try our hearty bean and vegetable soup recipe on the exclusive website and app
Slimming World members will find lots of delicious soup recipes on the exclusive member-only website. From fancy French onion and spicy prawn tom yum to classic minestrone and cock-a-leekie, Slimming World soups will see you through the colder months in comfort.