Short, blustery days and dark, frosty nights… yep, it's officially snuggly season! That means it's time to bring out the slow cooker for some seriously comforting cooking – and we've got a tasty batch of Slimming World slow cooker recipes to keep you feeling toasty.
If you've never used one before, putting a slow cooker to work means you can serve up a delicious dinner that fits perfectly into the Slimming World healthy eating plan without spending hours in the kitchen. Just pop your ingredients into the pot, set the timer and you're free to get on with the rest of your day, knowing that a slimming-friendly feast will be waiting for you at the end of it.
So grab a spoon and dig into these Slimming World slow cooker recipes, from satisfying soups and stews to a creamy risotto…
Slimming World slow cooker recipes
Chicken fajitas
Slow cooking isn't just a great time-saver, it also guarantees gorgeously soft and tender meat. Chicken works wonderfully well slow cooked in everything from curries to stews. You can even make a roast chicken in the slow cooker!
We love this recipe from @sw_couplejourney. They've slowly simmered their fajitas to make sure their chicken is juicy and full of flavour. Here's how:
1. Put 3 sliced peppers, 1 diced red onion and 2 deseeded and finely chopped chillies into your slow cooker.
2. Mix together 1 tsp each chilli flakes and ground cumin, 1 chicken stock cube, 2 crushed garlic cloves, 2 tbsp tomato purée and the juice of 1 lime in a bowl.
3. Coat 4 chicken breasts with the mixture and place in the slow cooker on top of the peppers, chillies and onion.
4. Cook on low for 6 hours, removing the chicken 20 minutes before the end of the cooking time so it can rest before you shred it with two forks.
MORE ON THE BLOG: Y'all love our southern-style chicken fakeaway
Barbecue pulled pork
This is one of our favourite Slimming World slow cooker recipes. Cooking low and slow is the secret to serving up pulled pork that falls apart beautifully on your fork. Our Free version tastes brilliant in a bap!
Shred it: Slow-cooked pulled pork
Tandoori pumpkin soup
If you've still got a pumpkin or two left over after Halloween, whip up a batch of pumpkin soup and make yourself a hearty meal. Here's how Jess (@healthyhappyslimmer) made this tandoori spiced soup:
1. Peel and dice 1 pumpkin, 1 butternut squash and 1 onion.
2. Spray a non-stick pan with low-calorie cooking spray and place over a medium heat. Put the pumpkin, squash and onion in the pan, sprinkle with 1 tbsp tandoori powder and cook until the onion begins to soften.
3. Add 1.2 litres hot vegetable stock and leave to simmer until all the vegetables are tender. Blitz until smooth with a stick blender (or use your food processor and then return the soup to the pan).
Slow-cooker tip: You can make this in your slow cooker by cooking all of the above ingredients on low for 4 hours and then blitzing the soup with a stick blender before serving.
Jess topped her soup with roasted pumpkin seeds and chilli flakes, but you can leave out the seeds to make this soup Free.
Mushroom risotto
Think risotto means endless stirring? This creamy, comforting version has a wonderfully rich, savoury flavour – and using a slow cooker saves you wearing your arm out!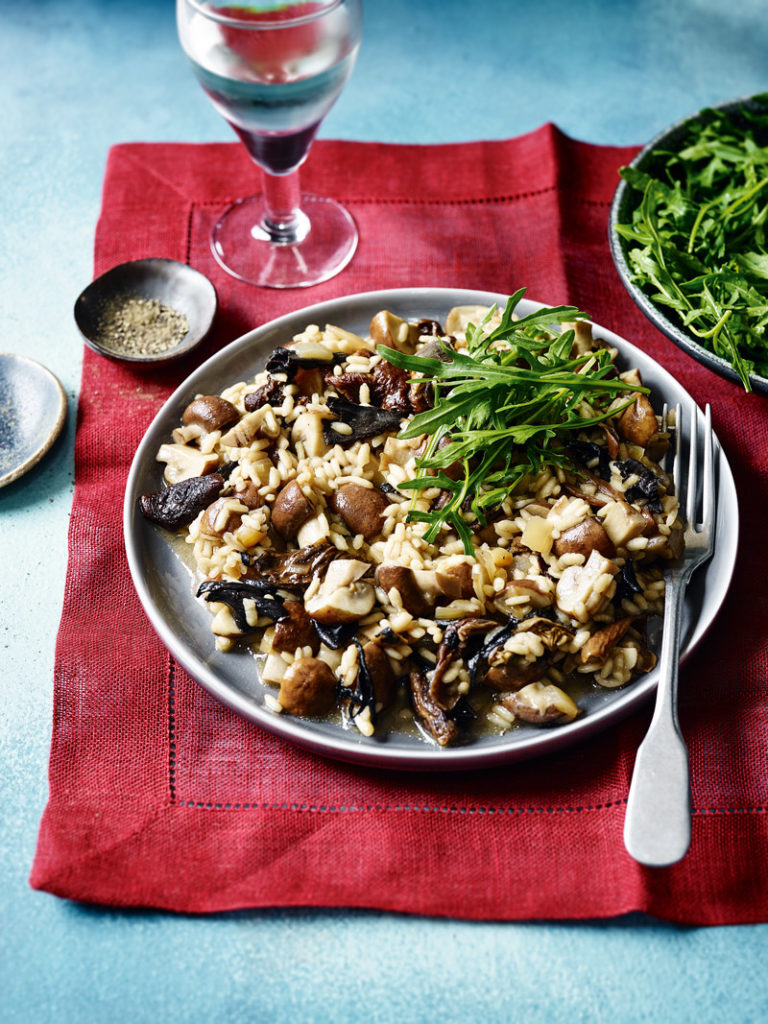 Grab a spoon: Slow-cooked mushroom risotto.
Beef stew
Slimming-friendly casseroles and stews are perfect for the slow cooker. Coming home to this melt-in-the-mouth beef stew is just what Lisa (@lisa991_slimmingworld) needed at the end of a cold day. She says: "I left it on low all day in my new Crockpot and had it with gluten-free ciabatta. This lovely simple meal is perfect in this cold weather and it's full of Speed food."
If you're looking for a vegetarian Slimming World slow cooker recipe, just replace the beef with your favourite meat-free sausages.
Tuck in: Slimming World's slow-cooked beef casserole
MORE FOR MEMBERS: You'll find a succulent selection of Slimming World slow cooker recipes, from an all-day breakfast to a vegetable curry, on the members-only website and app.
Spicy winter vegetable soup
One of the great things about this time of year is the fresh crop of delicious veggies that are coming into season – perfect for making warming winter soups. @doingitformum_sw whipped up this spicy soup for lunch – to make it in the slow cooker, cook all the ingredients on high for 3 hours, then whizz with a stick blender.
Here's how @doingitformum_sw makes hers:
1. Chop 3 carrots, 2 large sweet potatoes, 2 celery sticks and 1 red onion. Place them in a non-stick pan.
2. Add 800ml water and 1 chicken stock cube, 1 tsp chilli powder, 1 tsp ground cumin, 1 tsp paprika and some salt and pepper.
3. Bring to the boil over a high heat, then reduce the heat to low and simmer until the vegetables are soft.
4. To finish, swirl in 1 tbsp fat-free natural yogurt (optional).
Diet cola gammon
If you're a fan of diet cola chicken, you'll love the tasty twist that Lucie Hadley – our Young Slimmer of the Year 2019 – came up with. It's the perfect Slimming World slow cooker recipe for busy weeknights.
MORE ON THE BLOG:
Slimming World soups are causing a stir
Campfire stew
Cheesy chips with gravy
Try something different:
5 stress-busting activity ideas
If you're looking for more Slimming World slow cooker recipes, you'll find a full selection on the member website and app – as well as over 1,400 recipes, weight loss strategies and motivational features to keep your slimming goals on track.
or
We'd love to see which Slimming World slow cooker recipes you're snuggling up with this winter. Share your foodie photos with us on the blog or on social #theSlimmingWorldblog.