Friday 1 October is World Vegetarian Day! Whether you're already a vegetarian or you just fancy eating less meat, these delicious dinners will fill you up and slim you down…
Does Slimming World work for vegetarians?
Absolutely! The flexibility of Food Optimising means it's suitable for practically any dietary requirement or preference, including vegetarianism. There are plenty of Free Food choices on the menu, including most fruit and vegetables, potatoes, rice and pasta, plus meat substitutes like tofu, jackfruit and Quorn products. Slimming World is a vegetarian's dream!
Slimming World vegetarian recipes
Dig into a satisfying pasta dish that's packed with tangy cheese and sweet cherry tomatoes – it's a 'couldn't be simpler' taste sensation!
TRY THE RECIPE: Baked feta pasta
Is it a pizza? Is it an omelette? This Slimming World vegetarian recipe delivers all the pizza flavours you love and – best of all – it's Free, so you can have as many slices as you like.
TRY THE RECIPE: Pizza omelette
MORE ON THE BLOG: Slimming World for vegans
Our spicy vegan stir-fry will give your menu some flavour-packed plant power.
Made with posh porcini mushrooms and puy lentils, this pasta master might just change bolognese night forever.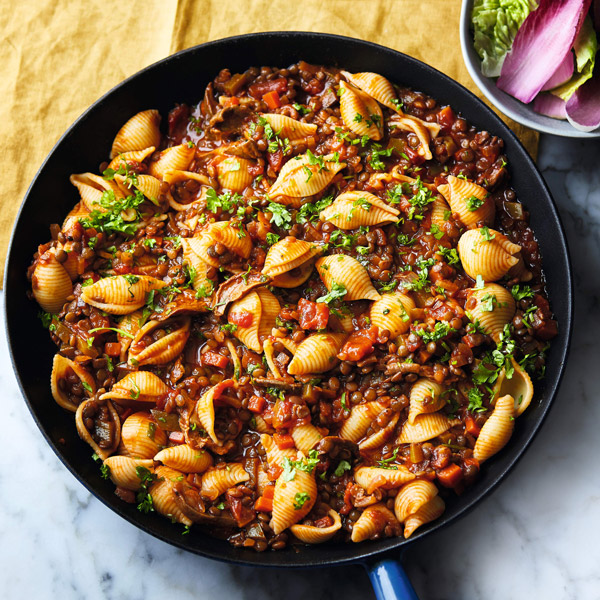 Quick and easy to put together, our mild sweet potato and spinach curry is perfect for busy weeknights.
MORE FOR MEMBERS: Slimming World members can pick up a copy of our Veggie Deluxe cookbook – packed with over 50 Slimming World vegetarian recipes – from their local group or in our online shop
We've slashed the Syns on this chip shop favourite so you can enjoy all the cheesy, carby satisfaction of a plateful of vegetarian cheesy chips, without the side of regret.
TRY THE RECIPE: Cheesy chips with gravy
Slimming World chef Sal shows us how to serve up a vegan-friendly taste of Spanish sunshine in this cook-along recipe video. You'll find some really great vegetarian dishes elsewhere on the blog, too, like Nicola's jackfruit enchilada lasagne.
TRY THE RECIPE: Vegetarian paella
A vegetarian chilli that's full of beans! Serve it with rice for extra filling power and a generous squeeze of zingy lime.
TRY THE RECIPE: Vegetable chilli
Loaded with cheese, weight loss-boosting veggies and a sweet tomato sauce, comfort food doesn't get any better than this easy vegetarian lasagne.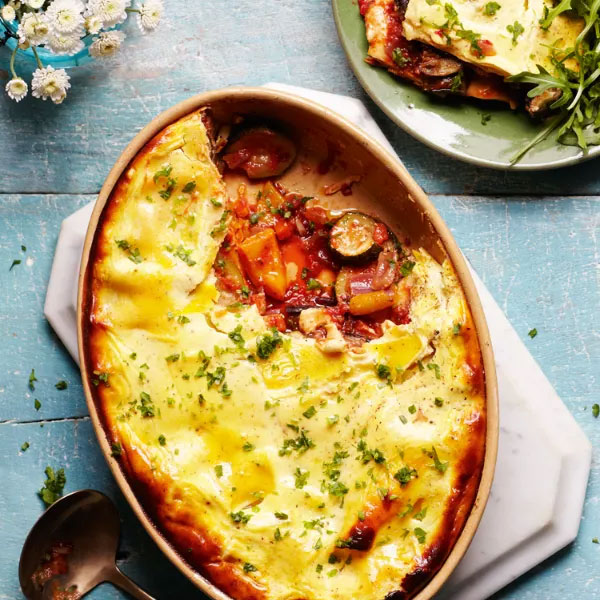 TRY THE RECIPE: Vegetable lasagne
FREE 7-day vegetarian menu
If you fancy finding out how Slimming World works for vegetarians, you can try our FREE 7-day meat-free eating plan by signing up to our weekly newsletter. Scroll to the bottom of this page, enter your email address and we'll pop a menu in your inbox.
MORE FOR MEMBERS: Slimming World members have access to over 500 vegetarian recipes on the members-only website, including veggie tikka masala, smoky bean burgers and a cheesy Mexican bake.