Nothing beats that feeling of freedom you get when you realise you can love food and still lose weight. That's the beauty of Slimming World Free Foods – absolutely nothing is off the menu! With so many of these slimming superheroes to fill up on, there's no end to the number of totally tasty meals you can create to satisfy your appetite.
That's why, if you join a Slimming World group or our lovely online community, you'll find our members are bursting with brilliant recipe ideas and Free Food swaps to transform your favourite meals into slimming-friendly feasts. And as it's Free Food Festival time, here's just a taste of the fantastically filling Free Food meals our members have made…
Pasta la vista, baby!
Hands up who's surprised that Tracy (@angeltrace_SW_X) can enjoy a big plate of spaghetti and meatballs and still lose weight? New members are often blown away by the fact that pasta is definitely on the menu and completely Free!
You'll find plenty of pasta dishes to try on our website, including asparagus and mushroom, our mighty meat feast.
Batch (cook) to the future
We're big believers in planning at Slimming World – and many of our members say it's the key to slimming success. With such a great variety of Free Foods to choose from, it's easy to fill your menu with interesting meal ideas to keep you on track for the week ahead. @ells_swfooddiary batch-cooks her meals every Sunday so that she can enjoy a week of delicious dinners, such as cooked breakfast, tuna salad and fakeaway curry – as well as some handy fruit pots to snack on.
If you like to batch-cook your dinners too, we've got lots of make-ahead meal ideas for you to try, like our comforting cottage pie and creamy chicken curry.
Make the switch
Changing up the ingredients in your regular recipes is brilliant for powering up your motivation – and using your favourite Free Foods in new, unexpected ways can make your meals even more exciting! Try adding cucumber to your next stir-fry, or take inspiration from Karen (@karen_sw_geddeshouse) and swap spaghetti for butternut squash noodles the next time you make a slimming-friendly chilli.
Karen spotted this recipe in our Free Food on the Go cookbook, part of our gorgeous collection of recipe books. Slimming World members can buy any of our cookbooks at their local group, or from our digital shop if they're a Slimming World Online member.
Think outside the (lunch) box
There's no need to limit yourself at lunchtime when there are so many Free Food combinations to try. Jackie (@swjackiehemstockderby) created this bright, colourful plateful with sweet potato frittata, jacket potato and cheese, and a generous portion of weight loss-boosting salad – and it was all totally Free!
If you're looking for some lunch-box inspiration, why not try our roasted stuffed peppers or baked vegetable frittata?
Yes ve-can
With such a wide variety of Free Foods available, it's easy to adapt Food Optimising to fit any diet and still enjoy super-satisfying meals to help you slim! Our member Emily (@emy_d_jones) follows a vegan diet and loves this cooked breakfast that's bang on plan: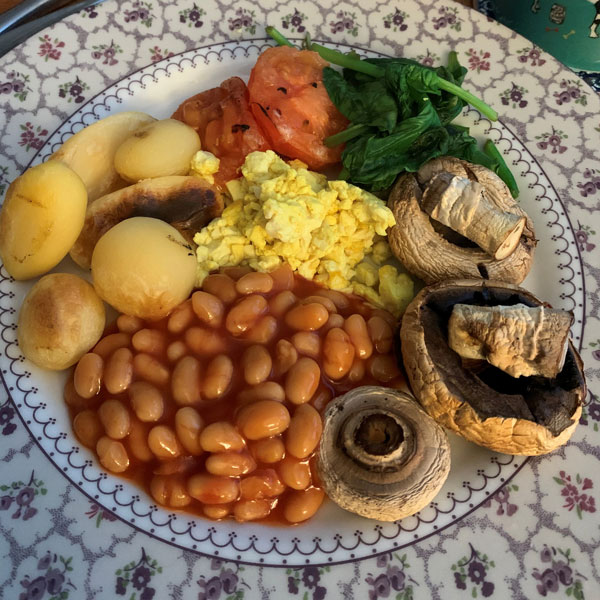 If you'd like to make your own tofu scramble, our recipe is too good not to share. You'll also find lots of other energy boosting breakfast ideas, like our gorgeous smoked salmon and scrambled eggs.
As you can see, Free Foods are the slimming gifts that just keep giving! When you join a Slimming World group, or sign up to Slimming World Online, you'll get access to over 1,300 recipes and our fantastic collection of cookbooks to help you transform your favourite Free Foods into delicious dishes that will fill you with that incredible Slimming World feeling.

We'd love to know what tasty, filling meals you're making for our Free Food Festival. Send your Free Food favourites to us directly or share on social using #theSlimmingWorldblog