At Slimming World, there's no need to give up on your favourite takeaway dishes. In fact our tempting selection of fakeaway recipes helped Slimming World's Couple of the Year 2021 Nicola and Chris Guilfoyle achieve a life-changing weight loss and put the spark back into their relationship. We asked them to share their favourite meals to show you how you can enjoy all the taste of takeout, without taking anything away from your weight loss progress! Nicola tells us more…
MORE ON THE BLOG: Grab a taste of Slimming World fakeaways
Before Chris and I joined Slimming World, we were stuck in a bit of a rut. Each evening we'd rush to feed our three children – Charlie, 16, Deborah, 11, and Eden, eight – and get them ready for bed. By the time we finally sat down to unwind, we didn't have any energy left to cook for ourselves, so we'd nearly always order a takeaway. We loved kebab and chips, creamy curries or a Chinese, all washed down with a few glasses of beer and cider. At one point, we were spending more than €100 a week on takeaways.
Soon, my weight had crept up past 22½st and Chris's clothes were feeling tight, too. We still loved being with each other; looking back now, though, it's clear we weren't making the most of our time together. Life had become about what we couldn't do. From activities we had to miss out on with our kids – the rides we couldn't go on, the games we couldn't play – to more day-to-day things. We couldn't even sit together on a plane because we both needed two seats to feel comfortable.
A friend of mine had lost weight with Slimming World, so in January 2020, we joined our local group. During the new member talk, our Consultant, Siobhan, explained that, while we could still enjoy a takeaway if we wanted to, cooking the majority of our meals from scratch would give us the best chance of losing weight.
We got lots of ideas from the other members for fakeaways we could try, like the chicken fried rice and crispy chilli beef recipes. It was like having taste buds for the first time! The recipes and tips we picked up in group showed us that we could enjoy food that's full of flavour in a healthy way, and we found we didn't miss our takeaway nights – nothing tasted as good as what we were eating at home.
Now, I've lost 12st and Chris has lost 5st 1½lbs, and our approach to cooking has completely changed. Chris usually helps me with the prep and then tidies up while I cook, and we're always sending each other ideas we've seen on the Slimming World app to add to our meal plans. Even better than the €100 we've saved a week on takeaways are the memories we've made by cooking and enjoying delicious food together. We're loving our lives now, and that feeling is priceless.
MORE FOR MEMBERS: From slimming-friendly starters and sides to classic curries and Asian-inspired dishes, you can find a full menu of fakeaway recipes on the exclusive Slimming World member website and app.
Nicola's favourite fakeaway recipe
We've adapted so many of our favourite takeaways to be Food Optimising-friendly and this one is a big hit in our household. Chicken fried rice was one of our go-to orders before we joined Slimming World, and as I got more confident with cooking, I decided to try to make my own Food Optimising version. Personally, I think my recipe tastes better than a takeaway and it makes more than enough to feed a hungry family of five, which is an added bonus.
Chicken fried rice with curry sauce
serves 5
Free
ready in 45 minutes
What you need:
350g dried basmati rice
low-calorie cooking spray
500g frozen peas
3 eggs, lightly beaten
6 tbsp soy sauce 
6 spring onions, finely chopped
4 skinless and boneless chicken breasts, cut into chunks
3 peppers (1 red, 1 yellow and 1 green), deseeded and sliced
2 onions, diced
1 tbsp lemon zest 
Slimming World Chip Shop Curry Sauce, to serve (available from Iceland)
leafy green salad, to serve
What you do:
1. Cook the rice according to the pack instructions. Drain and rinse under cold water. Drain again, shaking off any excess water and set aside.
2. Spray a non-stick wok or a large frying pan with low-calorie cooking spray and place over a high heat. When it's almost at smoking point, add the cooked rice and stir-fry for 3 minutes.
3. Add the peas, stir-fry for 5 minutes and season lightly. Add the beaten eggs and stir-fry for another until cooked through and rice is piping hot.
4. Stir in the soy sauce and spring onions and cook for 2 minutes or until the eggs have set.
5. Spray another non-stick frying pan with low-calorie cooking spray and place over a medium-high heat. Remove the skin from the chicken, add to the pan and cook for 5 minutes. Add the peppers and onion and cook for 3-4 minutes. Sprinkle over the lemon zest, plus 2 tbsp freshly ground black pepper and 2 tbsp soy sauce, and mix well.
6. Stir in the egg fried rice and heat through for 2-3 minutes. Serve with a pot of Slimming World Chip Shop Curry Sauce and the salad.
Chris's favourite fakeaway recipe
One of the best things about losing weight with Slimming World is how it's encouraged me to experiment with different foods and discover exciting new flavours. Crispy chilli beef is a definite date-night dinner for us – the flavours are unreal! We love it extra spicy with coconut or egg fried rice.
Crispy chilli beef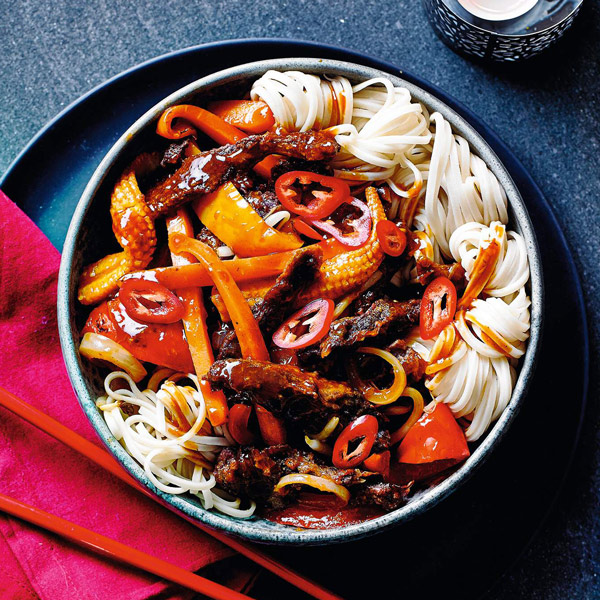 TRY THE RECIPE: Cook a batch of our crispy chilli beef
GET THE FULL STORY: Find out how Nicola and Chris lost 17st and gained the active family life they thought was impossible