Whether you're celebrating Chinese New Year or planning a fuss-free fakeaway for Valentine's Day, a Slimming World Chinese is the perfect way to enjoy a feast from the east and stay on the path to slimming success.
Discover our tasty wok stars and order a Slimming World Chinese!
Slimming World Chinese recipes
Free
freezer-friendly
available in the Slimming World food range
A sizzling Slimming World Chinese that's packed with chicken, pak choi, sugar snap peas and red pepper, and smothered in a lightened-up version of the classic black bean sauce.
This Slimming World sweet and sour chicken recipe is cooked slowly to make a meltingly tender and intensely tasty Chinese-style dish.
There's oodles going on in our hot and hearty dish, with crunchy veg and marinated pieces of chicken and char sui pork.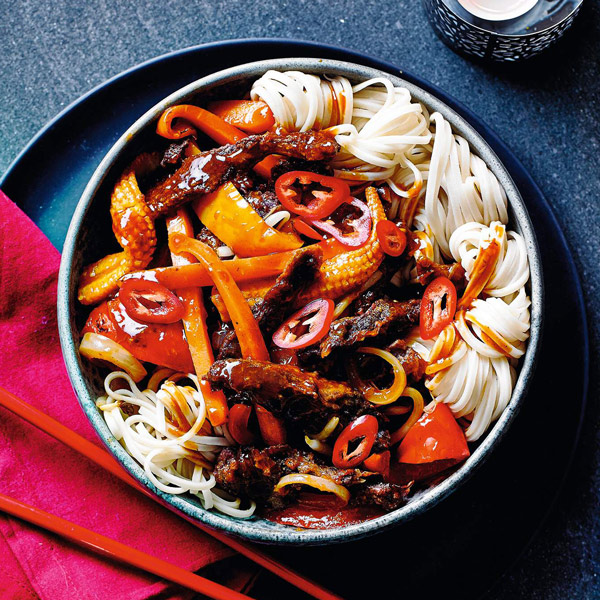 With crispy strips of beef, colourful veg and a deliciously dark and sticky sauce – all served on a bed of soft noodles – this crispy chilli beef fakeaway packs a Chinese-flavour punch.
No Chinese feast would be complete without a bowlful of the Chinese classic egg-fried rice!
We've added garlic, chilli and soy sauce to add extra flavour to those veggies.
Made with either pork or chicken – and bursting with vegetables and omelette pieces – this signature Slimming World Chinese is a dish fit for VIPs!
Slimming World food range
If you're in the mood for Chinese food, but you're short on time, our food range was designed for those days when there's just no time to cook. Available exclusively at Iceland, these delicious dishes can be on the table in 12 minutes or less – much quicker than waiting for a takeaway delivery – or you can follow the recipe and make them yourself.
Find the full Slimming World food range here
MORE Slimming World Chinese recipes
Slimming World members can unlock a full menu of Chinese-inspired recipes on the exclusive members-only website. Whether you're craving a Chinese-style chicken curry and egg-fried rice, or a vegetable chow mein and sesame prawn toasts, our collection of Slimming World Chinese recipes will have your fakeaway favourites covered.