Did you know that feeling stressed or overwhelmed puts us at greater risk of heart disease, mental health problems and stroke? It can also make it harder to stick to healthy eating plans if we comfort ourselves with high calorie snacks and alcohol when stress levels rise. So discovering ways to find our inner calm can reap big rewards.
Becoming more active can benefit overall health and help improve mental wellbeing too. In fact, regular exercise – a brisk walk, a dance-off in the kitchen, some squats in the living room – has been shown to help:
reduce anxiety and lift mood
reduce the risk of depression
reduce feelings of stress
give a greater sense of calm and help us think more clearly
increase self esteem
If you'd love to give some stress-busting activity a go, our Body Magic programme has been created to help you to develop healthy new fitness habits at your own pace. We'll dispel any misconceptions or concerns you have about exercise, take the fear out of change and allow you to experience the full feel-good factor of moving more!
If you're feeling inspired to get active with Slimming World's support, you'll find our latest joining offers here.
Five ways activity can help you beat stress
1. It releases happy hormones
Any activity that increases your heart rate and speeds up your breathing releases endorphins, which help to reduce stress, ease tension in the body and make your mindset more optimistic. Dancing is just one way to boost your endorphin levels, and the NHS offers some great tutorials, including a la bomba workout (a fun combination of moves to Latin American, hip-hop and afrobeats tunes) and belly dancing for beginners, or you'll find instructional videos for all your favourite dances on YouTube.
Losing weight gave Fraser (@fraser_slimmingworld) the confidence to try a pole-dancing class, and he couldn't wait to get back into the swing of moving more after a few weeks off. He says: "So glad I was able to get back to pole last week. The crew are all so supportive and encouraging (even when I'm moaning about my skin hurting 😂)."
MORE FOR MEMBERS: You'll find some fantastic ideas for getting down to the Body Magic beat, including Zumba and clubbercise, on the member website
2. It can provide a support network
As well as being great for your all-round health and fitness, walking is a brilliant mood-booster – and those benefits are multiplied when you walk with a Body Magic buddy or as part of a group. As well as a sense of belonging, walking together provides the friendship and support that's so important for our emotional wellbeing.
That goes for our four-legged friends, too! Research shows spending time with our pets can help to reduce stress and they make great workout companions. Becky (@becky_lifeattarget_sw) takes her pooch out for a brisk stroll whenever she needs a de-stress sesh.
MORE FOR MEMBERS: Our top doggy magic tips will help you get the most from walkies (and you don't have to be barking mad to follow them!)
3. It boosts self-esteem
Learning new skills increases our confidence and sense of purpose. And if you're ready to try something new, you'll find plenty of Body Magic activity ideas on the Slimming World member website. Boxing, for example, can improve your co-ordination and stamina, plus all that kicking and moving can provide a wonderful emotional release.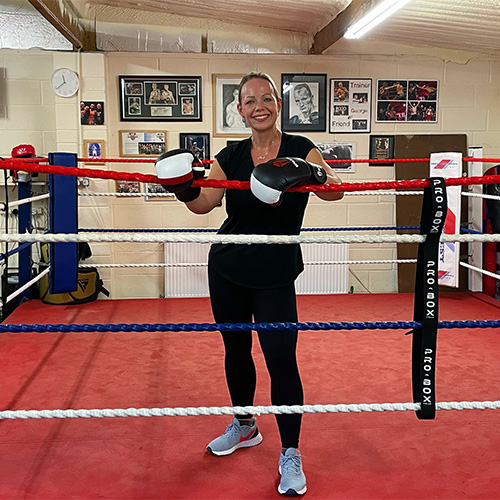 Slimming World Consultant Amy (@amysmith.sw), who has lost 7st ½lb, says she's felt more focused and in control since she started training for a white-collar boxing match.
MORE FOR MEMBERS: Our knockout guide to boxing will leave you feeling unstoppable, in body and mind!
4. A natural remedy
Paying more attention to our thoughts and feelings, to our body and to the world around us can help to cultivate calmness. If you're out walking, focus on the sights, smells and sounds around you. By taking your mind off your worries and refocusing on the present moment, you'll arrive home feeling so much more relaxed.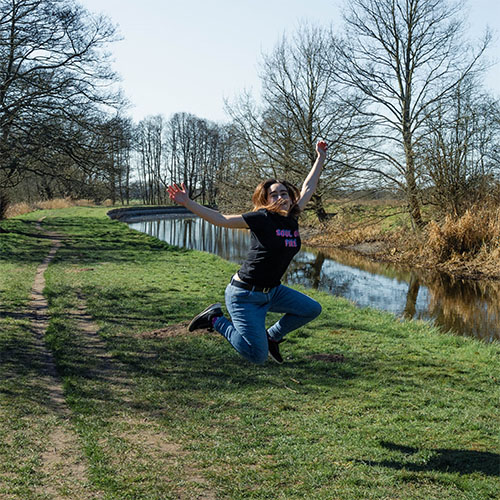 Donna (@slimmadonna_sw), who has lost 7st 6lbs, is enjoying plenty of Body Magic in the sunshine now that Spring has arrived. She says: "There's no better time to get out and about, for a walk, bike ride or whatever you like doing and the sunshine helps lift your mood for that feel-good factor."
MORE ON THE BLOG: How cycling gave Lois Aleema the emotional strength to support her son through cancer treatment
5. It eases tension
At Slimming World, we'll help you to find an activity you really love – and one that may just become a lifelong habit. Yoga, for example, can give you the mental space to put your worries into perspective. And by carefully moving through a yoga routine, you'll be giving your body the much-needed sense of control that often disappears when we feel stressed out. Stretching will help to ease any physical tension and tightness, too.
Slimming World Consultant Kirsty (@koswizz_swconsultant) says: "An hour of yoga was just what I needed this morning. Feeling so relaxed."
You can find out more about joining Slimming World here.
We'd love to know which Body Magic activities help you keep stress at bay. Send your photos to the blog or share on social using #theSlimmingWorldblog.