Who says you can't have dessert and still lose weight? With Slimming World, there's no need to say no to sweet treats. Our flexible Food Optimising plan has been designed so that you absolutely can enjoy all your favourite foods – without a shred of guilt. When you join Slimming World, you'll unlock hundreds of pudding recipes on our exclusive member website – so whether you love to bake, are looking for an extra-special dinner party dessert or you're a fan of an old school pud with custard, we've got slimming-friendly versions to sink your spoon into. 

If you're in the mood for something sweet, a mug cake is a quick and super-simple way to satisfy that craving. We have two ping-credible recipes for you to choose from, so the perfect pud is just minutes away!!
Chocolate mug puds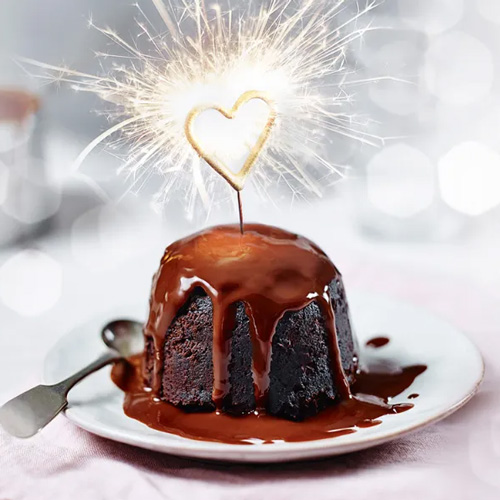 These magic sponges take 10 minutes to prep and they cook in the microwave in 30 seconds flat – just enough time to plump the cushions, find the remote and make a cuppa!
serves 4
7 Syns per pud
ready in 10 mins
What you need: 
3 level tbsp cocoa powder 
3 level tbsp sweetener granules, plus 2 level tsp for the sauce 
1 level tsp cornflour 
65g low-fat spread 
65g self-raising flour
2 eggs 
low-calorie cooking spray 
What you do:  
1. To make the sauce, put 1 level tbsp cocoa powder, 2 level tsp sweetener and 85ml water in a non-stick saucepan over a medium heat and stir well. Once it's bubbling, mix the cornflour with 1 tbsp water and add to the pan. Cook for 4-5 minutes or until thickened and glossy, stirring occasionally. 
2. Meanwhile, cream the remaining sweetener with the spread and mix in the sieved flour, eggs and remaining cocoa. 
3. Spray 4 mugs with low-calorie cooking spray and pour in the batter. Cover each mug with cling film, pierce with a fork and cook them one by one in the microwave for 30 seconds on High. Check they're spongy by gently testing them with your finger – if they don't spring back, they might need another 10 seconds. Leave to rest for 1 minute. 
4. Turn the puddings out onto plates and pour over the sauce to serve. 
Carrot mug cake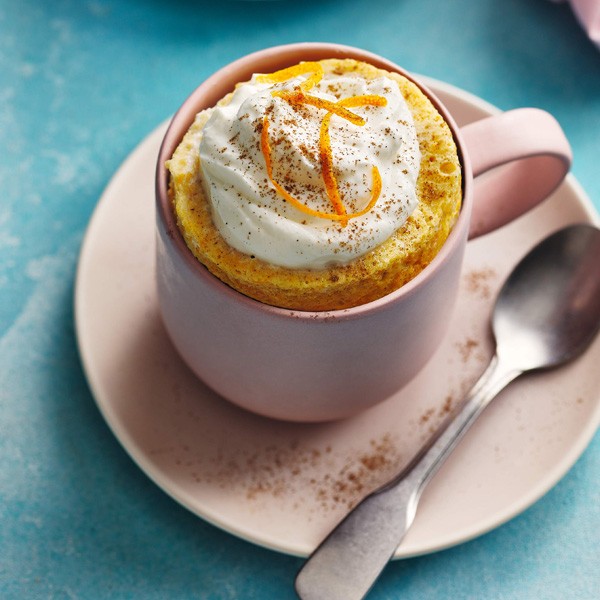 Home-made cakes don't come much simpler than this! Spoon through zesty, spiced yogurt to reach the glorious sponge beneath.
serves 1 
4½ Syns per cake 
ready in 15 mins 
What you need: 
25g self-raising flour  
¼ tsp mixed spice  
1 medium egg, separated  
25g fat-free natural Greek yogurt  
½ level tbsp sweetener granules  
50g carrot, coarsely grated  
zest of ¼ of an orange, plus extra to decorate  
¼ tsp vanilla extract  
pinch of ground cinnamon, to decorate 
For the topping:
40g fat-free natural Greek yogurt  
1 level tsp sweetener granules 
What you do: 
1. Mix the flour, mixed spice and a pinch of salt in a small bowl. Using an electric hand whisk, beat the egg white in a clean glass bowl until it forms stiff peaks, then set aside.  
2. Put the yogurt, sweetener, carrot, orange zest, vanilla extract and egg yolk in a mixing bowl and mix until well combined. Stir in the flour mixture, then carefully fold in the egg white using a metal spoon.  
3. Scrape the mixture into a microwave-safe mug (one that's around 250ml is ideal – try to avoid anything wide and shallow) and cook on High in a 900W microwave for 2 minutes. Leave to cool in the mug until just warm – it will sink a little as it cools. 
4. For the topping, mix the yogurt and sweetener together, then spoon it over the just-warm cake. Top with the extra orange zest and cinnamon to serve. 
Slimming World members will find more than 1,700 recipes on the website, including some sumptuous, slim-safe desserts. Which will be your pick of the puds?