Ramadan has always been a huge part of my life. It's one of the five pillars of Islam and, as a Muslim, I've been fasting since I was 10 or 11 years old. For me, Ramadan is about togetherness – for prayer, for concentrating on charity, and for just forgetting a lot of the noise in our lives and refocusing.
After I was diagnosed with type 2 diabetes, I had to stop fasting – I just wasn't able to manage my blood sugars, even when I tried doing little fasts. I was so upset, but my health had to be the priority. Instead, I did all I could to feed others who were fasting and make sure I could fulfil the other elements of Ramadan.
When my brother Zaheer, who had lost 3st with Slimming World, became a Slimming World Consultant, I agreed to help him advertise his new group by delivering leaflets. As I spoke to people in the community about Slimming World, I spent the entire time wondering why I wasn't a member, too.
When I was diagnosed with type 2 diabetes, my doctor advised me to lose weight, but I wasn't sure where to start. I managed my diabetes with medication and insulin, and I wanted to slim in a healthy way. The trouble was, I was used to eating takeaway burgers, making curries with lots of oil and always having a dessert after each meal, so changing those habits seemed daunting.
I decided I didn't have anything to lose by giving it a go, so I joined my Slimming World group. I was delighted to receive a lovely, warm welcome, and soon felt at ease.
At the beginning I kept mealtimes quite simple, making dishes based around Slimming World's healthy eating plan, Food Optimising. I couldn't believe I could still eat my favourite foods, like potatoes, pasta and rice, and still lose weight! I soon realised that it was easy to make my favourite curries Slimming World-friendly – as well as lots of other go-to Asian dishes. I just had to make healthy swaps, like fat-free natural yogurt instead of double cream, and baking onion bhajis instead of frying them – and the rest of the family didn't seem to notice the difference. I was so happy to be steadily losing 1-2lbs each week, while still enjoying delicious meals together.
As I learnt about Slimming World's Body Magic activity programme, I was inspired to increase my activity, and I started to spend more time walking. I gradually built up my distance, walking with my daughter, Alisha, who had joined Slimming World with me. We were soon averaging 10,000 steps a walk, which I'd never dreamed of doing before. I'll still be walking during Ramadan, while listening to my body and being mindful not to overdo it.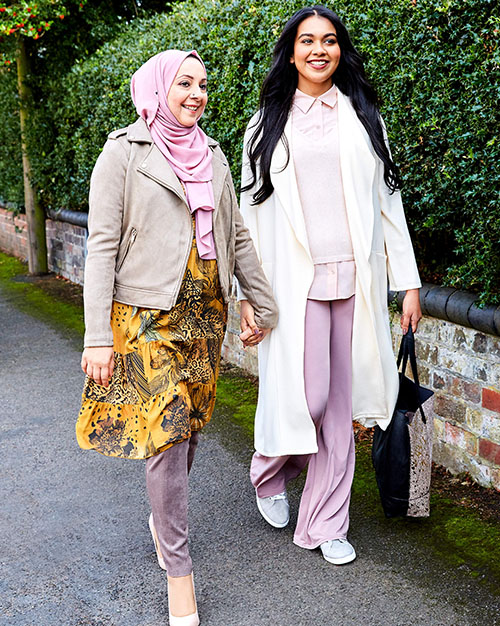 READ MORE: You can find Farzana and Alisha's full slimming story here
Within a few months of following the Slimming World plan, my diabetes consultant told me I no longer needed insulin support because my blood sugar levels had dropped so much. I was so pleased at how far I'd come and, as you can imagine, I was overjoyed when the improvements in my health allowed me to fast during Ramadan again.
The secret to my success during Ramadan – and in controlling my type 2 diabetes – is good planning. I have to bear in mind that I won't be eating during the hours of daylight, so there's no lunch and none of the healthy snacks that I'm used to throughout the day. I make sure my early breakfast (called Suhur, before sunrise) includes things like porridge oats for slow-releasing energy, fruits, and a source of protein to keep me fuller for longer (something like fat-free natural Greek yogurt). And I always make sure I have enough time to drink fluids.
For our evening meal (called Iftar, at sunset), I plan something Slimming World-friendly that works for the whole family, as I don't want to be cooking lots of different things. We break the fast with lots of fruit, and then go straight for a main meal so we don't get full on starters. We also make a nice healthy dessert that we can share a little later in the evening.
Food is a part of Ramadan and I always enjoy making my favourite recipes, such as aloo chana chaat (a potato and chickpea medley), the Slimming World way. It's great knowing that, as well as improving my own health, all my family and friends are eating healthier without even knowing it.
A few years ago, during Ramadan, I started to make online recipe videos to share with my family during the daily fast. They were so popular that now I do them throughout the year – but these days I make them Slimming World-friendly!
MORE ON THE BLOG: Take a sneak peek at how Food Optimising fits with Ramadan here
MORE FOR MEMBERS: Slimming World members can take a closer look at how to Food Optimise through Ramadan, with lots more information about the Food Optimising plan plus 30 recipe suggestions, in our Ramadan: How Food Optimising fits in article.

*The health information in this story is based on personal experience and should not be used to replace the advice given by your healthcare team.