Has anyone else found they've got more spare time on their hands? With many of us now working from home and most of us self-isolating, we're spending a lot more time indoors – and that can definitely be a challenge if you're not used to it.

On the brighter side (and we're determined to find a silver lining wherever we can!), all this free time might give us the chance to finally cross some things off our to-do list and maybe even try out some new activities. From filling the freezer with hunger-busting meals to finding creative ways of staying in touch with loved ones, there's lots we can all do to keep any boredom you might feel at bay – and to help keep ourselves as healthy as possible through these strange times.

So if, like me, you've burned through your last box set and need some new ideas for how to fill your time, we've got some activity suggestions to help keep you going for the next few weeks – and we'd love to hear yours, too!

Make-ahead meals

Making up a batch of your freezer-friendly favourites will make weeknight dinners much less stressful – especially if you're a parent balancing working from home and looking after your little ones. Busy key workers will also appreciate a store of easy meals to grab at any time of day or night, so if you have one in your household, spending some time filling the freezer is sure to be much appreciated. Even better, lots of make-ahead meals can be made using leftover vegetables and store-cupboard staples, like our delicious vegetable chilli jackets – so you can get ahead without going to the supermarket.
Enjoy a home hobby

Whether your thing is pottering in the garden, painting or picking up your knitting needles, enjoying a hobby that you don't usually have much time for is a great way to keep busy – and relaxed – at home. If you're a bit stuck for ideas, making a start on your own inspiration board might help (and will be a great project, in itself). You can fill your board with anything that inspires you, and Slimming World members will find some pin-up pointers on our inspiration board feature over on the member website.
Ready for bake off

Filling your home with the tempting aroma of freshly baked treats is guaranteed to make staying indoors feel a bit more cheerful. Our member website is bursting with healthy cakes and bakes that will satisfy your sweet tooth and protect your weight loss. And if a member of your household is a key worker, having a batch of these tasty strawberry cupcakes ready for when they get home is a sweet way to thank them for all they're doing.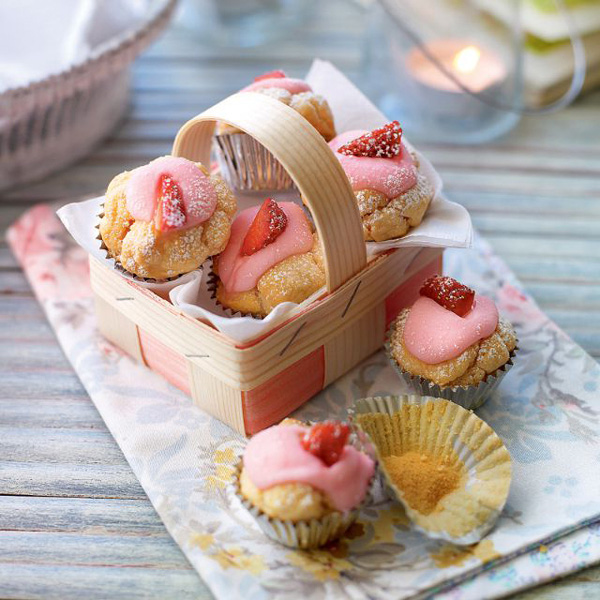 Boost your Body Magic

Keeping ourselves feeling healthy and strong is more important than ever, and we're all allowed out of the house once a day to exercise. A solo bike ride, jog or brisk walk are brilliant ways to make the most of your time outdoors. If you prefer exercising at home or you just fancy filling your time with a bit of extra Body Magic, there are still plenty of indoor activities that will get your heart rate up, from online workouts to doing step-ups on the staircase. Our awesome member, Ben Green, has been using his exercise bike to keep active during the lockdown.

Score a goal

Having something to work towards can be a useful way to keep busy for those who thrive on ticking off tasks. With the added bonus that making time to focus on your goal and yourself will help you feel much more positive about staying indoors all day. The good news is, there are lots of fun challenges you can set yourself at home! Getting up once an hour to get some fresh air in the garden, practising keepy-uppies with the kids, trying to make it to the next lamp post on your daily run, or reading 20 pages of your new book a day are some ideas that you could try.

Take a mindful moment

We've all got a lot more to worry about than usual at the moment, so taking some extra time to press the mental pause button is important for keeping your mind healthy. For some, that might mean sitting quietly in the (possibly newly spruced up?) garden at the end of the day and focusing on your breathing, or it might mean doing something a bit more hands-on, like completing a jigsaw or a wordsearch. I've been opening up my colouring book a lot more while working from home to help me relax.

Keep in touch

We're all missing our friends and families as we do our bit by social distancing. The great news is that there are lots of great gadgets to help us stay in touch, and people are coming up with clever ways to help us spend time together, even while we're in our own homes. This past week alone, I've taken part in an online pub quiz, cinema night and a cook-a-long – and all without having to get out of my PJs! And, of course, Slimming World members have their exciting 'My Slimming World virtual group' to look forward to each week for support and slimming strategies, while our online-only members can log on to our friendly Slimming World Online community for a natter.

Whether you set up a video call with your pals, join in with a live online event or even just take part in the heart-warming clap for carers, you'll never be short of ways to stay in touch with your loved ones and remind yourself that we're never alone.

Simply be

We understand that lots of people are busier than ever right now. You may be adjusting to working from home, trying to help the kids with their school work, or both! If that's the case, you might love nothing more than using any extra time to sit and relax – and that's definitely OK. If there's an upside to self-isolation, it's that we've got the chance to spend some time without any pressure to keep busy, and you should absolutely try to enjoy it while you can. And, above all else, take care of yourself and those around you.

How can we help you?

Is there a slimming challenge that you're struggling with at the moment? Email to let us know what you'd like to see on the blog and we'll do our best to help.