Now that the spooks have stopped spooking and the fireworks have stopped fizzing, we've got all the festive feels at Slimming World. We get very excited about this magical time of year – although, with tempting tins of chocolates already stacked high in the shops, it's easy to see why the holiday season can be a challenge when you're trying to lose weight.

Ask any of Santa's helpers and they'll tell you that planning is the best way to make sure you enjoy a stress-free season – and that's doubly true when you're slimming. That's why, to help make this easier for our members, we created the Eat, Plan and Be Merry festive journal. Packed with practical planning tools, food ideas and a sprinkling of festive fun, this perfect little planner has got everything a slimmer needs to enjoy the magic of Christmas. (If you didn't pick one up, don't worry – any notebook, diary or journal will work, too!)

Our very own social media maestro and Slimming World member SW Ashleigh couldn't wait to start making her lists, checking them twice and planning how to get involved in the festive fun – without putting her weight loss goals on ice. Her 'naughty or nice' list shows how she plans to stay on track (and stay on Santa's nice list!):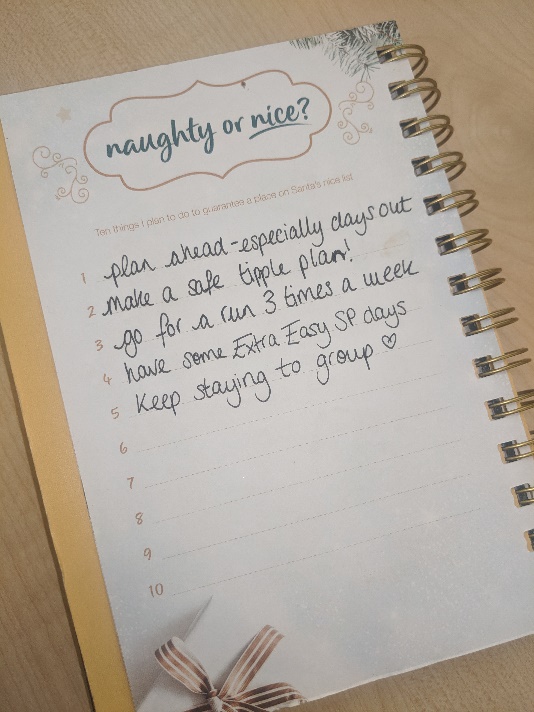 To support you through the holiday season, we've nabbed Ashleigh to share her Christmas Countdown journey. With a little Slimming World know-how and lots of Christmas cheer, you too can enjoy all of the season's best bits, and make your weight loss wishes come true.

Ashleigh's Christmas Countdown diary
2 October

I'm so excited to have recently made a return to group with renewed motivation, a restored mindset and a fresh start. Even though I've been a member before, the hardest part of joining a group is gearing up the confidence to walk through the doors – but I'm so glad that I did.
As soon as I was welcomed into the new-member area, the familiar warmth and comfort of being in a room full of like-minded people flooded over me. And watching the buzz and delight of members jumping off the scales confirmed I'd made the right decision.
Listening to my Consultant talk through all the amazing food you can enjoy when following Food Optimising, I couldn't wait to get back to being creative in the kitchen. I'm a lover of home-cooked curries, pasta dishes, roast dinners and hearty soups – all perfect comfort food for the cooler weather that's on its way, and all dishes that easily fit into being on plan.

Ashleigh's cold weather menu plan
With 12 weeks until Christmas – and Halloween, Bonfire Night and other festivities on the horizon – I'm going to use my new Eat, Plan and Be Merry planner alongside the support from group to keep myself on track over the party period. Having already flicked through the planner, I'm really looking forward to using it – especially all the fun pages that tie in with my usual Christmas planning!
The first few pages are all about reflecting on what you'd like to achieve over the next three months. I'd love to feel confident enough to dance the night away at my work's Christmas do!

10 November
I love this time of year – the beautiful changing colours, Halloween pumpkins, Bonfire Night and toffee apples, and lots of Christmas festivities on the horizon!
It can feel like a tricky season as a slimmer, but by keeping my Christmas planner close by, I've learnt that you can enjoy a treat and still stay on plan!
Halloween isn't Halloween without a pumpkin. Or two. Or three. OK, I may have gotten a bit carried away in the picking patch. Not only do they make gorgeous lanterns, they're a delicious Free Food autumnal ingredient, too. Curries, risottos, soups – my pumpkins featured in them all!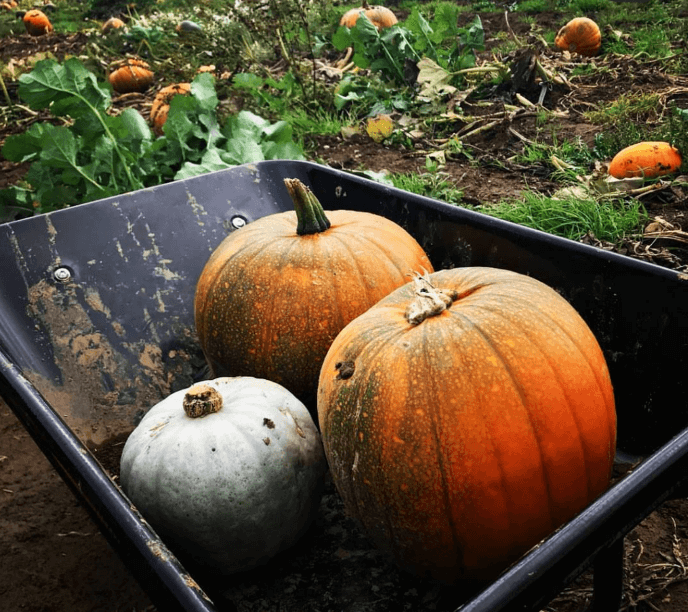 Normally, I'd spend All Hallows' Eve sitting in with a big bag of goodies for any spooky visitors – however, this year was group night and the Miss Slinky and Mr Sleek competition. It was so inspiring to hear from the group members who were nominated for these awards, and get fantastic tips from their own success. It was celebrated with a taster, too – so I came away with loads of new ideas for recipes I want to try.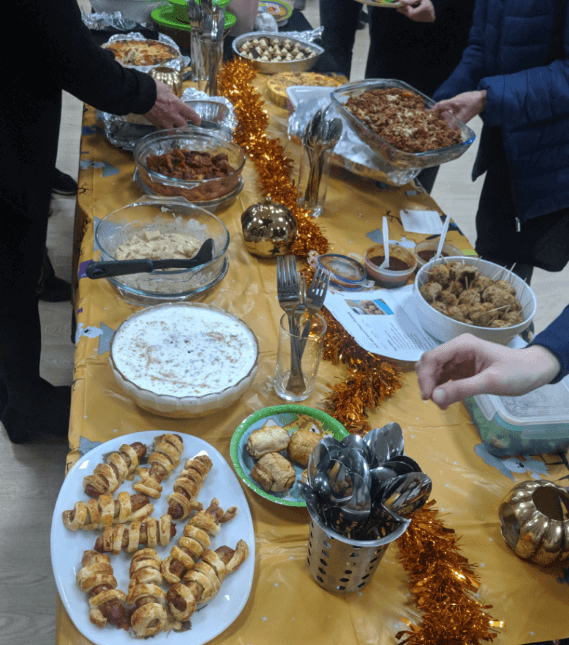 Although the weather has been rather wet, the crunchy leaves are just too good to miss out on and so I've been building in Body Magic activity whenever I get the chance. To keep myself feeling motivated, I've entered a 10K race for next year and plan to gradually work in a couple of runs a week. The thought of going out for a jog is always harder than the run itself. Once I've completed it, I'm left feeling totally re-energised and motivated to stay on track.
Getting wrapped up, watching the fireworks, enjoying the bonfires and sparklers – there are so many reasons to love Bonfire Night, but my favourite is definitely the food! This year we tucked into a comforting classic of minted mushy peas, Slimming World sausages and lots of speedy fried onions.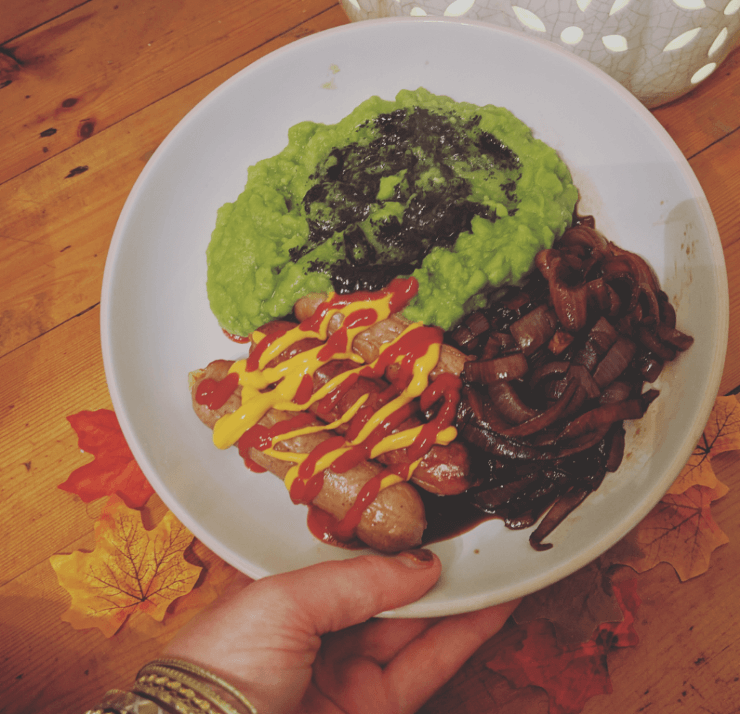 Now we're into November I have lots of Christmas activities and days out to look forward to, so I'm making plans ahead of time to protect my weight loss and getting heaps of advice from the other members in group. Of course, I'll keep on using my festive planner to help me tackle any Christmassy challenges that come my way!
If we've inspired you to join us on a wonderful Christmas Countdown, we'd love to see your winter weight loss plans – especially your Eat, Plan and Be Merry journals – in action. Send your snaps, along with any seasonal challenges that you'd love us to tackle in our Christmas Countdown series. We'll do our best to help make this your most magical Christmas ever!