Gruesome gatherings may be off the menu, but there's nothing to stop us celebrating Halloween at home. Our freaky food and drink ideas and terrifying treasure chest of family games will help make it a fright night to remember.
A fearsome feast
Spooky soup
A pumpkin full of steaming soup is a guaranteed Halloween showstopper. Get yourself a giant pumpkin and scoop out the guts and flesh (or get the kids to do it).
If you're feeling soup-er brave, you can serve directly from the pumpkin shell (just make sure you leave a thick enough wall). If you're feeling the fear, you can cheat and pop a bowl inside the shell instead!
Cauldron of chilli
Put some fire in your belly with a bubbling batch of Slimming World chilli (our veggie chilli will keep any non-meat-eating monsters happy). If you don't happen to have a cauldron in the back of your kitchen cupboard, a black casserole dish or slow-cooker pot will do!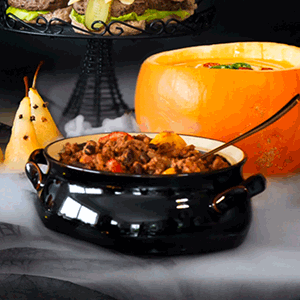 Zombie (sausage) fingers
Slimming World sausages will go down a storm with spooks of all ages. Wholemeal bread rolls make hot dogs slimming-friendly for adults – and, if you'd rather avoid a sugary splatter of zombie blood (ketchup), you can make your own hellishly hot Free mustard by mixing 1 tsp mustard powder with 2 tsp water.
Unearthly eyeballs
These wobbly peepers aren't a trick – they're a terrifyingly tasty treat made using our vanilla panna cotta recipe! You could also pop an easy eyeball topper on a scoop of vanilla ice cream for little ghouls.
Cranberry coven cocktail
Hubble, bubble, toil and trouble… this brew will quench a thirsty witch at the double!
serves 4
1.5 Syn per serving
ready in 10 mins plus chilling
vegan
What you need:
300g fresh or thawed frozen cranberries
100ml orange juice
3 level tbsp sweetener granules
400ml chilled sparkling water or soda water
What you do:
1. Put the cranberries, orange juice, sweetener and 120ml cold water in your blender and blitz. Strain the juice through a muslin-lined sieve into a jug, then squeeze out every last drop: you should have about 400ml. Chill for at least 4 hours.
2. Divide the cranberry mixture between four glasses and top up with sparkling or soda water.
MORE FOR MEMBERS: Slimming World members will find over 1,400 food and drink recipes on the member website. If you're not yet a member, now's a great time to join with our FREE book offer (more info at the bottom of this post).
Not-so-terrifying treats
Let's creep it real… Halloween can be tricky when you're trying to lose weight. If your haunted house is anything like mine, you'll have bought bucketfuls of chocolate and sweets for the kids (maybe even more so this year, if trick or treating is off the cards) – and avoiding that spooky stash can feel like torture.
Never fear! Slimming World members will find slimming-friendly snack ideas on the member website and in Slimming World groups – including these fang-tastic smiles!
MORE ON THE BLOG: Six scary movie ideas with not-so-scary food suggestions
Still feeling drawn towards that Halloween bucket? No food is banned at Slimming World, so you can fit fun-size chocolate bars and low Syn sweets into your daily allowance – and still slim spook-tacularly. Slimming World members have access to an online Food Search tool and a handy barcode scanner, making it easy to sort the tricks from the treats!
Ghoulish games
Summon up those competitive spirits with these fun ideas for Halloween:
Wrap the mummy (or daddy)
All you need is a spare loo roll and a willing participant for mummification!
Bobbing for apples
An oldie but a goodie. Filling a tub with milk and adding red food colouring will add a gory twist.
Monster mash-up
Press play on a scary soundtrack. Kids will go batty for musical bumps and musical statues – and you can cast a Body Magic spell by joining in the fun!
Guts and goodies
Fill a hollowed-out pumpkin with individually wrapped treats, then pile the pumpkin guts on top. You could even add a bowl of jelly or some ready-made slime to make getting to the goodies even more gross.
Creepy corner
Try these Halloween-themed activities with your little ghouls
Edible slime
Mix custard powder and water for a slimy science experiment (with no worries about it making its way into little mouths). Squeeze the mixture into a solid ball, then let go and watch it turn back to liquid again – magic!
Digging for bones
Pick up a toy 'fossil' digging kit and let little ones dig up skeletal surprises.
MORE ON THE BLOG:
Feast your eyes on our members' fang-tastic transformation
Planning a Halloween outing? Pack these hunger-busting lunches
Get moving this spooky school holiday with boo!-rilliant family Body Magic
FREE BOOK offer for both new and existing Slimming World members:
Commit to a 12-week group membership (Countdown or Countdown extension) before 7th November and you'll receive 12 weeks for the price of 10 and a FREE copy of the new Comfort Zone recipe book.
The FREE book offer is also available to Slimming World Online members, including new members who join with our Gold membership package and existing members who resubscribe for three, six or 12 months.
Join Slimming World Online here
If you've found a creative way to celebrate this Halloween, we'd love to see. Whether you're dressing up, playing gruesome games, watching scary movies or trying one of our Halloween recipes, send your photos to the blog and we'll share the spookiest!