Are you going vegan this January? Whether you're starting 2021 with a Veganuary-shaped challenge or thinking about making a permanent switch, going meat, fish, dairy and egg free for the month is a brilliant chance to try out some exciting new vegan Slimming World recipes.
If you're new to following a vegan diet, though, working out what foods and meals you can eat can be a bit tricky – especially if your slimming journey has only just started.
The great news is there's a great choice of vegan Slimming World recipes for you to enjoy, without putting your weight loss on the back-burner. And if you're ever stuck for inspiration for what to cook, you'll find lots of healthy vegan recipes, smart swaps and clever cooking tips – along with lots of support – at your local Slimming World virtual group or on our online community. Slimming World members also get access to hundreds of vegan recipes, including a fab 7-day menu that's been tailored to your preferences to help you get started.
Vegan Slimming World recipes
Here's a taste of just some of the delicious and healthy vegan recipes Slimming World members have been tucking into this month:
Made from soya beans, tofu is a great protein-packed option if you're looking to eat more vegan food this month. It's also wonderfully versatile and can be used in everything from vegan 'scrambled eggs' to Hollie's (@sw_hollie_s) fiery Slimming World friendly fakeaway.
Hollie says: "Tofu red Thai curry with cauliflower rice 😊"
If Hollie's dish has got you craving for more tasty tofu ideas, our spicy tofu scramble makes a wonderfully warming brekkie, lunch or dinner!
MORE ON THE BLOG: Watch how to make a vegan paella using store-cupboard staples
Quick, easy and sizzlingly satisfying, a Slimming World stir-fry makes the perfect midweek meal. Even better, they're so easy to turn into healthy vegan recipes. We love Illy's (@illyfoodie) veggie-packed version.
Illy says: "I'm in heaven. Mushroom stir-fry with curry udon noodles. I topped it with spring onions and sesame seeds. Udon noodles and Mayflower curry sauce. I also added edamame beans for extra protein."
MORE ON THE BLOG: Try our five-spice tofu stir-fry
A bright, deliciously healthy salad is a lovely way to freshen up your Friday night curry – and pack it full of slimming power! Tracee (@plant_fit_family) welcomed in the weekend with her wonderfully warming, meat-free jalfrezi.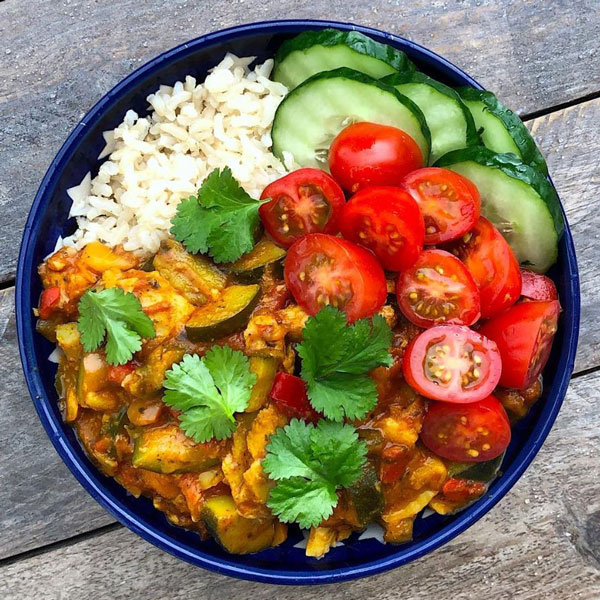 She says: "Used the Slimming World jalfrezi sauce which I chucked No Chick Vegan Strips into, along with some peppers and courgettes. Served with brown rice and salady bits, cucumber and curry are a match made in heaven 🤩 It's also totally Syn free, too – whoop whoop 🙌"
MORE ON THE BLOG: Our quick vegan curry makes a filling fakeaway
Special offer: Save £1 on vegan meals in the Slimming World food range
The Slimming World food range includes a selection of vegan-friendly meals to try – and to celebrate Veganuary, you can buy them for £2 each until 31st January, exclusively in Iceland. Perfect for those days when there's no time to cook, these plant-based dishes make a filling lunch or dinner in minutes:
A hearty vegan Slimming World pie with soya mince and veggies in mouth-watering gravy, topped with potato-and-carrot mash. This vegan family favourite is a guaranteed crowd-pleaser!
Roasted squash and pasta smothered in a 'cheesy' sauce – this is vegan Slimming World comfort food you can definitely feel good about.
A spicy mix of jackfruit, sweet potato, roasted veg and mixed beans, this vegan Slimming World chilli is perfect for feeding your hungry tribe.
Get a FREE 28 day Fresh Start menu!
As you can see, there are lots of exciting vegan recipes to enjoy this month – and absolutely no reason why vegan Slimming World members should miss out on all the Food Optimising fun. When you attend a Slimming World virtual group, you'll receive a FREE copy of our Fresh Start menu planner, while stocks last. Packed with 28 days-worth of Food Optimising meals, as well as expert slimming tips, this handy planner has everything you need to smash your weight loss goals in 2021.
We'd love to see what tasty, filling vegan Slimming World recipes you've discovered this month. Send your foodie favourites to us directly or share on social using #theSlimmingWorldblog.