Is moving more on your weight loss wish list? We're here to help with our four-week 'It's a Kind of Magic' activity plan. Whether you're limbering up at the starting blocks or ready to go for your next goal, it's a great way to take the next step on your physical activity journey.
At Slimming World, we support our members to move more through our unique Body Magic activity programme and 'It's a Kind of Magic' is a totally tailorable way to boost your fitness, at your own pace, doing activities that you enjoy.
Discover more about Slimming World's Body Magic plan here
Every move is magic!
Starting on 8th August, we'll be sharing a weekly timetable for Slimming World members, packed with a wide variety of exclusive workout videos – plus activity-themed podcasts to keep you company on your weekend walks. There's something for everyone, from dance videos that'll get you bopping about, to stretching sessions with a more chilled-out vibe. Pick and choose from the different daily fitness sessions to build your own personal programme.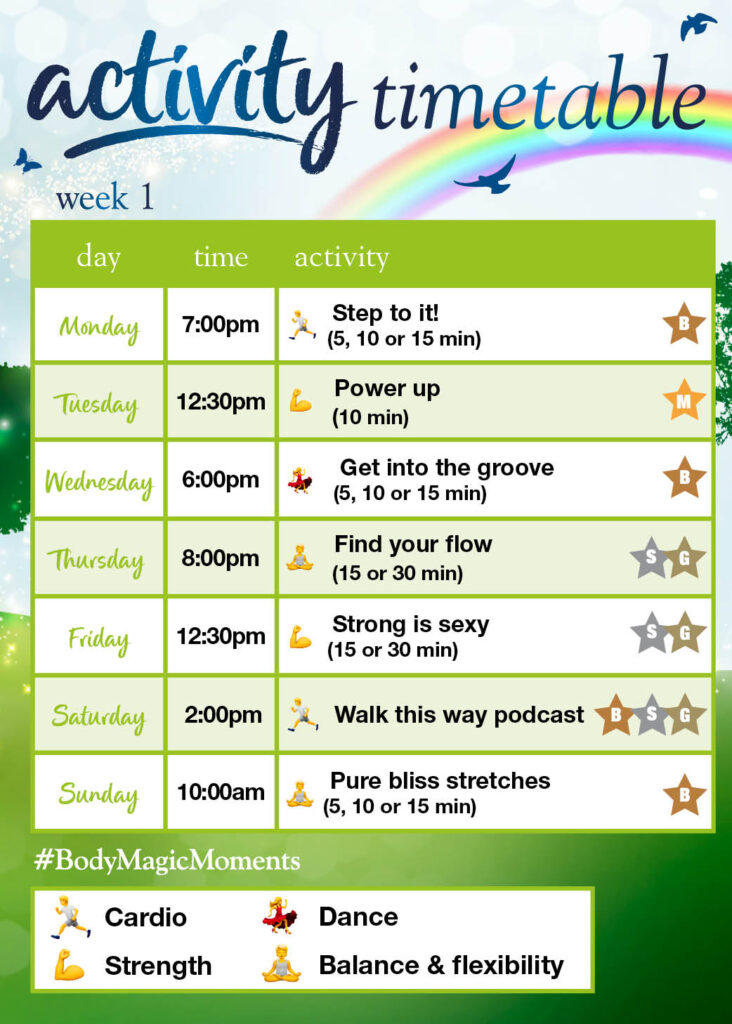 Prizes to be won
There are 30 fantastic fitness trackers up for grabs! Post your inspirational pics and Body Magic achievements on Facebook, Instagram, Twitter or TikTok – or on our Community for Slimming World Online members – with #BodyMagicMoments to be in with a chance of winning*.
Get sponsored
This year, we're also raising money for our charity partners, Cancer Research UK and the Irish Cancer Society. If you'd love to join in, get your friends, family, fellow members and colleagues to sponsor you for achieving a Body Magic goal. It could be to:
complete so many hours of activity throughout the month  
complete a number of Slimming World activity videos over the coming four weeks 
walk so many miles by 4th September 
achieve your first or next Body Magic award!
Get involved
Slimming World members will find links to all the workout videos and podcasts, plus sponsorship forms, on our exclusive member website.
Click here for a shimmy-tastic taster of a disco dance-based workout.
If you're not a Slimming World member yet, there are two great ways to start your weight loss journey – and join in the Body Magic fun!
Check back on 15th August for the second weekly timetable – and get ready to enjoy four weeks of magical movement!
*Terms and conditions apply. Read them on Lifeline Online (group members) or Slimming World Online (online members).