If you have the time, nothing can beat a classic cooked breakfast. Amazingly, the Slimming World big breakfast, showcasing sausages, bacon, egg, beans and more, is completely Free, so it doesn't have to be an occasional weekend treat.
Try the recipe: Classic big breakfast
Of course, we don't always have the time to sit down to a big breakfast feast. And it's on those busy mornings that we're more likely to bump breakfast from our to-to list. So, to make your morning routine a little easier, we've pulled together 10 busy-morning breakfast ideas that you can easily grab on your way out.
Let us help to fuel you through the busy day ahead…
5 pre-prepared Slimming World breakfast ideas
If you can find the time to make up a big batch of breakfasts in one go, it'll make mornings much less stressful and, even better, many make-ahead breakfasts use long-lasting ingredients you'll already have in your cupboard or freezer. They'll keep for a few days after making, too. Here are five of the best to get you started:
Spend two minutes mixing up a big batch of porridge oats and fat-free natural yogurt and you've got an easy Slimming World breakfast that will keep for up to three days in the fridge. Feel free to use flavoured yogurt (members can check the Syn values of flavoured yogurts using the Food Search tool on the website and app) and throw in as much fresh (or frozen) fruit as you like! Our Overnight oats – 4 ways recipe takes inspiration from delicious dessert flavours – who says you can't have pudding for breakfast!
Try the recipe: Overnight oats 4 ways
Slimming World baked oats are another firm favourite. Use our simple three-step baked oats recipe to make a stack of them the night before (silicone muffin moulds will make turning out a doddle), then store them in an airtight container. This tastes like sponge cake but it's much healthier – and it's a great option for breakfast al-desko.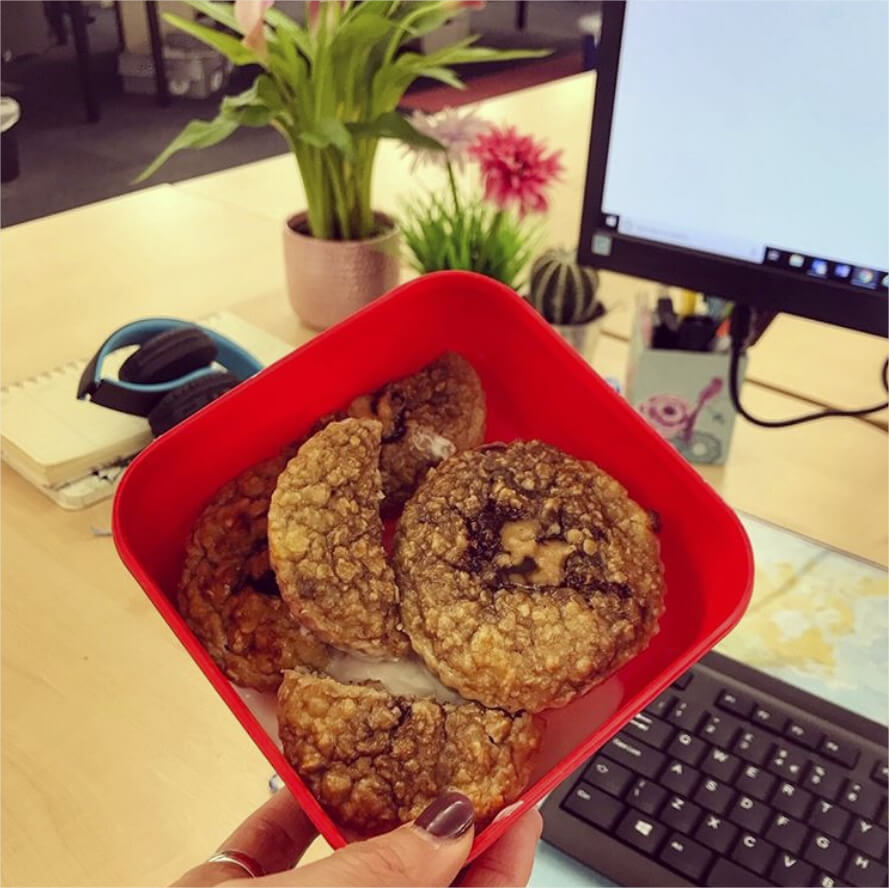 If you're more savoury than sweet in the mornings, Slimming World ham and egg muffins are like mini omelettes that are perfect for eating at your desk, dining table (or wherever you've managed to set up camp for working from home) or for popping in a lunch box to eat on the hoof. If you don't have any ham or you fancy a colourful veggie option, swap in some cooked peppers to brighten up your morning.
Try the recipe: Ham and egg muffins
If you're bored with toast, try a slice of this instead. With milk, egg, fruit and Weetabix, our Weetabix cake recipe is basically the ultimate Slimming World breakfast twist!
OK, so this one might seem like a bit of a wild card but, when you think about it, a Scotch egg is just sausage, egg and bread in a handy portable package! A big batch of satisfying Slimming World Scotch eggs made up on the weekend will leave you with a boxful of brilliant eat-anywhere breakfast bites.
MORE ON THE BLOG: Claim your FREE 28 day menu planner to help you Food Optimise for breakfast, lunch and dinner
5 quick and easy Slimming World breakfast ideas
If pre-prepped breakfasts aren't on your radar right now, there are plenty of on-the-fly Slimming World breakfast ideas for you to try. These five easy breakfast options will help keep you fully fuelled for a busy day…
Breakfast wrap
If you fancy a full English but don't have time to sit at the table, a Slimming World breakfast wrap is a super-satisfying but speedier option (super speedy, if someone else makes it for you!). Slimming World's Nic fills her Healthy Extra wrap with lean bacon, scrambled egg, cheese and a hash brown to make a hearty, healthy breakfast with just a handful of Syns.
Make mornings much more manageable with a slice or two of indulgent cinnamon French toast. Top with a handful of our favourite fruits to really get your morning off to a bright, colourful start!
Try the recipe: Cinnamon French toast
Fruit and yogurt
Fruit and yogurt is a classic breakfast combo – and a super-simple Slimming World breakfast that's easy to enjoy at your desk, in the break room or anywhere else you can grab five minutes. Grapes and apricots are Slimming World's Jenny's breakfast choice, but the world is your fruit bowl as nearly all whole, fresh and frozen fruits are Free Foods at Slimming World. A squeeze of lemon juice will stop chopped fruits like apples and pears from browning too quickly.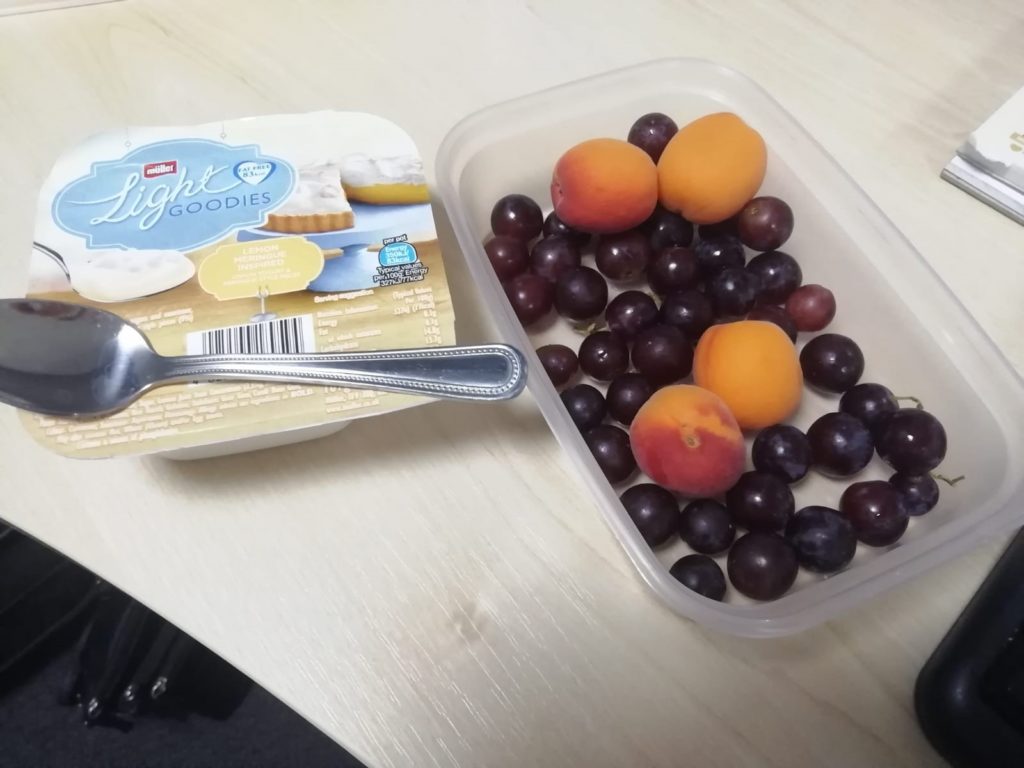 Savoury snack box
Slimmers with a savoury tooth can also pack up a breakfast desk picnic. Boiled eggs, cherry tomatoes, spinach and cucumber sticks are Free, while cheese and crispbreads can be enjoyed as measured Healthy Extras. Fill up a sectioned snack box and you're good to go!
Cereal bars
If all else fails and you don't have time to do anything other than grab something on your way past the kitchen, high-fibre cereal bars can be a brilliant backup. You can have two Slimming World Hi-fi bars as a Healthy Extra. Open and enjoy with your cuppa – minimal morning effort required!
If you're looking for more Slimming World breakfast ideas, you'll find a plenty of filling recipes to keep you fuelled for the day ahead in your local group and on our exclusive member website. You can find out more about joining Slimming World here.
We'd love to hear about your go-to breakfast ideas. Whether you're starting your day with a cooked breakfast, a stack of pancakes or grabbing some overnight oats to go, send photos of your midday meals to the blog or share on social using #theSlimmingWorldblog