Sadly, lots of us are having to change our Mother's Day plans this year – big family lunches and popping in to see loved ones just won't be possible for everyone. We know that, through these challenging times, it's even more important to make our mums feel special this Sunday – and we'd like to do our bit to make that possible.
If you're still able to share the day with your family on Sunday, we'll bring the restaurant to you! Our Mother's Day menu will help you (or your amateur chefs for the day!) make the most of the occasion.
And for those who can't be with their loved ones this weekend, we've come up with a few ideas that we hope will put a smile on Mum's face – even when things are feeling scary and strange. To help those who are planning on making a doorstep delivery of a delicious Mother's Day meal, we highlighted the dishes on our menu that are 'care-package friendly' (so can be enjoyed cold or reheated later.)
However you spend this extra-special Sunday, we hope it's as happy and relaxed as it can possibly be.
Slimming World Mother's Day menu
Breakfast in bed
Healthy breakfast muffins – care-package friendly
Let's face it, no Mother's Day can truly begin until breakfast in bed has been served. Our slimming-friendly breakfast muffins are easy to make and will help to get the day off to a delicious start. Enjoy them straight out of the oven, or fill a basket to take round to Mum.
If you really want to push the boat out, why not wake up with a show-stopping fry-up that's bursting with Free Food?
Top tips: Frozen sausages and bacon are also great options, and Slimming World members can check the Syn values using the Food Search on the member website. To make a vegetarian-friendly fry-up, just swap the sausages and bacon for your preferred Syn free vegetarian alternatives.
Satisfying starters
Roasted stuffed peppers – care-package friendly
For a healthy, super-satisfying starter, look no further than our colourful roasted peppers stuffed with rice and beans. They're great served cold, too, if you fancy dropping some off for your mum to enjoy.
Top tip: These tasty peppers are just as nice without the rice – you can stuff them with whatever vegetables, lentils and beans you have in the cupboard.
Chicken tikka kebab – care-package friendly
Fancy something spicy? A simple tikka marinade is perfect for making flavour-packed chicken kebabs, which can be enjoyed hot or cold.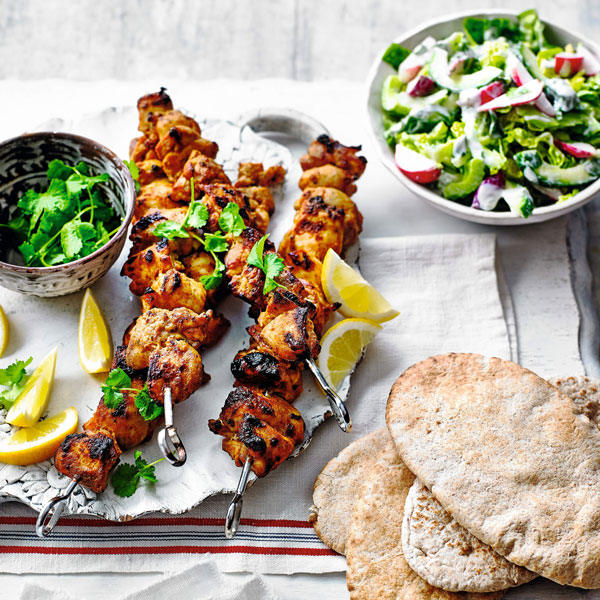 Top tip: Having an enticing selection of spices in your cupboard is a slimming essential – they're a great way to add a bit of zig-a-zig-ah to the simplest of meals, without sending your weight loss off track.
Mouth-watering mains
Roast lemon and mustard pork with one-pan vegetables
For Mother's Day, nothing hits the spot like a classic roast dinner. The great news is we've got lots of slimming-friendly roasts on our member website, using any joint of meat you have in your freezer. This flavour-packed and fantastically Free pork dinner is pretty special.
Veggie chilli – care-package friendly
Have you got lentils, beans and canned sweetcorn in your cupboard? Our wickedly spicy, smoky chipotle-flavoured vegetable chilli is sure to impress. And the chilli can be frozen, if you want to drop Mum a big batch to make mealtimes easier.
Delightful desserts
Raid your baking cupboard – is there a bag of dried fruit, vanilla extract, sweetener? Then you're halfway to making an amazing apple betty!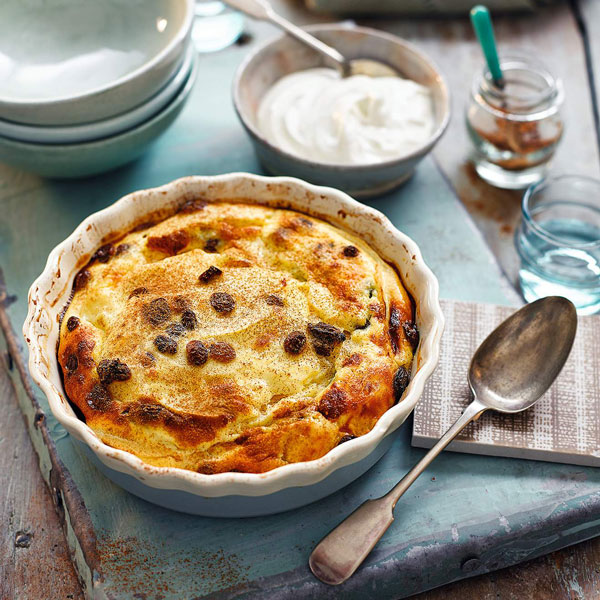 Chocolate and raspberry custards – care-package friendly
Top off your meal with these fantastic fruit-topped choc pots. You'll find plenty more dreamy desserts like this in the March/April issue of Slimming World Magazine, on sale now!
Pick of the bunch
Or, if you feel like getting really creative, make an exciting bouquet of fruit flowers, just like our gorgeous header image. It's a brilliant way to get the kids involved, too, by using shaped cutters to transform mangoes, melons and pineapples (or even apples and pears!) into beautiful fruity blooms.
Mother's Day ideas for when you can't be together
Take a tasty takeaway
In difficult times, a delivery of home-cooked comfort food never fails to lift the spirits. Many of the recipes listed above can be enjoyed cold or reheated later (we've highlighted them as 'care-package friendly'). If your mum lives nearby, a basket packed with breakfast muffins, stuffed peppers, chicken tikka kebabs, veggie chilli and chocolate pots will allow her to put her feet up and relax with her meals for the day (or the next few days!) sorted.
Make a hamper
Put your thinking cap on… what will make Mum's time at home as pleasant as possible? If you can't get to the shops, look at what you have at home. A book that you really enjoyed and some lovely unopened bubble bath will make the perfect night in. Or, if you have young children, keep them occupied with some crafting to make their grandma an extra heartfelt gift – a photo in a hand-decorated frame, or a lovely photo collage are especially nice ideas.
Set up a video call
Even if you can't all be in the same room, there are lots of gadgets that can help bring families together. Try setting up a video call using WhatsApp, Skype or FaceTime, then send your loved one a link to our Mother's Day menu and enjoy cooking a slimming-friendly meal together, without having to set foot out of the house.
Send the gift of technology
If your loved one doesn't have a good 'get-together' gadget, now's the perfect time to order them one. You could also look at what other gadgets might make their time at home easier, such as an e-book, smart speaker or even a games console!
Rope in the postman
Whether you're planning to surprise Mum with a bouquet of flowers, send her a heartfelt card, or sign her up for a subscription to enjoy her favourite magazine or hobby, there are lots of gifts that can be bought online and posted straight to her door. Many couriers have measures in place to keep everyone safe, and seeing an unexpected gift pop through her letterbox is guaranteed to make your mum feel special.
Give Mum an IOU
It can be helpful to have something to look forward to when times are hard. How about planning activities you and your loved ones can do together, such as a spa day, weekend break or shopping trip, to enjoy when it's safe to do so.
If you're going to gift the special woman in your life a slimming-friendly feast this Mother's Day, we'd love to see what you're serving. Send us your snaps or share on social (#theSlimmingWorldblog).