One of the things we hear again and again from our members is that they can't believe they can lose weight without ever feeling hungry and while still enjoying their favourite foods. The Slimming World plan doesn't feel like a diet – and that's because it isn't! Diets are restrictive and often complicated, which can make them difficult to stick to. Food Optimising has been expertly designed to be easy to follow and flexible, and to help you make healthy changes that you'll want to continue for life.
When our members discover this new way to lose weight – one that actually works – it's incredibly freeing. Here's a taste of the Slimming World freedom you can expect…
Freedom from feeling restricted
As many of us will already know, when we feel restricted, we're more likely to veer off track and could decide to abandon our slimming goals completely. That's why we've designed our plan to completely free our members from restrictions – we give members the freedom to make their own choices, while providing all the information and tools they need to stay in control.
When you join Slimming World, you'll discover the long list of Free Foods that are at the heart of the plan – including lean meat, fish, eggs, fruit, veg, pasta, rice, pulses and potatoes – which don't need to be weighed, measured or counted. Of course, the Food Optimising plan also includes foods that aren't Free, and helps you to enjoy them in moderation. 
Whether you love to eat out, have a sweet tooth or have a special occasion coming up, you never need to say no with Slimming World. We'll help you to develop strategies that will give you the freedom to say yes to your favourite foods and yes to losing weight!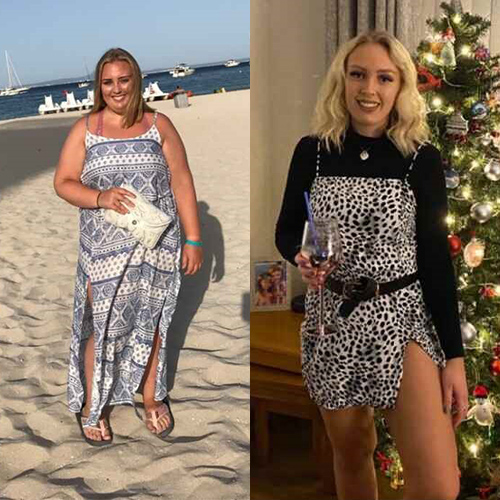 Caitlin Trick was trapped in a cycle of restrictive diets, until she found Slimming World. She says:
"I'd lost track of how many times I'd tried to lose weight, each time turning to calorie counting. After a few days of eating nothing but a poached egg or beans on toast, I'd be so hungry and cranky. I'd soon get tired of counting everything and go back to having toast smothered in Nutella for breakfast, sandwiches and a pasty at midday and a takeaway pizza in the evening.
After joining Slimming World, I didn't have to worry about counting calories – and, because I was filling up on Free Foods I didn't feel hungry at all. When I found out I'd lost 6lbs after my first week, I started to believe I could actually lose weight."
MORE ON THE BLOG:
Caitlin's story "I lost over 7st and never counted a single calorie"
John's story "Losing over 8st helped me reverse my type 2 diabetes"
Freedom from guilt
Slimming World groups are guilt-free zones, guaranteed. You'll learn how to make smart swaps and cooking tweaks to keep all the foods you love – whether you're a puddings person or tempted by takeaways – firmly on the menu. And if you fancy some chocolate or crisps or a cocktail (yes please!), the Food Optimising plan will help you to enjoy them without affecting your weight loss.
We were blown away by Jess's (@rainhamslimmingworldwithjess) brilliant burger and chips fakeaway! She says:
"Friday night is burger night! What a beauty and all eaten completely guilt free. That's why I love Slimming World."
TRY OUR RECIPE: Bite into our Big Daddy burger and Syn free chips
Freedom from counting, weighing and measuring
If you've ever tried calorie counting, it's likely you'll know that it can quickly become a huge inconvenience. When you're trying to slim, weighing, measuring and counting every calorie that passes your lips can be tedious and impractical – and our survey of over 2,000 UK adults and over 2,500 Slimming World members shows that calorie counting alone isn't a sustainable way to lose weight.
Food Optimising will free you from having to worry about counting calories, as the hard work has already been done for you. Following the Food Optimising plan allows you to have a healthy, balanced diet that will lead to weight loss success – and 81% of our members said that they learnt to cut calories with no number crunching required!
Carol (@carols_slimmingworld_life) enjoyed a delicious, balanced start to the day, saying: "What a breakfast! I can eat all this and lose weight… no counting the calories in the mushrooms, no measuring, no weighing… just eating filling, tasty meals. It's that easy."
TRY OUR RECIPE: Slimming World big breakfast
Freedom from old habits
At Slimming World, we realise that changing long-standing eating habits isn't always straightforward. The key is helping a member to understand those habits – including the triggers and emotions involved – and giving them strategies and support to make positive changes for that last.
Lesley is a Slimming World target member and has maintained her weight loss for three years. Here's how she describes the support from her group and her Consultant, Ciara (@slimmingworldobsessed)…
"I was really struggling with my weight and at a point that I didn't know what to do any more. Ciara welcomed me with open arms and every week I left group with new ideas, advice and continuous support. I never skip meals any more and I eat more than I ever did. It has changed my world with my kids, being able to do more physical activities with them, as well as spending more time with them in the kitchen trying new things. I have steadily maintained my weight loss, which I never believed would happen and would never have happened without Ciara's help and support."
MORE ON THE BLOG: Taste the freedom to enjoy the food you love, from fakeaways and tasty puds to Sunday roasts and meals out
Freedom from self-sabotage
Part of understanding ourselves as slimmers is identifying any self-sabotage traps that we may fall into. Understanding the reasons why we might, often unintentionally, sabotage our own weight loss will enable us to make a positive, freeing change.
Every Slimming World member can access tools to help spot any areas of self-sabotage and develop strategies to overcome them. You can ask your Consultant for more information, or watch the video in the article Using the SAS log to spot self-sabotage on the member website.
Being part of a supportive group helped Frankie Buttons to understand and overcome her secret-eating habit, and lose over 4st. She says:
"Joining Slimming World definitely helped me to better understand my relationship with food. I realised that I was a 'secret eater' and learnt to recognise my 'snacking' danger zones. Once I understood why this was happening, I was able to put strategies in place to break the habit. It wasn't until I started going to group that the changes I needed to make really started to stick."
MORE ON THE BLOG: Read Frankie's story "I lost over 4st for my vintage-style wedding"