Let's creep it real, Halloween can be tricky when you're trying to lose weight. If your haunted house is anything like mine, you'll (literally!) have bucketfuls of chocolate and sweets hanging around for days – and avoiding that tempting spooky stash can feel like torture.
Never fear! What's fang-tastic about Slimming World is that there's nothing scary about dipping into the Halloween bucket (apart from the little monsters that might come after you!). No food is banned, so you can fit fun-sized chocolate bars and low Syn sweets into your daily allowance – and still slim spook-tacularly.
If you're getting into the Halloween spirit by throwing your own gruesome gathering, our Halloween party ideas will make it easy to throw the spookiest, slimming-friendly shindig in town! Ghoulish grown-ups and mini monsters will love it…
Creepy crowd pleasers
Cooking for a crowd doesn't have to be a nightmare. Go for boo!-rilliant batch-cooking classics and they'll be dying to dig in!
Devilish dips
Give party dips a terrifying twist by serving them from hollowed-out pumpkins and squashes. Our spicy sweet potato wedges with mango salsa and coriander dip will go down well with your spooky squad.
Check out this gourd-geous spread from Slimming World members Clinton and Zoe (@topchefnavarros_sw). The pumpkin vomiting red coleslaw looks deliciously disgusting and is one of the best Halloween party ideas I've seen!
A fiery cauldron
Put some fire in the bellies of your guests with a cauldron full of Slimming World chilli (a batch of veggie chilli will keep non-meat-eating monsters happy). If you don't have a cauldron in the back of your kitchen cupboard, a black casserole dish or slow-cooker pot will do!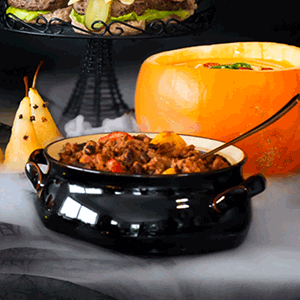 Spook-tastic soups
A pumpkin full of steaming soup is a guaranteed Halloween show-stopper. Get yourself a giant pumpkin and scoop out the guts and flesh (or get the kids to do it as a goo-ey, eww-ey Halloween activity!).
If you're soup-er brave, you can serve your soup directly from the pumpkin shell (just make sure you leave a thick enough wall). It you're a bit of a scaredy-cat (like me!), you can pop a bowl inside the shell instead.
Zombie (sausage) fingers
Slimming World sausages will go down a storm with spooks of all ages. Wholemeal bread rolls make hot dogs slimming-friendly for adults – and, if you'd rather avoid a sugary splatter of zombie blood (ketchup), you can make your own hellishly hot Free mustard by mixing a teaspoon of mustard powder with two teaspoons of water.
Not-so-naughty nuggets
The invisible man has nothing on these chunky chicken nuggets – they'll disappear before your eyes! And the low Syn recipe means everyone can enjoy a finger-licking fright night. Serve with a stack of Slimming World chips and your spooky fakeaway feast is complete.
Ghoulish games
Summon those competitive spirits with these simple Halloween party ideas. Let the ghoulish games begin!
Wrap the mummy (or daddy)
All you need is a spare loo roll and a willing participant. Whoever mummifies their victim the best, wins.
Bobbing for apples
An oldie but a goodie. Filling the tub with milk and adding red food colouring will add a gory twist.
Haunted house hunt
Make the most of your devilish decor and send little ghouls on a spooky haunted house hunt. Hang bats from trees, hide creepy crawlies in dark corners, set up scary surprises behind shower curtains – the only limit is how devilish you want to be.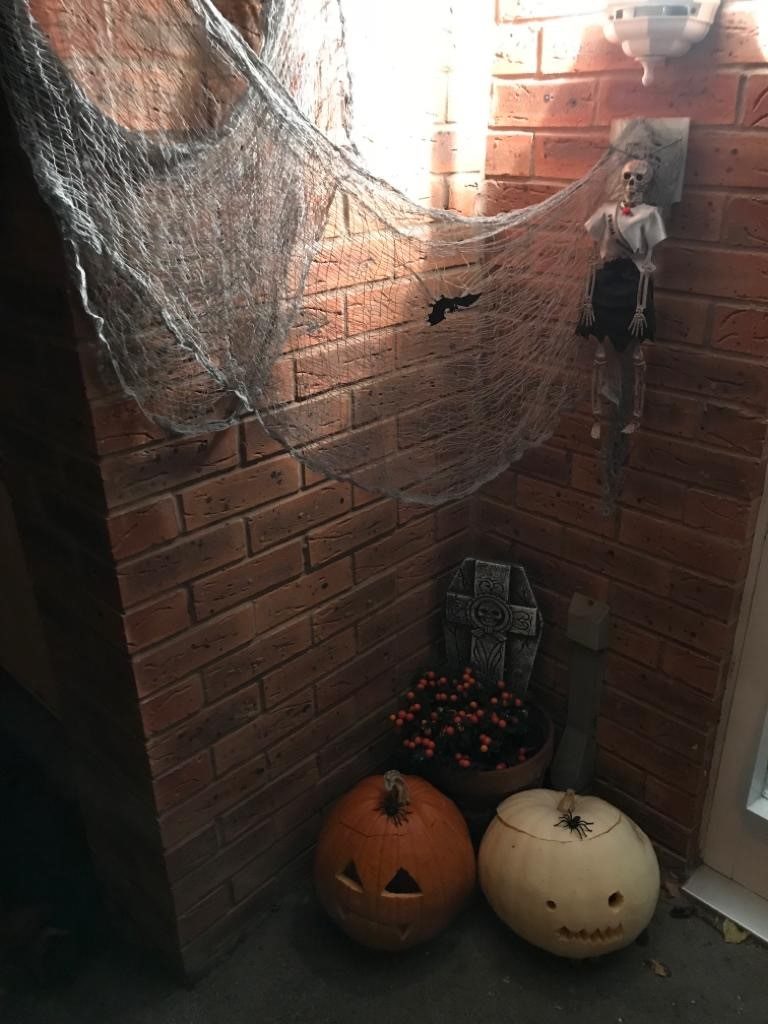 Monster mash-up
Give old-school party games a spooky spin with a scary soundtrack. Kids will go batty for musical bumps, musical chairs, musical statues – and you can cast a Body Magic spell by joining in the fun!
Pass the pumpkin
Fill a hollowed-out pumpkin with little treats, then pile the pumpkin guts on top. You could even add a bowl of jelly or some ready made slime to make getting to the goodies even grosser.
Creepy corner
Not all little ghouls want to be the life and soul of the party. Set up a quiet table with a Halloween-themed activity like edible slime making or digging for bones:
Edible slime
Mix custard powder and water for a slimey science experiment (with no worries about it making its way into little mouths).
Digging for bones
Pick up a 'fossil' digging kit (you can get them for less than a tenner in toy shops and online) and let little ones dig up skeletal surprises.
Set a scary scene
Halloween parties are all about creating the right atmosphere, so anything creepy, kooky, scary or spooky goes. Whether you go full-on house of horrors like SW Nic – or are happy with Halloween-y touches like me, your guests will appreciate the effort.
One of the best Halloween party ideas that I've spotted this year is mummified cushions. Pick up a roll of bandage from the chemist, wrap your cushions mummy-style, then add some peeping eyes (white cardboard and a black sharpie will do the trick!).
I also love giving guests a good jump-scare before they've even crossed the threshold. My new favourite toy is a sensor that you put under your doormat which lets out a piercing scream when stepped on. After testing it on my unsuspecting other half, I can confidently say that it works a treat on all ages and will get your party STARTLED on a blood-curdling high note.
A spooktacular fail!
I couldn't leave you without sharing SW Nic's amazing jelly worm fail! The idea seems simple enough – fill straws with jelly, leave to set, then release a bowlful of edible worms.Sadly, these slippery little suckers didn't quite work out as planned! The moral of this homemade horror story is not to worry about throwing a perfect party – just have fun bringing your scariest Halloween party ideas to life. Happy Halloween!
If you felt less than boo-tiful in your Halloween costume this year, Slimming World can help make next Halloween a happier one. Don't be scared: hunt down your local Slimming World group for spook-tacular support, Food Optimising tricks and a menu full of tasty slimming-friendly treats.