Keeping the kids entertained during the holidays might feel extra tricky this year, as we're having to scrap those sunny days out at the seaside and take a rain check on those wet-weather trips to the trampoline park or cinema.
Luckily, our members are a creative bunch, and they've shared their top ways to spend time with the little ones this Easter – including some tasty treats and ideas to get the whole family moving…
Egg hunt – with a twist!
The classic chocolate egg hunt is great fun for kids, but you could turn the tables and ask them to create clues for a treasure trail for you! Slimming World member Heather (@heathers_sw) came home from shopping to find a slimming-friendly scavenger hunt all set up, leading to a colourful fruit salad in the fridge.
Have fun with fruit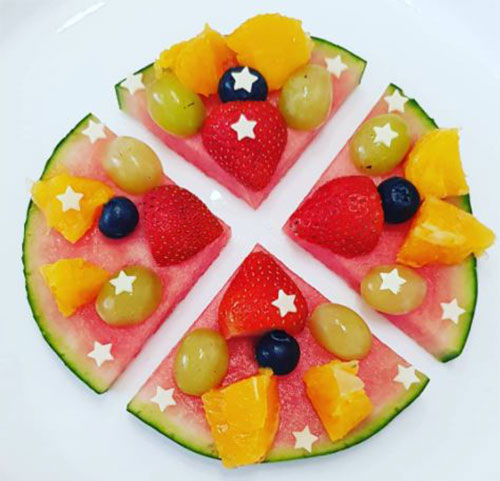 We also love Heather's fruit pizza idea! Get the little ones involved in making creative, healthy snacks that look as good as they taste.
MORE ON THE BLOG: Get cooking with the kids this Easter
Take a woodland walk
Exploring local woodland can feel like an adventure – especially if you turn it into a challenge with a list of items to look out for along the way (a bird, a smooth rock, a pine cone, etc). You'll find printable illustrated lists online that are perfect for younger children to check off.
Slimming World target member Hayley (@hayleys_slimmingworld) made the most of a lovely sunny day and clocked up 9,000 steps with her family. If all enthusiasm for walking has long since waned, cycling or scooting also works!
MORE ON THE BLOG: Serve up a slimming-friendly feast this Easter Sunday
Go on a bear hunt
Another idea to add excitement to a family ramble is to turn it into a bear hunt (keep the teddy out of sight in a backpack until you can plant it in its hiding place!). We love Loren's (@mummy_weightloss_journey) home-made map and set of binoculars (which can be a great craft activity for the kids).
Enjoy a picnic
It's hard to beat an al fresco lunch if the sun is shining – and you don't have to go far! Picnicking in your own back garden can feel like a treat, especially if you're serving up cute bunny crumpets like Teresa (@tcakes_food_fitness).
Slimming World members can use our handy online food search tool, or the Slimming World barcode scanner, to check the Syn values on their favourite Easter treats.
MORE ON THE BLOG: Try our step-by-step pancakes recipe
Get crafty
If you've got older children, these crochet eggs shared by Cara (@cararuleslimmingworld) would be a lovely project to take on together. You'll find tutorials for beginners online and the end result will look adorable hung on an indoor Easter tree (small branches in a vase work well for a DIY version).
Losing yourself in 'mindful' crafts can be a great way to relax, and some members find that, when they feel less stressed, it helps them to manage comfort eating. Slimming World members will find helpful articles on stress, emotional eating and mindfulness on the member website. Some slimmers also find that having something to occupy their hands helps to keep snack attacks at bay.
MORE ON THE BLOG: 5 stress-busting activity ideas
Dig for victory
Cara's also been busy getting her garden ready for spring. If your gardening activity increases your heart rate and makes you feel slightly out of breath, it counts towards Body Magic – and young green-fingered gardeners will love getting stuck in, too!
MORE ON THE BLOG: You'll find lots more ideas for keeping the kids entertained this Easter in…
MORE FOR MEMBERS: Slimming World members will find a treasure trove of Easter content on the member website this week, including:
How to enjoy Easter treats and stay on track
Easter Sunday the Slimming World way
Easter Body Magic ideas
Hot cross bread and butter pudding recipe video