The sun is shining and the bank holiday weekend is within touching distance – what better way to celebrate than with a picnic!
With Slimming World, you can say yes to delicious outdoor dining and still get great results on the scales. Many go-to picnic foods, like chicken drumsticks (skin removed), boiled eggs and boiled or oven-baked new potatoes, are Free with Slimming World, meaning you can eat them until you're satisfied – with no weighing, counting or measuring needed. Even better, we've also got lightened-up versions of some classic choices, from Scotch eggs (recipe below) to sausage rolls (members will find this recipe on the exclusive member website).
So whether you're safely gathering in the garden or popping to your local park, throw down a blanket and dig into our finger-licking-fabulous picnic food ideas.
Slimming World picnic ideas
Sticks and dips
Dips and crudités are a great way to pack more veg into your picnics. Rae (@raes_slimming_world) loaded her cool bag with slices of carrot, cucumber, peppers, gherkins and pitta bread to dip into her home-made Free houmous.
Shake up your salads
Slimming World chef Sal's oriental green salad (with tasty noodles) showcases those Chinese-style flavours we all love. A big bowl of that and our low Syn coleslaw are ideal for sharing outdoors with your favourite people.
Smother your spuds
Potatoes also make a satisfying salad, and this rustic dish is completely Free on the Slimming World plan – no weight, measuring or counting needed!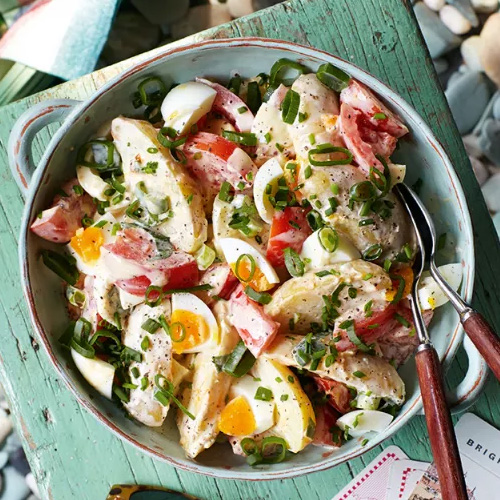 Sandwiches with a twist
Sandwiches are always a picnic winner and Fran (@slimwithsmee), who's lost 5½st, has given her sarnies a crunchy twist by swapping bread for crispbread and topping with egg mayonnaise, as well as a refreshing salad of lean ham, tomatoes, cucumber and rocket.
Pasta master
Pasta is perfect picnic fare, and brilliant for using up any leftover lean cooked meat, fish or veggies – just chop them up and stir them in. Lamorna (@sw.lamornaparnel) has packed her pasta with lots of colourful vegetables and a squeeze of light cheese spread.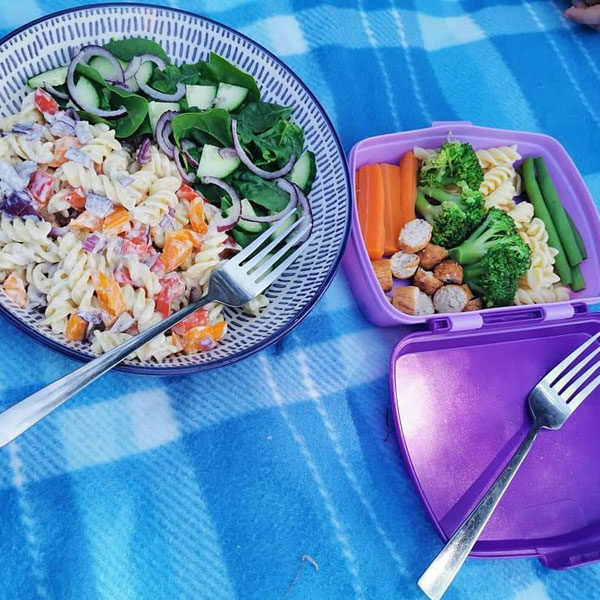 More for members: Slimming World members will find several pasta salad recipes on the exclusive member website, including a tuna, pasta and pesto salad and a tomato and roast garlic pasta salad with rocket
Fantastic finger food
Slimming World member Chelle (@sw_chelle) put together this spectacular spread for her al fresco lunch, featuring some favourites like crustless quiche and filling Scotch eggs (recipe below). Chelle is a target member and has lost 3½st – without ever having to miss eating out with her friends and family.
Picnic puds
And for those of you looking for a dessert you can eat with your hands, a slice of our brilliant banana bread, school cake or sticky sweet potato brownies will go down a treat, no spoon or fork required!
Slimming World Scotch egg recipe
Meaty, substantial and satisfying, these flavour-packed favourites will also save you 15+ Syns on supermarket picnic eggs
makes 4
1½ Syns per egg
ready in 50 mins
What you need:
6 medium eggs
400g lean pork steaks, all visible fat removed, roughly chopped
125g lean back bacon, all visible fat removed, finely chopped
1-2 tsp mild curry powder
2 tbsp dried parsley
1 tsp dried mixed herbs
50g day-old wholemeal bread, crumbed
low-calorie cooking spray
What you do:
1. Preheat your oven to 200°C/fan 180°C/gas 6.
2. Put 4 of the eggs in a pan of cold water and bring to the boil. Boil for 5-6 minutes then plunge the eggs into cold water for another 4 minutes. Carefully peel and set aside.
3. Put the pork steaks, bacon, curry powder and dried herbs in your food processor. Season lightly and blend until fairly smooth. Transfer to a bowl and divide the mixture into 4 portions.
4. Flatten a portion of the mixture in your right hand and, with your left, take an egg and wrap the mince around it until it's fully encased. Repeat for the remaining 3 boiled eggs.
5. Spread the breadcrumbs out on a wide plate.
6. Beat the remaining eggs and dip each Scotch egg in the beaten egg and then roll in the breadcrumbs. Place the eggs on a baking sheet lined with non-stick baking parchment and lightly spray with low-calorie cooking spray.
7. Cook in the oven for 20 minutes or until lightly golden. Cool the eggs completely on kitchen paper before packing them into airtight containers for your picnic.
Our members-only website and app are full of picnic food ideas, including our recipe for Free sausage rolls! Whether you join your local group or Slimming World Online, you'll have over 1,500 recipes at your fingertips – everything you need to enjoy a fully loaded picnic, without packing away your weight loss plans.
What's in your basket? Send your al fresco food pics to the blog or share on social using #theSlimmingWorldblog.