Maintaining a healthy weight can be challenging – especially if you're learning how to food shop on a limited budget and fend for yourself in the kitchen. Throw in grab-and-go lunches between lectures, boozy nights out and takeaways in the taxi home, and it's no wonder some students think losing weight and uni don't mix.
That's where Slimming World can help! Our healthy eating plan is so generous and flexible, it can easily work alongside any lifestyle and budget. Whether you're starting as a fresher or heading back for another year, these cheap, simple and tasty dinners will make you the envy of your flatmates – and help you make sure you graduate looking and feeling great!
You can find out more about joining Slimming World here.
7 weight loss tips for students
At Slimming World, we have a deep understanding of the psychology of slimming and our NHS-backed eating plan is based on more than 50 years of experience, expertise and science. If you'd like to slim through your studies, our top tips will help you develop healthier habits.
Eat smart. Base your meals around staples like fruit and veg, pasta, rice and potatoes – they won't break the bank and you can eat them freely when you're Food Optimising.
Shop savvy. Choose less expensive types of meat and poultry, like skinless chicken thighs and lean mince (5% fat or less), and frozen or canned veg instead of fresh.
Understand your emotions. Does exam stress or missing home make you reach for high Syn food? Keep low Syn options close to hand, ready for those occasions.
Get rid of guilt. If you have a big night out or go off track one day, don't beat yourself up. We're all human. Simply get back on it as soon as you can and have confidence that the weight will come off again.
Make swaps at the Student Union. Mixing spirits with diet drinks, topping up your beer with diet lemonade and alternating between alcohol and water are great ways to save a stack of Syns.
Get ready for a night out. Fill up first on one of the Food Optimising recipes below, so you're less tempted by a takeaway later. If midnight munchies are a trigger for you, make sure you have an enticing meal to come home to.
Keep moving. Most unis and colleges have fantastic fitness facilities and sports teams – plus, walking to lectures and cycling around campus are great for improving your fitness.
Join a group or go digital – you can find out more about joining Slimming World here.
Slimming World student recipes
Ham and mushroom omelette
Super-simple and as filling as you want them to be, omelettes are a real Slimming World lifesaver. They're quick to throw together when time's short and brilliant for using up any leftovers lurking in the fridge. Try our tasty ham and mushroom version and serve it with a big helping of your favourite salad.
LET'S GET CRACKING: Here's how to make a ham and mushroom omelette
MORE FOR MEMBERS: Quick, versatile and great value, eggs are hard to beat when you're Food Optimising – and we've got 10 egg-cellent recipe ideas for members
Jacket potato with mixed beans and salad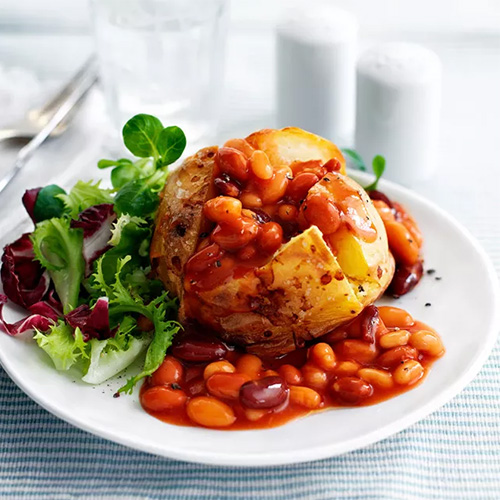 The humble spud can be easily transformed into a satisfying Free meal – and there are so many options for toppings! Sweetcorn, chopped tomatoes, tuna (canned in spring water) and leftover chilli are all perfect potato partners. Or smother your fluffy baked jacket in that student essential, baked beans (and maybe some Healthy Extra 'a' grated cheese), for a super-comforting lunch or dinner.
TOP 'EM: Try our jacket potato with mixed beans and salad
MORE FOR MEMBERS: Whether a sweet or good old white potato is your choice, we've got 10 tasty ways to top your jackets – plus quick baking tips
Tuna pasta bake
Our members are always surprised that they can eat pasta and still lose weight – yet it's true! Pasta is one of the Free Foods you can enjoy to your heart's content, without any need to weigh, measure or count. This budget-friendly tuna pasta bake is a doddle to make and you can keep the leftovers in your freezer for another easy-cheesy dinner when you're short on time.
FILL YOUR BOWL: Give our tuna pasta bake a try tonight
MORE FOR MEMBERS: There are more than 200 pasta recipes on the exclusive member website and app – including our new chicken fajita pasta bake
Cheesy potato and ham bake
You don't need a shopping list as long as your arm to make a mouth-watering meal – this easy-make bake uses just five ingredients.
BAKE ME: Serve up a hearty portion of our cheesy potato and ham bake
MORE FOR MEMBERS: Would you like some more meals that only use five ingredients? We've got plenty of meaty mains and a feast of veggie options on the member website
Egg, tomato and mushroom chip bake
Slimming World is a chip lover's dream because you can enjoy unlimited Free potatoes on plan. Best of all, this teatime treat of crispy spuds and soft yolks is (literally) cheap as chips!
DIP ME: Dig into our egg, tomato and mushroom chip bake
MORE ON THE BLOG: Tuck into the ultimate comfort food with our slimming-friendly cheesy chips and gravy
Dirty rice
Our scrummy Cajun-style rice dish is a brilliant low-cost meal because it works with whatever fresh, frozen or canned veg you've got to hand. If you don't have black-eyed beans, any tin of beans in water or canned chickpeas will work just as well.
RICE 'N' SPICY: Y'all love our dirty rice recipe!
MORE FOR MEMBERS: You'll find more than 1,600 recipes to fit every lifestyle, dietary requirement and budget on the exclusive member website and app, including these seriously satisfying solo suppers:
Classic big breakfast
Pizza-topped chicken
Veg pappardelle with poached egg
Campfire-style veg and bean stew