Are you planning a Pride party this June? We can help you celebrate the Slimming World way with delicious dishes to brighten your buffet – so you can truly taste the rainbow while feeling your beautiful best.
Party platter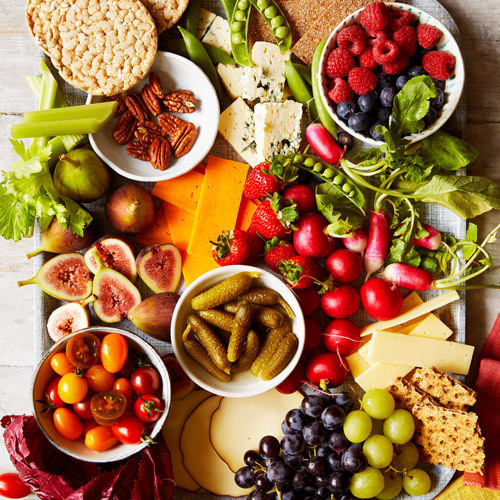 Graze boards are a big food trend and they make a show-stopping spread for friends to share. Pile your platter with plenty of fresh fruit and crunchy veg (all Free, so you can enjoy as much as you like), then add measured amounts of finger food-friendly cheeses, crispbreads, rice cakes and nuts.
More for members: Slimming World members can check the food search tool, use the Slimming World Scanner or flick through their Food Optimising book to look up which cheeses, crispbreads/rice cakes and nuts are a Healthy Extra choice on the Slimming World plan.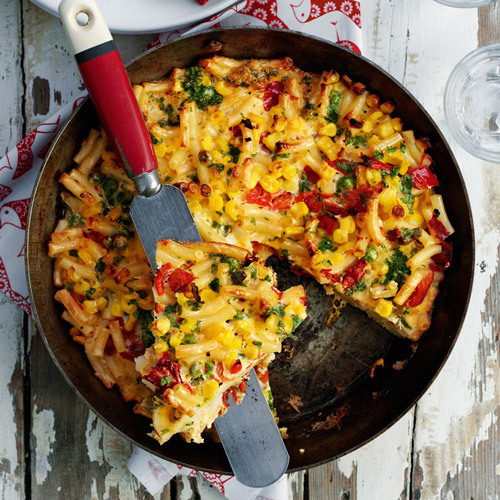 Serve up a satisfying slice of our filling, flavour-packed frittata – ready in four simple steps.
More for members: Make it a pizza party with these easy, cheesy pizza-topped wedges.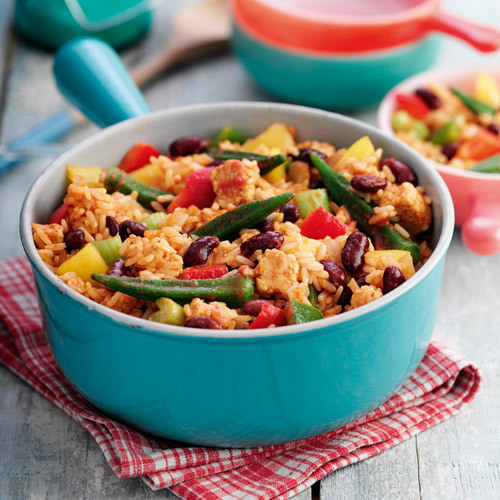 Free
vegan
freezer-friendly
Pass the paper plates, this dish is a riot of rainbow veg and spicy Southern flavours.
More for members: Turn a party into a fiesta with this easy to share fajita sizzler.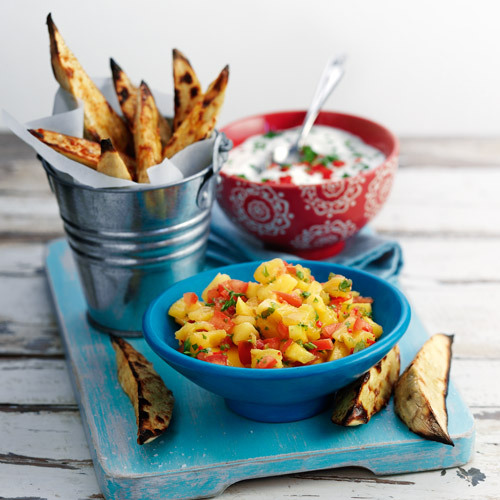 Smother your tongue-tingling wedges with our duo of delicious dips.
More for members: This Bloody Mary dip brings the happy hour vibes (without the booze!).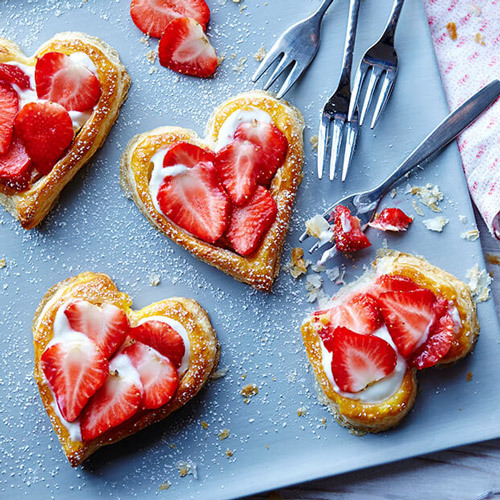 With just four ingredients, these pastry puds are a dream to make – and a Food Optimising-friendly way to celebrate love!
More for members: This paradise pavlova makes a stunning centrepiece.
Fruit kebabs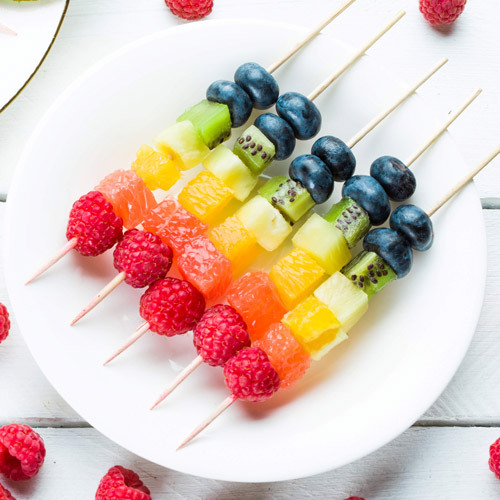 These kaleidoscope kebabs are simple and sweet.
More for members: Dip into this gooey chocolate sauce for next-level luxury!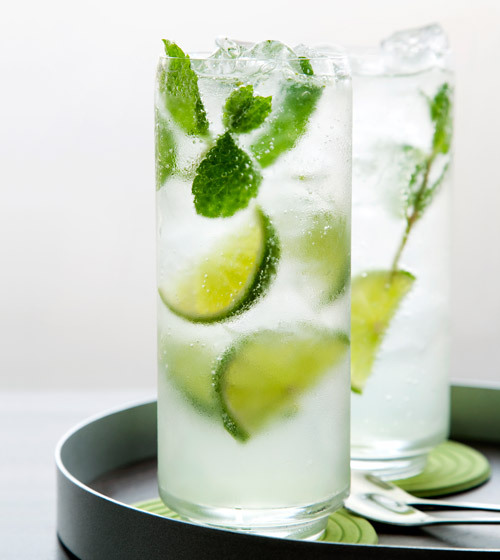 Yes, you can enjoy your favourite cocktail and still lose weight with Slimming World! This light delight will get the party fizzing!
More for members: Discover a full bar menu of Slimming World summer drinks to savour, including a zingy lime and watermelon margarita and a fruity Spanish sangria.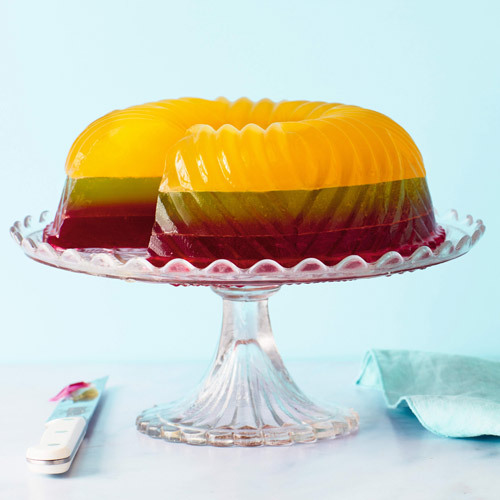 Dish up some serious retro vibes with our layered rainbow jelly. Serve with fruit kebabs and, to make it a proper old-school party pud, a scoop of vanilla ice cream and rainbow sprinkles.

serves 8
1 Syn per serving
ready in 20 mins (plus 2 hrs 5 mins chilling)
What you need:
5 sheets leaf gelatine
200ml orange and pineapple no-added-sugar squash
low-calorie cooking spray
2 x 11.5g sachets lime sugar-free jelly crystals
2 x 11.5g sachets blackcurrant sugar-free jelly crystals
What you do:
1. Soak the gelatine in cold water for 5 minutes, or until softened. Meanwhile, put the squash in a large jug and pour in 300ml water. Pour half of the squash into a small saucepan and place over a medium heat. Remove the gelatine, squeeze out any excess water and add to the pan. Stir until the gelatine has dissolved, then add to the remaining squash in the jug, stir well and leave to cool.
2. Spray the inside of a 1.8-litre jelly or bundt mould with 1 spray of low-calorie cooking spray. Using kitchen paper, wipe around the inside of the mould to grease it. Pour in the orange jelly mixture and chill for 3 hours, or until set.
3. Meanwhile, put the lime jelly crystals in a measuring jug. Pour over 500ml boiling water and stir until dissolved, then leave to cool completely.
4. Pour the lime jelly over the set orange jelly and chill for 2-3 hours. Meanwhile, make the blackcurrant jelly in the same way as step 3. Once the lime jelly is set, pour the blackcurrant jelly on top. Chill the whole jelly for 4-5 hours, or until completely set.
5. To serve, dip the mould into hot water for 30 seconds, then carefully turn out onto a serving stand or plate. Cut into 8 equal slices.
With Slimming World's flexible Food Optimising plan, you can celebrate every special occasion and still get a fantastic result on the scales. Shine bright, feel beautiful and enjoy a colourful, fun-packed Pride!