When you're a Slimming World member, you're spoilt for choice – with so many fantastic Free Foods to choose from, and so many ways to transform each one into a delicious dinner.
Pick any letter from the alphabet and we bet you'll find a fabulous Free Food to try. That's the inspiration behind our new recipe book – Slimming World's Free Food A to Z. Find out how you can bag a FREE copy further down the page, and you'll get more than 60 satisfying recipes that showcase Free Foods at their brilliant best.
To show off our slimming superheroes, we thought we'd join in the alphabetical action. We've hand-picked five Free Foods from A-E and given each one a starring role in a tasty dish. Add these ingredients to your next shopping list – and check out our super suggestions for turning them into magnificent meals – and you'll discover how losing weight while eating well has never been so Free and easy.
Slimming World shopping list: Free Food A-E
Aubergine
Butternut squash
Cucumber
Diet cola (yes, really!)
Egg
Once you've filled your basket with your super-slimming ingredients, it's time to start experimenting in the kitchen! To help get your creative juices flowing, we've put together five inventive meal ideas to surprise and delight your taste buds.
Beef and aubergine bake
If you're anything like me, gorgeously silky, deep purple aubergines are one of those ingredients you like the look of, but feel stuck for ideas for what to cook with it. Do a little digging and you'll find that the tender texture of aubergine is great in a whole host of dishes. I recently tried it as a meat replacement in katsu curry and it was delicious! Our beef and aubergine bake is hard to beat, though; charring the aubergines gives them a smoky flavour that's brilliant in this cheesy dish.
Butternutty spag bol
Superb in soups and risottos, or stuffed and roasted, butternut squash is a versatile veg that'll help to fire up your weight loss. If you fancy getting really creative, swap spaghetti for butternut squash noodles (or boodles!) the next time you make a batch of our best-ever bolognese – it's guaranteed to make any midweek mealtime bright and boodle-ful.
Five-spice cucumber and chicken stir-fry
Crunchy, juicy and refreshing, it's no wonder the classic cucumber has long been a summer salad staple. But did you know that it's also a sizzling addition to a stir-fry? Slice and mix into our five-spice chicken stir-fry and you'll be feeling as cool as a cucumber come dinner time.
Diet cola chicken
OK, so diet cola's not strictly classed as a 'food', but our diet cola chicken recipe is simply too good not to share! After all, what's not to love about succulent chunks of chicken in a sweet sauce? It's a brilliantly versatile dish, too! You could try swapping the cola for diet orange, or take inspiration from our lovely member Lucie, who prefers hers with pulled pieces of lean gammon.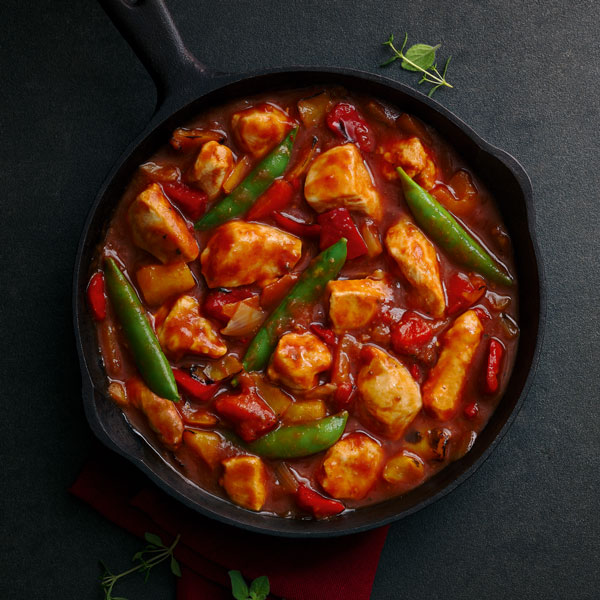 Bean and rice burritos
Boiled, fried, scrambled, poached… there are so many satisfying ways to enjoy your eggs – and they can be used to make some truly delicious dinners. If you're looking for a fail-safe Friday night feast, this egg-cellent ingredient makes a Syn free replacement for tortilla wraps when you're making a Slimming World burrito.
Feel alpha-better than ever with our new Free Food A to Z cookbook
If we've sparked your appetite for turning your favourite Free Foods into exciting culinary creations, you'll find lots of clever meal ideas in our new Free Food A to Z cookbook. From artichokes to zest (OK, Z was a challenge!), you'll be spoilt for choice for Free Foods to try, and wonderful ways to make them into mouth-watering dinners. Even better, we've got a very special offer to help you get started…
We're giving away a FREE copy of our Free Food A to Z cookbook to new members who:
join a Slimming World group and buy a 12-week Countdown before 29th February 2020
or
sign up to Slimming World Online with a Gold membership before 29th February 2020
Don't worry, existing members can get a FREE copy, too! All you need to do is commit to a 12-week Countdown if you're a group member – or resubscribe to Slimming World Online for three, six or 12 months – before 29th February 2020.
We'd love to see what you've been making with your favourite Free Foods. Send us photos of your Slimming World-friendly makes or share on social using #theSlimmingWorldblog