It's easy to lose track of the days between Christmas and New Year, especially if you're enjoying a lovely long holiday. Don't worry – we're here to help you make the most of this rare break from the routine and still start the fresh new year feeling fantastic
Inspired by The 12 Days of Christmas, we have tools, tips and touches of inspiration to keep you motivated from Christmas Day until 5 January. Call it our little Christmas gift to you 🎁 – and don't be shy about singing along!
On the first day of Christmas, Slimming World gave to me…
An amazing new family
Joining Slimming World means surrounding yourself with support from the very first day of your weight loss journey, through all the challenges that may come your way. Our groups are full of fun and our members quickly become friends for life.
Mel (@sw_melsjourney_) has lost 12st with Slimming World and is now helping others to achieve their slimming dreams as a Consultant. Here she is, getting into the festive spirit and having a tree-mendous time in group…
On the second day of Christmas, Slimming World gave to me…
Over 1,600 recipes
Slimming World members will never be stuck for 'what to make' inspiration, as there are over 1,600 breakfast, lunch, dinner, snack and dessert ideas on our website. Plus, there's always plenty of recipe-swapping action in our groups and in the Slimming World Online Community.
If you're not tucking into leftover turkey curry, have a browse of our dishes and give something new a try. From cosy casseroles to fantastic fakeaways, we've got loads of recipes to see you into January and all the way through 2021.
Member Ruby (@rubyshrinks) tried the Christmas trimmings tray bake from our Comfort Zone cookbook (available in group or in the eshop for Slimming World Online members) and reported that even her toddlers were licking their plates – a Christmas miracle indeed
On the third day of Christmas, Slimming World gave to me…
A door open when you need us, whenever that may be
Slimming World groups are still going strong between Christmas and New Year, so we're always here if you need us. Julie (@slimmingworldwithjulie) sums it up beautifully. She says:
"We don't close our Slimming World groups at Christmas and there's a really good reason for that… We know that those members who continue to attend will start their new year with much bigger smiles on their faces. Because it's in group that we can share ideas, motivation, inspiration and support. It's where there's never any guilt or shame in a gain because we all understand. And it's in group that we can learn how to do Christmas the Slimming World way… Having the treats we want without the weight gain that we don't want."
On the fourth day of Christmas, Slimming World gave to me…
A wide variety of food that is Free
Free Foods are at the heart of Food Optimising – and you can eat as much Free Food as you like! If you fancy a Free lunch (or breakfast, or dinner), you'll never be short of ideas.
Dave lost more than 20st with Slimming World, and loves a good Free Food feast. He says:
"As I started to cook more and more meals from scratch, my old ready meals were ditched for healthy pork stir-fries and chillis. I'd then box up the leftovers to have for lunch (to replace my usual three rounds of ham sandwiches with crisps)."

MORE ON THE BLOG:
Read about Dave's biggest lifestyle change
Discover five of our favourite Free Food recipes
On the fifth day of Christmas, Slimming World gave to me…
Awards to celebrate every loss fully
We believe that every slimming success is worth shouting about. Putting your awards somewhere you can see them is sure to give you an extra motivational boost.
Proud Consultant Sonia (@sw_sonia_mathieson) shared this photo of her member, Nikki, who was determined to achieve her 2½ stone award before Christmas. She says that reaching out to her fellow members on the group Facebook page really helped her to make the best Food Optimising choices during the lead-up to the festivities.
On the sixth day of Christmas, Slimming World gave to me…
Tools to make planning easy
Working out your meals and snacks ahead will make it easier to stay in control, so our members are given everything they need to prepare for a successful week. This includes an online food and activity planner, our handy food search tool and the Slimming World scanner on the app.
On the seventh day of Christmas, Slimming World gave to me…
A 7-day menu that's hassle free
Have you got a minute to spare? Spend it signing up to our newsletter (scroll to the bottom of this page) and we'll send you an easy 7-day menu straight to your inbox. That's your New Year menu sorted!
On the eighth day of Christmas, Slimming World gave to me…
Results that you can really see
Photos are a fantastic visual motivator and can help you have that light-bulb moment of 'wow, look how far I've come!'
If you're already a Slimming World member, get your photo albums out (or scroll back through your phone) and spot the difference! It'll give you the motivation you may need to start next year feeling strong and determined to reach your target.
If you're at the start of your Slimming World journey, we understand that you might not be in a snap-happy mood. However, we promise you'll be loving the camera this time next year, and having a 'before photo' to look back on will make your success feel even sweeter.
Kirsty and Roger Cound joined Slimming World in January 2020, and have lost a combined 11st 11lbs. Now, they're looking amazing and feeling confident posing for pictures!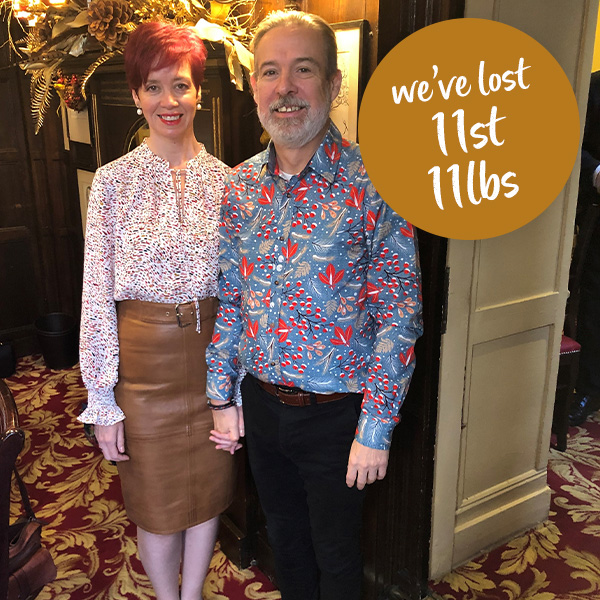 MORE ON THE BLOG: Read all about Kirsty and Roger's festive fairy tale in London here
On the ninth day of Christmas, Slimming World gave to me…
Special offers to save money
Our Countdown offers are a great way to commit to your slimming goals and save money, because you'll get one (six for the price of five) or two (12 for the price of 10) weeks free. Buy a 12-week Countdown course between 26th December and 15th January 2022, and you'll save even more, as there's no membership fee to pay!
We've also got a motivational, mindset-shifting FREE brand-new member pack waiting to give to our new members. And existing Slimming World members who attend group between 26th December and 15th January 2022 will get a copy of the gorgeously revamped pack, too!

Find the latest Slimming World special offers here
On the 10th day of Christmas, Slimming World gave to me…
An award-winning mag-a-zine
The Jan/Feb issue of Slimming World Magazine is on sale in group now, where you'll pay our best-offer price of just £1.95. You can also pick up the mag from newsagents and supermarkets.
Settle down with this whopper of an issue (and a steaming mug of tea!) to enjoy inspiring stories, slimming strategies, fantastic food ideas and helpful articles.
Slimming World Consultant Zoe has found the perfect way to spend a very chilled-out Chrimbo limbo day!
On the 11th day of Christmas, Slimming World gave to me…
The amazing power of three
At Slimming World, we take a three-pronged approach to improved overall health and wellbeing – our Food Optimising eating plan, our Body Magic activity programme and unbeatable habit-changing support. While Body Magic isn't essential for losing weight, it brings a raft of brilliant benefits and many of our members love getting more active as they s
What better way to blow off some post-Christmas cobwebs than with a wintry walk? Member Wendy Deacon swapped weekends on the sofa for long walks and gym workouts. Her Food Optimising and Body Magic combo led to an incredible 12½st loss – and a massive confidence boost for our slimming superstar!

MORE FOR MEMBERS: Check out our amazing collection of brand-new activity videos. There are more than 50 workouts – to suit all levels of fitness – live on the website now!
On the 12th day of Christmas, Slimming World gave to me…
A reason to shout yippee!
There really is no better feeling than hitting your slimming goals. Katie (@katiegreigsw) celebrates getting to target after her 5st weight loss. What an achievement!
Now you've got through those tricky 12 days of Christmas, you can get that Slimming World feeling of soaring confidence, true belonging and better health in 2022 – all you have to do is go for it!